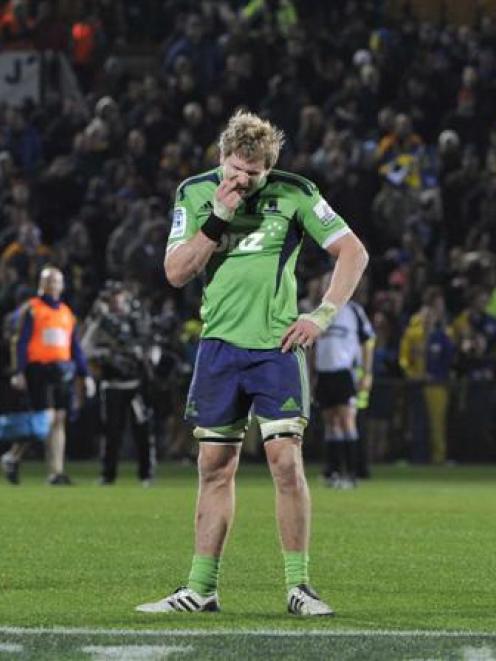 Many of the Highlanders are mentally tired and feeling the effects of a long season, coach Jamie Joseph says.
Joseph, who admitted the Highlanders were more or less out of the playoffs hunt after last night's loss, said his side just did not have much ball in the final 20 minutes.
"And when we did get the ball we went into our shell a bit and that was a contradiction of how we sort of approached the game and how we played the first 50 minutes," Joseph said.
"And that is pressure . . . we blew a couple of tries early in the second half. We let them off the hook too much and you just can not do that. There was the opportunity to win that game and we just did not take that."
Joseph said the inability to take chances was due to a little bit of fatigue and a loss of confidence.
"Mentally, the guys are buggered. They had a unique opportunity and it was a different type of pressure that we have had to deal with.
"It is a wee bit different than sneaking into Loftus or going up to Nelson and playing against [teams at] the top of the ladder.
"It is a different sort of pressure and it is something we have to get used to to be real contenders."
There was still plenty to play for in the last two matches and it was about maintaining integrity as a rugby team, Joseph said.
"We are struggling for a fan base that is consistent so we have to be successful and play worthy rugby to get people along here consistently.
"I think we have done that for 80% of the season but tonight was a real disappointment for us."
He said the distractions this week were all outside the team and he felt players were well-focused before the game.
He praised the play of first five-eighth Lima Sopoaga but said sometimes the side needed someone to take control.
Tony Brown was a likely starter for next week as Sopoaga is off to Italy with the New Zealand under-20 side.
He said the long season was starting to tell.
"Our guys have given a lot mentally throughout the season while [for] the likes of the Force and the Lions, their season was over four or five weeks ago."
Force coach Richard Graham was full of praise for his side which finally won a close game.
"I think we took our chances at the end. In six or so games where it has been close we have almost been guilty of hanging on, as opposed to continuing attack," Graham said.
He felt his side's defence on the tryline was excellent and the wind had more of an impact than many people thought.
He praised winger David Smith, who he said had been outstanding in New Zealand in the past two games.