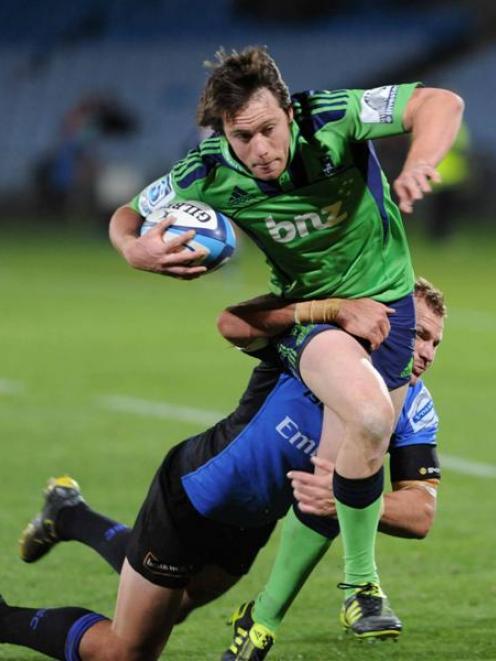 Highlanders rugby fans experienced the more nauseating aspect of the colour green at Carisbrook last night.
In the final Super rugby fixture at the venerable old 'Brook the Highlanders choked, leaving their fans feeling sick to the stomach.
The team debuted its new green colours in the match, replacing its traditional blue, gold and maroon jersey in a controversial move to symbolise the launch of a brave new era.
And the excitement was palpable when flanker Adam Thomson led the mid-green-jerseyed Highlanders on to the ground.
The new strip looked quite dashing, really, although it received a muted response from the crowd.
There were neither cheers nor boos - the latter would come later.
It did look a bit odd that the crowd appeared to be there to support the blue and yellow Western Force, and it would all have been rather confusing to the neutral.
But the Highlanders got the rub of the green right from kick-off, when a blue and gold player dropped a straightforward kick.
The green team raced out to a 14-3 lead by 27 minutes and the people who'd decided to change the colour of the jersey were congratulating themselves.
But surely they were soon feeling green, too.
The Highlanders didn't score another point in the match they lost 21-14.
It had all started so positively, after Ben Smith dotted down in the left corner in the 22nd minute for the first try in the new colours.
A green-overalled group wandered around the terraces with green buckets on their heads.
Long-time Highlanders fan Cliff Nelson had dyed his sideburns green for the match.
"You've got to move with the times," he said.
"It doesn't come down to the colours; it's about the guys in the team."
Nicole Batchelar and friend Emily Kloogh held up a sign with "Fail" painted in green.
"They look like leprechauns," Ms Batchelar said.
"Our boys look better in blue, gold and maroon," Ms Kloogh added.
Highlanders general manager Roger Clark later admitted the reception to the jersey from the crowd was "mixed" and said he was surprised with the reaction to the new green jersey this week.
He was also disappointed with the crowd of 6400, which he described as "a poor turnout".
"But what we've got to do is transfer that interest into bums on seats. We're going into a new stadium next year and we need to have a lot of support there."
The Highlanders board would next season decide whether the jersey would be worn permanently, Mr Clark said.