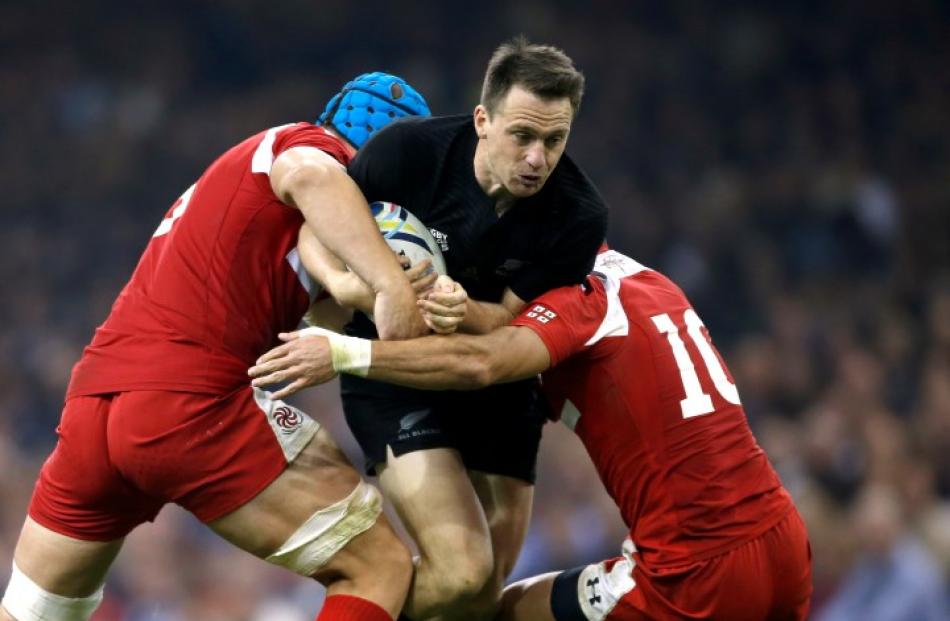 ODT Online rugby writer Jeff Cheshire makes some key points from the All Blacks' victory over Georgia in their World Cup match in Cardiff today.
If they don't improve, they won't win
Plain and simple, if the All Blacks do not start playing better they will not win this World Cup.
They are not looking like a world champion team and are nowhere near as clinical as they were in the pool stages four years ago. Tactically they once again played to an extreme and it did not work, as mistakes crept into their game and prevented them from cashing in. The first four tries came fairly easily, but after that the momentum slowed. Against higher quality teams, you will not score those four tries with such ease, chances are fewer and you need to take them.
Too many mistakes
The All Black handling was poor. Their passing was not flash, but often it was simply a case of the players dropping the ball, particularly when they were catching it at the line and in contact. That became a huge problem after scoring four early tries, preventing them from turning their territorial dominance into points. It was not just one or two players either, it was everyone, which will worry them. Just as against Australia, you have to wonder if it was a tactical problem, as they were rushing and putting themselves under pressure more than they needed to.
Need to build phases
After scoring a couple of easy tries early on, the All Blacks seemed intent on trying to create something from the get­-go every time they had the ball. That is far too predictable. They would spin it wide to Waisake Naholo or Julian Savea, but the lack of direct play meant the Georgian defence could just shadow the attack across the field and bundle them into touch. When they were playing direct, they were using runners hitting angles at the line, with the Georgian defence all over them.
A better approach would be to get some go­-forward, force the defence on to the back foot and draw the defence in. By playing that way you force the opposition to defend for longer periods, which is tiring, while also playing a lower risk game which is easier to execute. Once you have built a platform from playing that game, you can look to create something.
Trying to play at pace slowed the game down
It was clear the All Blacks were trying to play the game at pace. They went off the top from the lineout, tried to use their backs as much as they could and often opted to tap and go from penalties.
But that saw them rush things and make too many errors, which stopped play for a scrum and ended up slowing the game down. Of course they were not trying to make those mistakes, but by putting yourself in the position where they are likely, it is always on. They can still play a fast, but more measured game, working their way into position, then going fast once they get the ball to do so.
Tough defence from Georgia, limited on attack
Georgia's defensive line got up fast, read the All Black attack well and hit hard. At times it was brutal and the All Blacks' intent on doing things so early meant that often they were queueing up to be smashed. That, and the scrum, was all Georgia really had going for them though. They infringed a lot at the breakdown, although got away with it and the All Blacks did not cash in.
On attack they offered little. They fought hard, but mainly relied on one­-off runners and pick and go, showing little creativity in the backs. It was a spirited performance and they have come a long way in eight years, but as is the case with most of the teams at their level, they need to develop some sort of attacking game.
A win is a win
As with Namibia game, a win is a win and despite an unconvincing display there are still positives to take from the game. The lineout operated well, with the off the top ball providing a good source of possession to attack with. Their territorial dominance was good too, as Georgia struggled to get out of their half for long periods, while they also had most of the ball. You want to turn this dominance into points, but they still scored seven tries, including four in the first 23 minutes, which set the tone.