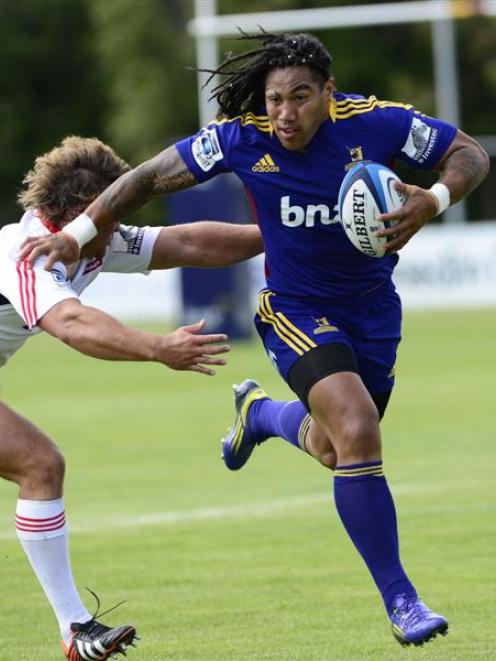 The Highlanders have retooled well this season and have a dozen internationals in their squad. But will it make a difference? Rugby writer Steve Hepburn assesses the side's chances.
There is a lot of talk in sport about off-field issues. About getting the right culture. The right front office. A united dressing room. Having the mindset to win games. Getting everyone on the same page.
But when it is all said and done, is it not about having good players?The New Zealand test cricket team was walloped by South Africa recently. All and sundry seemed to think it was about a dispirited Black Caps changing room and a split team.
But basically, South Africa's team was better than our mob. They could bat, bowl and field better.
And that is what the Highlanders have to their advantage. They have a group of players better than most other teams in the competition.
They have 11 past or present All Blacks in their side. With that comes the depth that has been missing over the past couple of years.
There are also quality players throughout the team. Much has been made of the Highlanders starting well and then fading in the later stages over the past couple of years. Better players perform at a higher level, for longer. That is the theory, anyway.
The likes of Shaun Treeby, Jamie Mackintosh and Josh Bekhuis, who have all been frontliners in the past couple of years, may not be starters. To have that calibre of player coming off the bench cannot be a bad thing.
Two years ago, coach Jamie Joseph bemoaned the lack of X-factor players in his side. Well, with the likes of Ma'a Nonu, Hosea Gear and Ben Smith, he should not lackfor game breakers.
And with a strong engine room and reasonable loose forwards, the side should not have to worry about getting enough ball.
But - there is always a but - having a group of good players does not always translate into a winning season. Just look at the Blues last year for evidence of that.
The Highlanders need to get their key players on the field and firing.
They have taken a blow with the loss of outstanding loose forward Adam Thomson, and injuries are already floating around.
If Thomson was in the side, and Colin Slade and Tamati Ellison were fit, the Highlanders would be at short odds to go the whole way. But Ellison is out for a lengthy period after a shoulder operation, Thomson has gone wandering, and Slade is still trying to get up to speed.
Slade has had a shocking run with injury and it is going to take a while for him to get back in form.
Will he be the same player he was two years ago when he was Dan Carter's back-up? Whatever he does, it is going to take time.
The onus will then fall on the likes of Lima Sopoaga and Hayden Parker to pull the strings if Slade can not get on the paddock.
Backs Buxton Popoali'i, Phil Burleigh and Kade Poki must become more consistent, while in the forward pack, players such as Bekhuis, Mackintosh and Brayden Mitchell have the onus on them.
Whatever happens, at least it will not be dull.
---
Highlanders: how they look
Coach: Jamie Joseph (third year).
Captain: Andrew Hore.
Key forward: Hooker Hore.
Key back: Second five-eighth Ma'a Nonu.
Player losses: Adam Thomson (not contracted), Nick Crosswell (Chiefs), James Haskell (England), Kendrick Lynn (not contracted), Chris Noakes (Blues), Siale Piutau (Japan), Culum Retallick (Blues), Jason Rutledge (not contracted), Telusa Veainu (Crusaders)
Player gains: Liam Coltman (Otago), Jason Emery (Manawatu), Ma'a Nonu (Blues), Jake Paringatai (Japan), Hayden Parker (Otago), Fumiaki Tanaka (Otago/Japan), Brad Thorn (Japan), Joe Wheeler (Crusaders), Tony Woodcock (Blues).
Last year: Ninth.
Prediction: Finalists.
The oil: With the inclusion of some experienced All Blacks, this should be the first time in 11 years the Highlanders make the playoffs. Coach Jamie Joseph has already set that goal as a bare minimum. But much will depend on injuries and the ability of whoever is wearing the No 10 jersey to steer the side round the field. A fully fit Highlanders squad, with players on form, should be part of the top six.
---