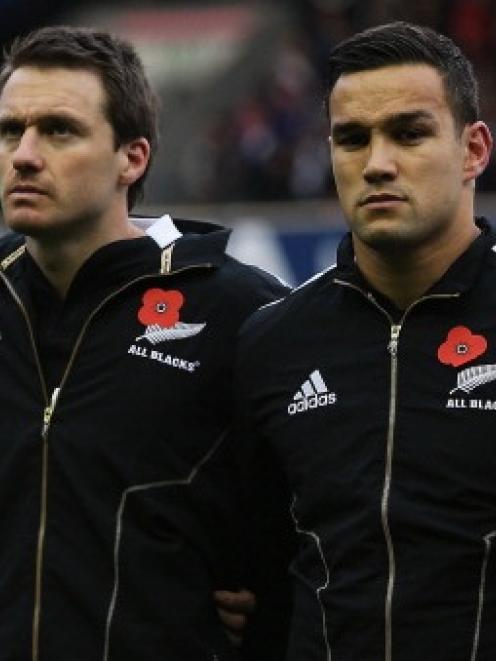 A decision on whether to send Tamati Ellison and Ben Smith home has been delayed to allow the All Blacks more time to fully assess the pair's respective injuries.
Both men were scanned first thing Tuesday morning [Italian time] and the prognosis is not clear. Ellison has damaged a ligament in his foot while Smith has broken a small bone in his cheek.
While neither is available to play this week in Rome, the longer term picture isn't clear and there is hope that both could still feature later in the tour.
Assistant coach Ian Foster, said: "We have had scans on both of them and Tamati has a sore toe - he has some ligament damage on the side of the toe which is a little unusual so we are just going to give ourselves a few days now we know what it is to see how quickly it settles down.
"Ben has got a small fracture in his cheek and again we are not sure at this stage whether he is going to play again on this tour. We are going to give ourselves two or three days just to see how he settles down
"Tamati's injury is a bit unusual so it is unclear how that is going to settle down and with Ben, the type of injury he has, it is possible to play with but we just want to make sure that we get people who give us the right medical advice."
There is significant consternation in the All Black camp about the situation as they could end up worryingly light on midfield resource if they lose one or both. Smith impressed at Murrayfield with his footwork and ability to make it over the gainline in thick traffic and has progressed his claim to be considered the heir apparent to Conrad Smith.
While neither Ben Smith nor Ellison were likely to start against Wales or England - even had they been fully fit - one of them would cover the midfield from the bench.
Daniel Carter will be able to cover second five against Italy but the real danger for the All Blacks will be either Conrad Smith or Ma'a Nonu picking up an injury in Rome.
Its with the danger of this scenario in mind that the All Blacks are in no rush to make definitive decisions about Smith and Ellison. Foster says no one has been put on stand-by.
But if a replacement is required the short-listed options would be Robbie Fruean and Ryan Crotty, although it is possible that Tim Bateman, already in the UK with the Maori, could be an option.
- Gregor Paul of the Herald on Sunday in Rome