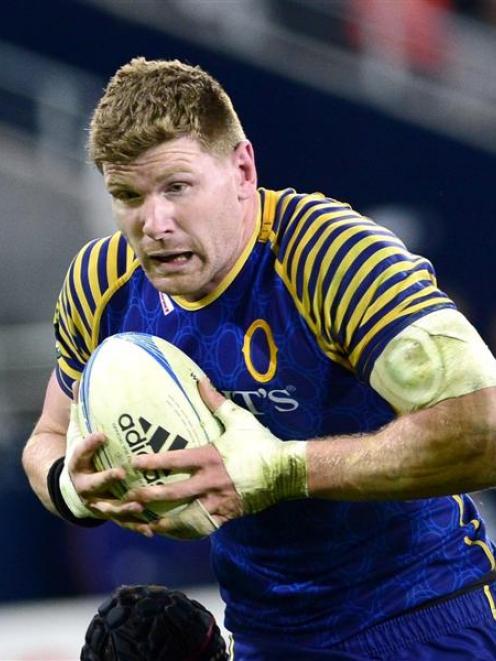 Adam Thomson has finally confirmed he is off to Japan, saying there was no mystery to his destination - the deal simply took time.
Thomson, who turns 31 next month, has signed a two-year contract with the Canon Eagles and will have to be in Japan by April 1 for pre-season training. He will not be able to play for any Super 15 team before he leaves for Japan.
Thomson said he just felt it was time for him to leave New Zealand rugby.
''I just had this feeling I had done what I wanted do here and it was time to look around for something new,'' he said.
''I love the Highlanders and love the region and it has been a pretty special place for me over the years. But at the end of the day, I have made a decision for the future.''
The Highlanders have signed some big names over the off-season and Thomson said it was just bad timing he was now leaving with the side full of potential.
The Highlanders tried to sign Thomson for a short-term contract for part of the season but had trouble locating him, and any deal was given the thumbs down by his new club and the New Zealand Rugby Union.
The All Black loose forward's future had been a mystery over past months as he had not announced where he was heading for this season and remained uncontracted for this year.
But Thomson, who is now based in Auckland, has not been playing games. He said the deal was not finalised until the past couple of days, so he could not make any comment.
''I suppose I'm in a unique situation. When most people head to Japan they play a full Super rugby season and then go over. I'm almost doing it in reverse. But they want me over there for a full pre-season.''
The Canon Eagles also have former Highlanders Callum Bruce and Kane Thompson on their books, along with former All Black Isaia Toeava.
Thomson made his All Black debut in 2008 and played 29 tests, the most recent against Scotland at Murrayfield last year. He played 71 times for the Highlanders and 54 games for Otago.
He was something of a late bloomer, not making the Highlanders until 2008, but has been the franchise's best player for the past five years, grabbing lineout ball and turnovers, and showing blinding speed around the paddock.
''It has been a roller-coaster ride, really up and down. I took a while to get a start with a Super team and then I just stuck with the Highlanders, and also with Otago. That is almost a bit of a rarity these days, being with one province and franchise the whole time.
''It's going to be hard to leave the place and I'm really grateful for all the opportunities they have given me.''
He will be watching the Highlanders closely tonight, but admitted he will not miss the tough trainings.
As for his All Black career, Thomson said it had not really sunk in he had played 29 tests, including winning a World Cup.
''When I was a young, scrawny kid growing up in Ashburton if someone had told me I would play in 29 tests I wouldn't have believed them.
''It is pretty surreal what I have done in the black jersey. One test would have been enough for me.''