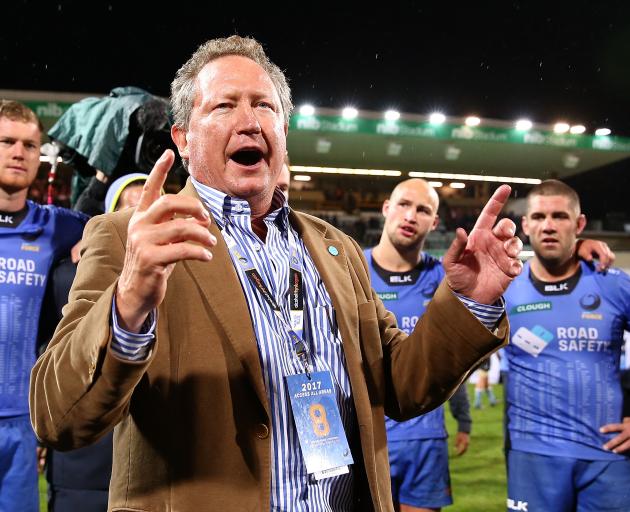 Billionaire mining tycoon Andrew Forrest will set up a rebel competition spanning the Indo-Pacific region after Australia's Western Force lost their court appeal to remain in Super Rugby.
Forrest has underwritten the Force's legal fight to remain in Super Rugby, but angrily declared the side would live on in his new tournament, which he claimed would challenge the primacy of the southern hemisphere's incumbent competition.
"This is the beginning of the new Force, this is the beginning of the new Indo-Pacific competition and I am delighted to be an instigator of it," Forrest told reporters in Perth on Tuesday.
"I will be releasing details immediately of the initial administration structure and can assure all of you that discussions have commenced and within our own state and country to ensure this competition starts and starts strong."
The ARU did not immediately return calls to provide comment.
After expanding quickly in the past six years and opening new markets in Japan and Argentina, Super Rugby has become vulnerable.
The 18-team format of the past two seasons has been jettisoned and its governing body SANZAAR agreed earlier this year to cut three teams to consolidate a competition that was losing fans and ratings.
South Africa agreed to cut two of their teams and they are now playing in Europe's Pro14 competition.
The cash-strapped Australian Rugby Union also committed to cutting a team but the process has been far more messy.
UGLY DIVORCE
State governing body Rugby Western Australia rebelled against the decision and vowed to fight it through the courts with the support of Forrest, one of the country's richest men.
The state's premier has also threatened to sue the ARU over government funds spent on the Force's home stadium, while federal lawmakers have called for enquiries over how the ARU arrived at its decision.
Pundits have called on Australia to leave Super Rugby altogether, claiming it fails to represent Australian interests.
Forrest offered the ARU $A50 million ($NZ69 million) in financial support for the game if it guaranteed the Force's survival in Super Rugby but the governing body turned down the "extremely generous" financial offer, saying it had come too late and they had already committed to their course.
While ARU chief executive Bill Pulver has already announced his resignation, Forrest reiterated his call for chairman Cameron Clyne to also fall on his sword.
"The chairman made a very poor financial decision -- should have stayed running a bank, I think -- to shrink the game, to not approach people like me, to turn down an offer for $A50 million ... to not grow the game or strengthen it but to shrink it," said Forrest.
The Force had sought to stave off their dismissal by arguing at arbitration they had signed an alliance agreement with the ARU that guaranteed them Super Rugby until the end of the current broadcasting deal in 2020.
The ARU contended that, with the competition contracting, a new broadcast agreement would be in place for 2018.
The NSW Supreme Court backed the arbitrator's decision, saying that as owners of the Force, the ARU had the right to do what they wanted with the team.
"It is to be remembered that ARU owns the Force," Justice David Hammerschlag said in his case notes.
"If the alliance comes to an end, it owns the Force unconditionally without any potential obligation to sell it back in the future, and can do with it what it likes, even destroy it."
NEW COMPETITION
Forrest said he had engaged lawyers to consider an appeal to the High Court, but made clear his priority was to push on with the new competition, which he saw involving six teams initially and involving "key countries" across the Indo-Pacific.
"I'm asking every Western Force player to stay strong to allow me the time to be fully briefed ... I'd like to start (the competition) with an international game which is yet to be announced."
Emotional former Wallabies loose forward and long-serving Force captain Matt Hodgson wept during the media conference with Forrest and said the players would stand firm.
He added that he would be surprised if local fans turned up to support the Wallabies during their Rugby Championship match against South Africa in Perth on Saturday.
"You're here 12 years, serving a state, serving a country. They take it away," he said with tears in his eyes.
He suggested fans who did show up on Saturday would be wearing either the Force colours of blue, and not the gold of the Wallabies, or "probably black."
"A day of mourning for not only Western Australians but for rugby in general," he said.