The Super Rugby season is entering the home straight. So which players are coming from nowhere to get an All Black jersey while which players have joined the bear market? Rugby writer Steve Hepburn looks at those who are on the rise and those on the decline.
BOLTERS
Tom Robinson
loose forward, Blues
Plus: Gets around the paddock and has a good turn of pace. Hits very hard and goes deep into the well to be a force throughout the game.
Minus: Is it just the red hair which gets him noticed? Big body but gets in the way a bit too often. Too raw for the next step.
TJ Faiane
centre, Blues
Plus: Just continuing on from the excellent form he showed for Auckland last year. Runs good lines and solid on defence.
Minus: About as much flair as a meeting of the governance and administration select committee. Improved by the players around him.
Wes Goosen
winger, Hurricanes
Plus: Taken every chance which has come along. A pocket rocket who has been a handful for every opponent this season.
Minus: Too small, perhaps. Struggles to get game time in a backline packed with talent.
Luke Jacobson
loose forward, Chiefs
Plus: Dominated a couple of New Zealand derbies. Big and tough and never takes a backward step. Has outplayed some worthy opponents.
Minus: Playing in a poor team so easy to stand out. No-one knows what is his best position. Could be a tweener.
Ben Lam
winger, Hurricanes
Plus: Dangerous player who knows his way to the tryline, very quick and hard to stop.
Minus: There are plenty like him around and some have the runs on the board. Not the world's greatest defender.
Sevu Reece
winger, Crusaders
Plus: Electric and very hard to keep out of a game. Knows how to score tries and is dynamic with ball in hand.
Minus: Not played much at all. Great going forward but one of many who went missing when the Sharks came calling. Do we need another Crusader in the All Blacks?
Josh Ioane
first five-eighth, Highlanders
Plus: Running the cutter well for the Highlanders, calmness under pressure and taking many good options.
Minus: Had a couple of average games, still learning his craft, would be like making Hamish Walker the prime minister.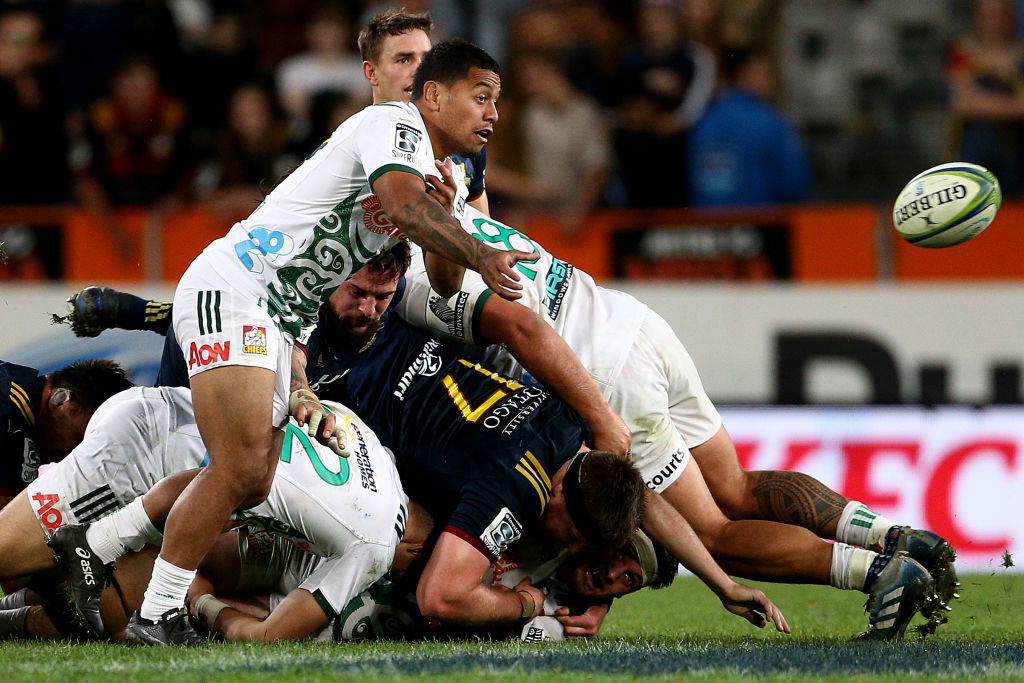 FIZZERS
Augustine Pulu
halfback, Blues
Plus: Tenacious and hard working, good for a scrap.
Minus: Poor option taking, far too greedy, slipped way off the radar
Solomon Ailaimalo
outside back, Chiefs
Plus: Quick and agile, strong runner and good finisher
Minus: Ball seems to be passing him by, set back by niggly injuries, playing in a poor side.
Atu Moli
prop, Chiefs
Plus: Massive front rower who has skills and a real desire. Has huge potential.
Minus: Always injured, cannot string a series of games together.
Te Toiroa Tahuriorangi
halfback, Chiefs
Plus: Nice pass and does everything that is asked of him.
Minus: Cannot get a game, sat behind skipper, hard to press claims with 10 minutes at the end if lucky.
Brett Cameron
first five-eighth, Crusaders
Plus: Looked good for Canterbury last year.
Minus: Fluffed his one line in poor effort against Waratahs and not sighted since. Another biased Canterbury selection from last year.
Gareth Evans
loose forward, Hurricanes
Plus: An X-factor player who can do plenty of things on the field.
Minus: Has not been sighted because of calf injury, may be out of the running.
Nehe Milner-Skudder
winger, Hurricanes
On his day one of the best wingers in world rugby.
Minus: That day was four years ago. Injured too often.
Liam Squire
loose forward, Highlanders
Plus: On his game and firing then look out, can be devastating on attack and defence.
Minus: Not played all season, missing in action.
Waisake Naholo
winger, Highlanders
Plus: Quick and always scoring tries when in form.
Minus: If you are only as good as your last game then this guy is no chance.