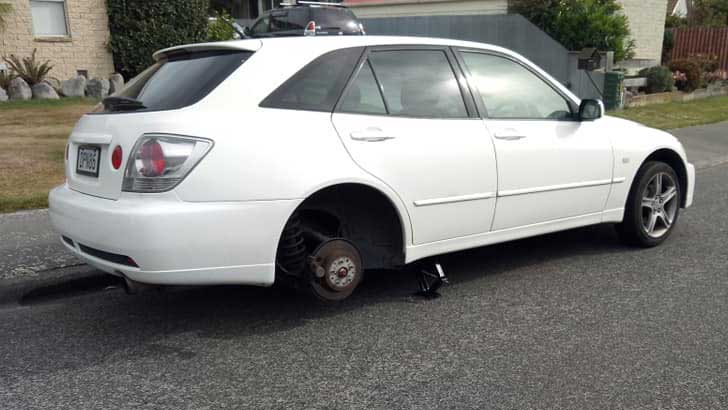 Several vehicles have been broken into and damaged since people were asked to stay inside as the country went into lockdown on Wednesday.
Resident Jared Maxwell-Smith posted a photo on the Halswell Community Group Facebook page of his daughter's car which had its window smashed on Thursday night.
"Looks like [the] lockdown doesn't stop some people," Maxwell-Smith said.
A number of other residents commented below the photo about damage which has happened to vehicles where they live.
In the Wigram Skies Community Page on Facebook, another person shared an image of a car which had its back tyres stolen on Wednesday night.
A police spokeswoman said while there is no indication of an immediate increase in incidents as a result of COVID-19, the current environment has been acknowledged as a stressful one for many in the community. 
"We know that in times of high stress we can see an increase in callouts, and we would like to remind people to take stock, take a breath, and look after yourselves and each other," the spokeswoman said. 
"While police patrols offer community reassurance and crime prevention, we still need members of our community to let us know what's going on."

If you see a crime being committed or anything suspicious, please call police on 111 if it is urgent, otherwise, call 105.

Information can also be passed in anonymously via Crimestoppers on 0800 555 111.
Vehicle security to deter burglars:
Do not leave valuables or documents with personal information behind, especially passports.
 
Park in well-lit areas when possible.
 
Always lock your vehicles when you leave them and take your keys with you.
 
Any boats or vehicles on your property should be disabled so they can't be moved or towed away.
 
Consider a steering wheel lock if you have an older vehicle - it's a great deterrent.
 
Keep in contact with your neighbours and look out for each other, too.