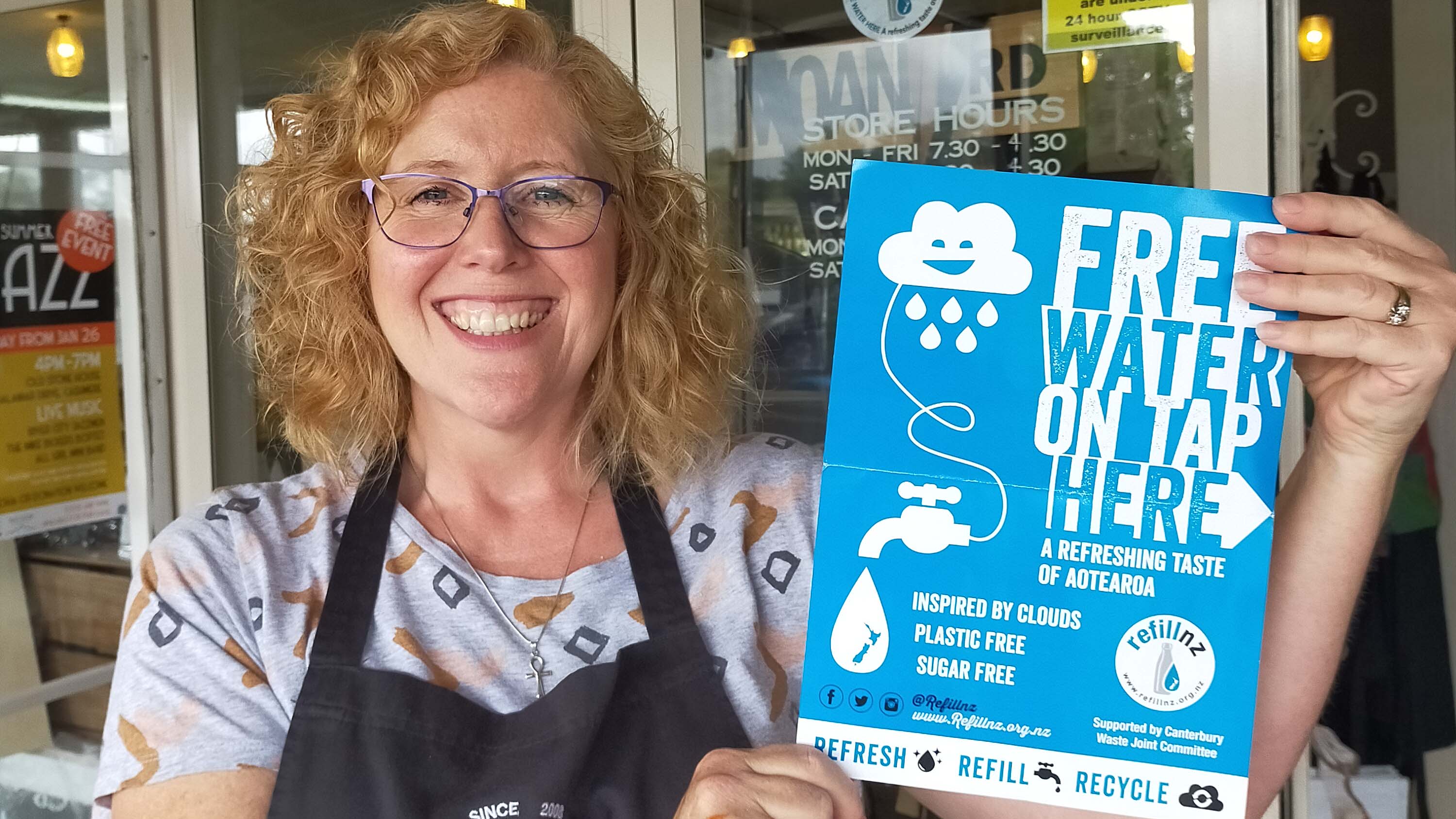 Canterbury cafes, pools, vineyards and holiday parks are signing up to a scheme that aims to cut down plastic pollution by providing free water bottle refills.
RefillNZ is a non-profit organisation that enlists hospitality outlets around the country to allow visitors to fill up their resusable water bottles from the tap for free.
It provides a poster and stickers to participating businesses letting people know that water refilling is available on site. The network also provides information about the location of public drinking fountains.
The Christchurch City Council, as part of its membership of the Canterbury Waste Joint Committee, has contributed funding to RefillNZ to support its work, making it free for local businesses to join the scheme.
Graham Condon, Pioneer, Taiora QEII and Jellie Park recreation and sport Centres have joined the network of RefillNZ stations.
Council head of recreation, sports and events Nigel Cox says staff are enthusiastic about being part of the initiative.
"It makes sense for us because it's a way to promote good health, protect the environment, and help out our community."
RefillNZ founder Jill Ford says 66 cafes, hotels, vineyards, i-sites and other hospitality businesses are now involved in the initiative across Canterbury, including The Store in Tai Tapu, South Brighton Holiday Park, and Laneway Espresso on Durham St.
Three campaigners are working for RefillNZ to introduce new outlets to the scheme with a goal of signing up 150 sites around the region this year.
"Water fountains aren't always easy to find and can be expensive to install. This means people are more likely to buy bottled drinks when they're on the go," Ms Ford said.
"Our vision is for tap water to be the drink of choice in Aotearoa.
"We do this by empowering people to ask for free tap water from local businesses. This will make carrying a reusable water bottle the norm and stop plastic waste entering the environment.
"Having a RefillNZ sticker also shows that the business cares about the environment and their community."
She was motivated to start the project after being horrified by figures showing that on average each New Zealander uses about 180 plastic water bottles a year.
The amount that is recycled is unknown but, she says at most it's about 30 per cent.
Millions of single use water bottles are being thrown away each year, ending up in landfill, on beaches and in oceans where they can harm wildlife.
RefillNZ also raises awareness of where people can access free drinking water. Using a location-based map on the RefillNZ website and an app people can find public water fountains and RefillNZ stations in their area.
Thanks to funding from the Canterbury Waste Committee, Plastic Ocean Pollution Solution workshops will be available for Christchurch primary and intermediate schools from term one.
Ten schools have already signed up and there are places for a few more. Interested schools can sign up online.