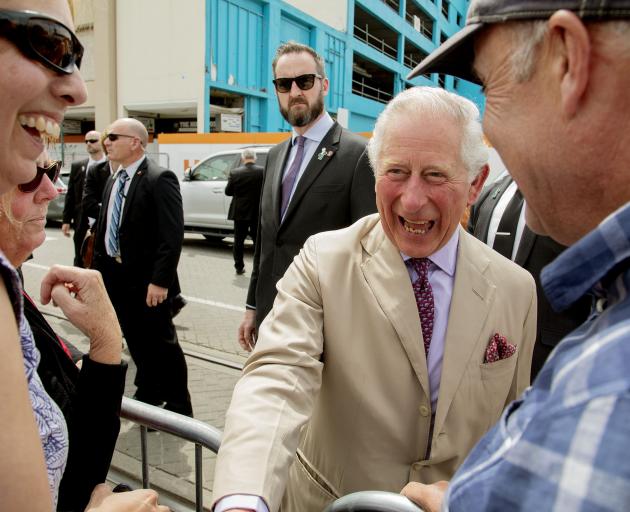 Prince Charles and the Duchess of Cornwall acknowledged Cashmere High School students and families impacted by the 15 March attacks on Friday.
The royals wereat the school on Friday afternoon, where they were joined by the prime minister.
A loud and powerful haka could be heard as the trio entered the school hall packed with hundreds of students, staff, and families who lost their sons who attended the school.
Seven people, including three students, associated with Cashmere High School were killed or injured in March 15 mosque attacks earlier this year.
The royals and the prime minister were welcomed by Okirano Tilaia, Cashmere High School's head boy.
He spoke about the student vigil he organised, where 4000 students paid tribute to those who lost their lives in the shootings.
He spent the weekend baking and collecting toys to take to workers and victims of the attack.
The school's Kapa Haka Group also put on a performance.
Prince Charles addressed the crowd and offered condolences on the tragic loss that was endured.
"I may know something of the terrible anguish, I can appreciate the tense grief you have faced and the despair that can result," he said.
"The only possible remedy is hope.
"The remarkable efforts of the students have made a great difference and are worthy of the highest praise.
"All of the communities have stood proudly with their Muslim brothers and sisters.
"The strength of the NZ character which I have long admired has shone through."
He said he was proud of the way all New Zealanders stood together after the attack.
The royals also met with students before moving into a private meeting with those affected by the shootings.
Prince Charles and Duchess Camilla spent Friday morning at Tuahiwi Marae in North Canterbury, where they met with survivors of the March 15 terror attack.
They were welcomed with a karanga and a haka pōwhiri and were wearing korowai - Māori cloaks - for the ceremony.
Prince Charles talked with mosque attack survivor, Ahmed Iqbal Jahangir, who said it was "amazing" to meet the future king.
"He shared his condolences with us and he said that we are in his prayers," said Mr Jahangir.
"He said what happened was really heartbreaking for them, too."
Mushabab Aiban, of the Muslim World League, presented the royal couple with a gift of perfumes.
Pupils and students from Tuahiwi Primary School, Rangiora High School and Kaiapoi High School also performed a haka pōwhiri to welcome the couple.
The royals were presented with two sculptures by artist Fayne Robinson, which were carved from stones out of the Ashley River.
They were hosted at the marae by John Robert Crofts and Elizabeth Kereru.