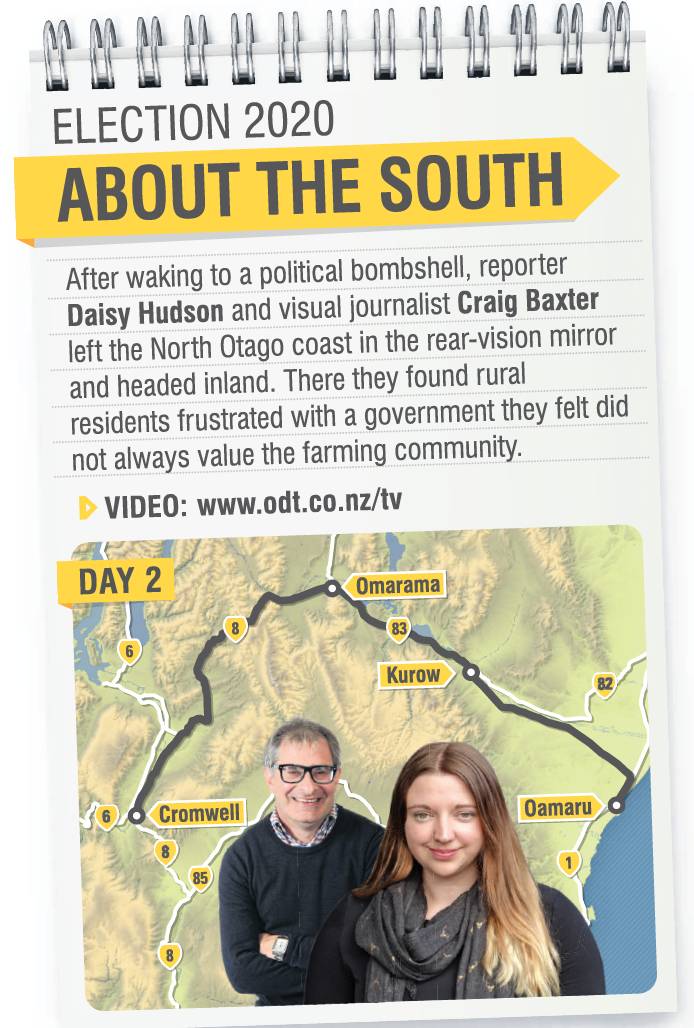 The news broke at breakfast. The handful of people at the Oamaru hotel restaurant were glued to their phones as the flurry of alerts starting popping up.
After a scandal-plagued 53 days, Todd Muller had abruptly resigned as leader of the National Party.
He cited the impact of the job on his health, and said he was not the right person to lead the party into the election.
From the reactions of those reading the news over their morning coffees, it was clear his decision left plenty of uncertainty and surprise in its wake.
Farewell Todd, they hardly knew ye.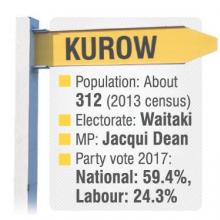 It was an unexpected start to day two of the Otago Daily Times' About the South election road trip.
Coffees downed, we headed for Kurow, or McCaw Country as it is formally known.
Nestled at the heart of the Waitaki Valley, Kurow's about 330 people overwhelmingly voted for National at the last election.
Its rural service town status was evidenced by the fact the busiest place in the main street, by a country mile, was the Farmlands branch.
Fraser Sim said the rural sector felt underappreciated by the Government.
The local earthmover, stopping to have a chat while picking up his mail in town, said the feeling was a change was needed.
"The Government we've got at the moment is not that great for rural New Zealand."
He felt farmers had kept the country going during the Covid-19 outbreak when other industries were crippled, but there had been no recognition of that.
"Farmers kept going, they kept staff on."
He acknowledged Prime Minister Jacinda Ardern had done a good job managing the outbreak, but said she had not done it on her own.
Fifty kilometres up the road, past the Waitaki Dam, Omarama nestles at the intersection of State Highway 8, where roads lead south to Queenstown and north to Mt Cook.
It is a popular stop for tourists needing a coffee, snack, or soak in the hot tubs.
While a bit more touristy than Kurow, it is also rural and right-leaning.
Of the 209 people who voted at Omarama School back in 2017, 129 cast their party vote for National compared with 47 for Labour.
Those voting there that day were, however, a bit more diverse in their voting habits.
New Zealand First, the Greens, The Opportunities Party, and the Maori Party all picked up a handful of ticks.
Local stalwart James Kerr has a foot in both the tourism and farming camps.
He and wife Trish own The Wrinkly Rams cafe, gift shop and sheep shearing show, about 1km from their farm.
Like Mr Sim in Kurow, Mr Kerr felt farmers had been in the firing line in recent times.
"We're a farming community here, and a lot of pressure's come on farming with water quality in particular, nitrate leaching, that sort of thing. Those are pretty hot on the agenda at the moment for most farmers in this district."
Immigration was also a talking point.
"There's a lot of criticism of immigration, of foreign workers coming here, but from what we're seeing, and we've been in business for 15 years doing hospitality, if it wasn't for the migrant workers we'd be in trouble.
"Every time we advertise for a job, we rarely, rarely get a Kiwi apply," he said.
However, the cost of having to reapply for visas every year was unsustainable.
"Some of our workers have been here for nine, 10 years and even now they're still getting one-year visas.
"We get accused, the employer, of exploiting the foreign workers but the Government needs to have a look at their own backyard because I feel that's a little bit excessive."
Nevertheless, apart from in a few areas, he felt the Government had been doing a "fairly honest job" and people were reasonably happy.
The same could not be said about the morning's political bombshell.
"In probably a traditional National area, Otago, we're probably feeling a bit disappointed in the recent announcement of Todd Muller pulling out.
"I feel a bit sorry for him, because I realise it's a volatile place, politics, and there seems to be more and more volatility as we move on in time, which is a bit sad really."
Leaving him to finish feeding the sheep with his grandkids, it was time to head through the vast Lindis Valley. It is funny how, after bemoaning the impact of Covid-19 on tourism, frustration at getting stuck behind dawdling campervans was still remarkably close to the surface.
Emerging on the other side, Cromwell finally came into view.
A stone fruit and viticulture hub, it is perhaps best known for the giant fruit statues that loom over the town like an axed scene from James and the Giant Peach.
With the light fading fast, we flagged the local cabbies for a ride.
As Cromwell Cabs owners Sandra Adam and Steph Benfell showed off the sights, they noted things were picking up in town post-lockdown.
People could not go overseas, Ms Adam said, so they were putting their time and money back into the local community instead.
Tourism had started to hum again, especially during the school holidays.
Though it was a growing town, Cromwell did not appear to be suffering any growing pains, Ms Benfell said.
Services appeared to have kept up with the population growth as people moved in and commuted to Queenstown.
Darkness had well and truly fallen by the time they dropped us back at the motel, although there were still plenty of people out and about for a Tuesday evening.
By the time most of them went to bed that night, the morning's drama had been resolved.
Todd Muller's name was a footnote in the history of the National Party, and the reign of Judith Collins had begun.