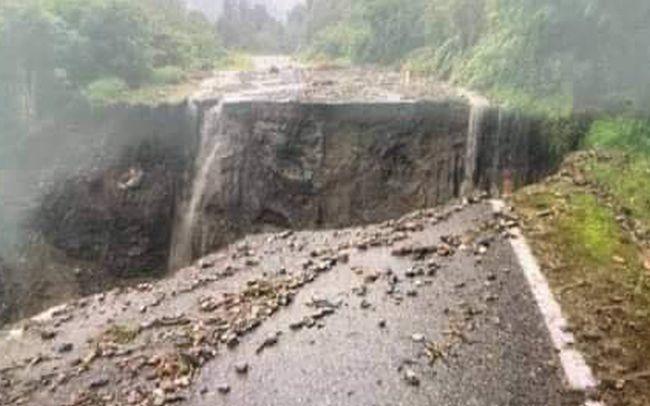 There are significant slips between Franz Josef and Fox Glacier on the South Island's West Coast after heavy rain - with more bad weather forecast.
All the settlements on State Highway 6, between Hokitika and Makarora, are cut off on Saturday because of the damage.
SH6 on the West Coast after heavy rain

Westland District Mayor Bruce Smith said there has been considerable damage and Coasters are completely on their own until the weather improves.
Pete Connors, from the New Zealand Transport Agency, said a huge length of SH6 - more than 350km - is shut due to numerous slips and a bridge washout.
"The real problem we've got is between Fox Glacier and Franz Josef - on what we call the Fox Hills ... there's been some pretty substantial slips."
Mr Connors said it was too early to say how long it will take to repair the roads.
The Little Man Bridge on SH6 near Te Taho collapsed overnight.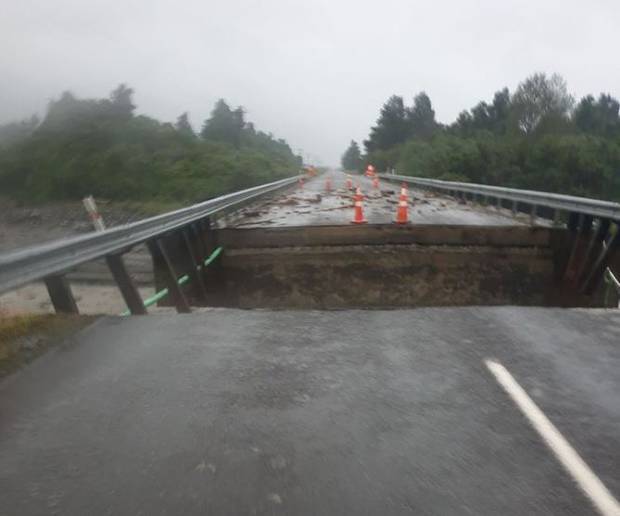 West Coast Civil Defence Emergency Management Group's Simon Bastion said this would cause a lot of disruption for locals and motorists, as there were no detours available for that highway, and road users would have to wait until it was repaired. 
Mr Connors said several key highways linking regions of the South Island have been closed due to flooding, slips, and rivers rising on Saturday. In the West Coast they were:
Otira to Arthur's Pass, SH73 link between Canterbury and the West Coast, is down to one lane due to a slip at Candy's Bend below the viaduct.
There were multiple slips across South Westland and SH6 is closed from Hokitika south through the Haast Pass to Makarora on the Otago side of the pass.
"Transport Agency crews are working to get access from the north to Harihari and it is hoped to have a four-wheel drive track and access to milk tankers this evening," Mr Connors said.
"We expect to have the Haast Pass route from Makarora in Otago through to Fox Glacier open in the next two days.
"However, the highway through the Fox Hills between Franz Josef and Fox Glacier townships and at Mt Hercules between Harihari and Whataroa is where the most significant damage is.
"We are currently assessing these areas and trying to get work crews in, but they are unlikely to be open in the next few days."
Meanwhile, power is out from Fox Glacier to Paringa, and likely to remain so for a couple of days.
Lines company Westpower said it is working with Civil Defence and roading authorities to find out when they can get in to replace downed power poles. In the meantime, people should treat all power lines as live.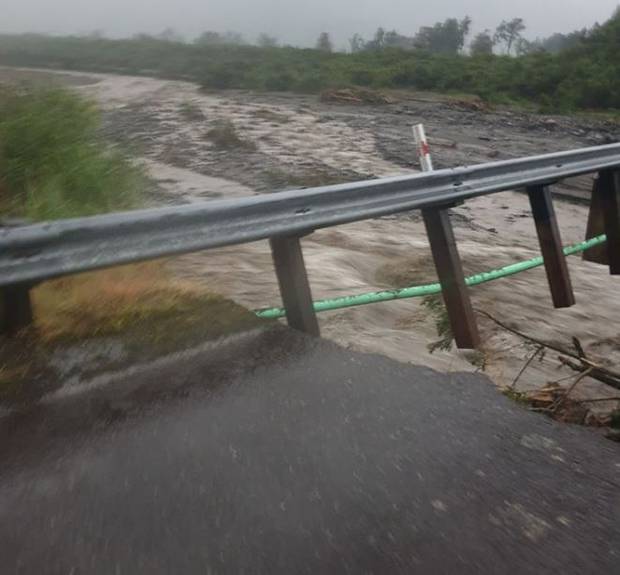 Westland District Mayor Bruce Smith said 400mm of rain has fallen in the past few days accompanied by powerful winds.
"There's a real message here at the moment, Coasters - all of your individual towns are isolated and so you're on your own.
"You need to be talking to your neighbours. Make sure that you don't to anything silly because this weather will pass over and then we'll get into the recovery mode."
Residents in Franz Josef and Fox Glacier on town supply are advised to conserve water.
Mr Smith said once the weather calms down, helicopters will assess the damage.
People should monitor West Coast Civil Defence social media pages for up-to-date information.
Extensive rain and strong winds have been battering the region, including Hokitika and Westland, with several weather warnings still in place.
MetService was expecting up to 80mm of rain to fall in the ranges this morning through to 1pm, and 20mm to 40mm near the coast, especially north of Franz Josef Glacier. It is also forecasting another period of heavy rain from 2am tomorrow.
WILD WEATHER ELSEWHERE 
Heavy rain was expected to lash other parts of the country later today as well. 
In the South, heavy rain was forecast in Fiordland and Doubtful Sound.
A severe thunderstorm watch remains in force for Nelson, Buller, Westland and the Canterbury high country.
Canterbury is being warned of strong winds that could reach up to 120kmh, while heavy rain is expected in parts of the area.
In the North Island, Auckland was expected to be hit with heavy rain and possibly severe thunderstorms and hail later today.
Parts of Northland, Great Barrier and Coromandel are also in line for heavy downfalls.
Showers were expected this afternoon, and residents are being warned of the possibility of slips and flash flooding in low lying areas.
Heavy rain was expected in the Taranaki area from Saturday evening, and in the central North Island from tomorrow.
In Wellington, winds could reach severe gales in exposed places.
- RNZ, ODT Online and NZ Herald