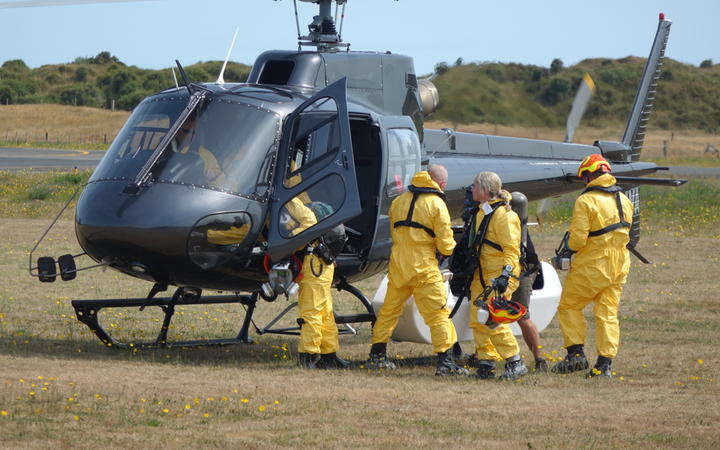 Police and Navy divers have recommenced searching this afternoon for the two remaining bodies at White Island, after a fruitless search earlier today.
The body recovery team returned to the mainland after spending 75 minutes on the island this morning without success.
Deputy Police Commissioner Mike Clement confirmed the teams were unable to find either of the last two bodies.
He described the situation as "tough going for everybody", but said police would not give up easily on returning the bodies to loved ones.
"We understand completely how frustrating it is for loved ones who want the bodies back."
"Everyone went out there desperate to find the bodies."
"It's been a blow for police," Clement said.
Meanwhile, police have formally identified four more of the victims. They were: Tipene James Te Rangi Ataahua Maangi (24), of NZ; Zoe Ella Hosking (15), of Australia; Gavin Brian Dallow (53), of Australia; Anthony James Langford (51), of Australia.
The names were released by police following this morning's search which was assisted by two pilots with local knowledge, Clement said.
Two teams of four Search and Rescue and Disaster Victim Identification staff were taken to the island by helicopter earlier this morning.
The team arrived ashore just after 8.30am today and had enough oxygen for 75 minutes.
The police had said they would go to an area where the best information suggested a body might be.
The teams were wearing the same protective clothing as the Defence Force personnel who recovered the bodies on Friday.
A police Eagle helicopter circled be above the island with a GNS scientist on board monitoring the environment in real-time.
The team arrived ashore just after 8.30am today and had enough oxygen for 75 minutes.
Yesterday, a Police National Dive Squad of nine members searched the waters around White Island for a body seen in the water following Monday's volcanic eruption.
However, "unique and challenging" weather conditions hindered the water search and no additional bodies on the six recovered on Friday was made.
Police Deputy Commissioner John Tims said conditions in the water around White Island yesterday were "not optimal" with between zero and two metres visibility.
"The water around the island is contaminated, requiring the divers to take extra precautions to ensure their safety, including using specialist protective equipment," Tims said.
"Divers have reported seeing a number of dead fish and eels washed ashore and floating in the water.
"Each time they surface, the divers are decontaminated using fresh water."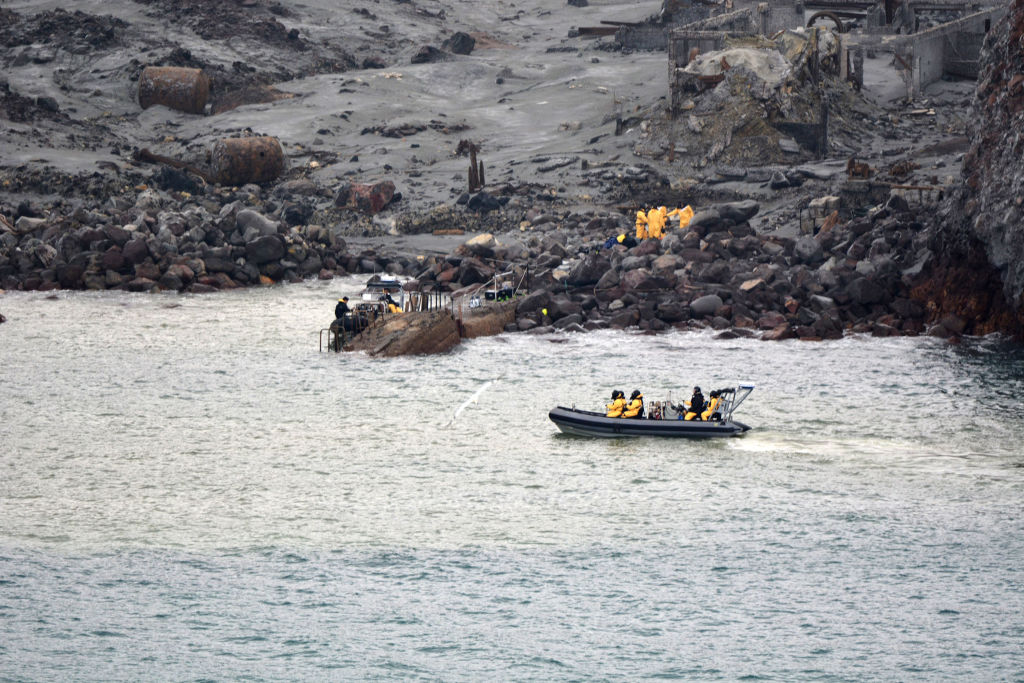 Yesterday's water search started at 7am, and was bolstered by the navy dive squad in the afternoon, but did not extend to a further land search of the island itself.
Planning was, however, undertaken to conduct further land-based searches of the island for the two remaining bodies.
Yesterday afternoon, police officially released the name of the first victim from last week's disaster as 21-year-old Melbourne woman Krystal Browitt.
Vet nursing student Krystal Browitt turned 21 on November 29, less than a week before her family boarded the Ovation of the Seas cruise - aboard which she was celebrating her birthday.
GNS Science senior volcanologist Graham Leonard said as of 11am on Saturday, there was a 35 to 50 percent chance of another eruption in the next 24 hours.
"Over Friday night into Saturday there was a rapid large drop in tremor at the volcano," Leonard said.
"But no matter what the system remains highly volatile and all of our monitoring parameters point to shallow magma in the system."
As of 4pm yesterday, 17 injured patients, 11 of them critically, in the White Island eruption were spread across Middlemore, Waikato, Hutt Valley and Christchurch hospitals.
1 NEWS reported yesterday that patients in Middlemore Hospital will remain there for months.
A burns surgeon from Australia arrived at Middlemore Friday night, and went straight into theatre yesterday morning.
Middlemore's Dr Peter Watson praised the help and support from across New Zealand and around the world.
"There are incredible responses, amazing people and I just really want to say thank you to all those people," Watson told 1 NEWS.
"It's been a really long week. We're making sure to get people home and rested because the work won't stop today, tomorrow or this week.
"It's really important that everybody looks after themselves."
Packed in cardboard boxes and lined with foam and dry ice 15 donors-worth of skin is en route to New Zealand from Ohio - nearly 14,000km away.
The shipment is part of the 120sq m of skin, 60 donors' worth, needed to help treat White Island eruption victims' terrible burn injuries.
Police also announced yesterday that the bodies recovered off White Island have been taken to Auckland for the post mortem and disaster victim identification process.
Police DVI experts, forensic pathologists, ESR, odontologists and the Coroner's office, will now undertake the process of identifying victims and releasing bodies to families.
"This is a long and complex process and we are working as quickly as possible to return loved ones to their families," Deputy Commissioner Tims said.
 - additional reporting RNZ