Crews are "winning the battle" against a huge fire at the SkyCity Convention Centre in central Auckland, but the emergency is not over, a senior fire representative says.
The fire has continued to burn since it began yesterday about 1.15pm. Flames engulfed the top of the building, starting on the seventh floor before spreading to the sixth. By this afternoon, crews had used 12 million litres of water. 
Prime Minister Jacinda Ardern, accompanied by  Auckland Mayor Phil Goff, met with fire crews, SkyCity and Fletcher Building  representatives this afternoon.
SkyCity was expected to be open and trading by Friday, chief executive Graeme Stephens said. He said he hoped the site would be handed over tomorrow afternoon and staff would return to work on Friday.
A firefighter was taken to hospital with a concussion after a piece of roofing fell on him, while St John said four other people had been treated at the scene today.
Fire and Emergency regional manager Ron Devlin updated media this afternoon, including the firefighter's injury.
"It was unusual, may have been flicked off in the wind. It is not what we want to happen, and the reason we have been very careful with internal operations."
Mr Devlin said firefighters were "winning the battle", but the emergency was not over, and there was "quite some time to go yet".
"My view is there is no chance of the fire spreading down. I am confident the fire is already contained.
"What we have is a burned structure, still smouldering. Probably about 20 percent of the roof is still burning, and once that is burned it will have burned itself out."
Mr Devlin said the roof had not yet collapsed and believed it should be completely burned by 8pm.
There were about 80 firefighters on the scene this afternoon, down from 130 at the peak.
Heavy rain and strong winds in Auckland were not helping and the building contained complex materials, which made the work harder, Mr Devlin said.
Crews would be fighting the fire most of the day and into tonight.
"I think the managed situation that we're in should see us have crews inside and we'll be in a mopping up situation."
Meanwhile, a firefighter taken to hospital yesterday for tests and monitoring had been released, he said.
SkyCity boss Graeme Stephens said the fire was "absolutely devastating".
He said he was at the site yesterday morning in a hard hat checking out progress.
"We were literally signing off hotel rooms and you could see the internal shape... I left the site very buoyed, very excited."
Hours later he got the call about the fire.
Stephens thanked front line emergency services staff and acknowledged their "immense efforts" in fighting the fire.
Fletcher Building chief executive Ross Taylor told reporters today that the fire started where blowtorches were being used on bitumen to seal roof joints. The company remained committed to completing the $700 million convention centre.
It was the largest and most complex fire the city had experienced in recent times, Mr Devlin said.
Asked if the building might be a write-off, he replied: "I'm not an engineer but I don't believe it is."
Fletcher Building chief executive Taylor echoed that sentiment, saying "no" when asked if the whole site would need to be demolished.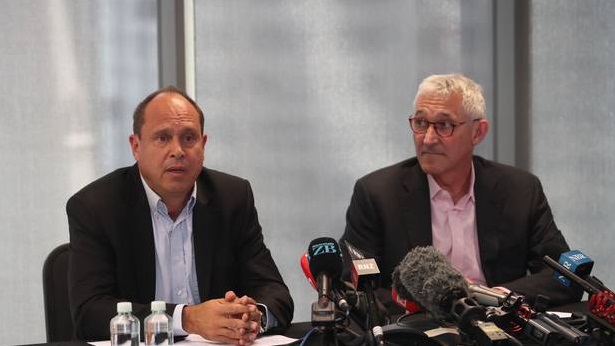 FENZ assistant area manager Dave Woon spoke to the
New Zealand Herald
this morning, revealing more about the strategy around fighting the fire.
He said about 30 litres per second was being pumped at the blaze, but the wind was blowing it around meaning the work was "arduous".
A Fire and Emergency alert was sent at close to 5am again, asking people nearby to stay out of the smoke, close windows and doors, turn off air conditioning.
Auckland traffic was at a standstill this morning with several roads closed - and many workplaces agreed to keep staff at home.
The TVNZ central city building and TV studio been evacuated this morning due to the fire, the broadcaster said. 
Health advice
Auckland's Regional Public Health Service said people living or working near the convention centre should take precautionary measures to avoid breathing in the smoke, inclusing staying indoors, closing windows, shutting external ventilation, seeing a doctor if smokes causes shortness of breath or wrosening of asthma symptoms, wiping down surfaces - especially food prep and cooking - in areas affected.
People who smoke, elderly, children, those with heart disease, asthma or lung conditions are at the greatest risk of smoke inhalation and should avoid exposure, the service said.
But there is no cause to worry for people who are healthy, the health service said most symptoms disappear soon after exposure to the smoke ends.
 - additional reporting by RNZ