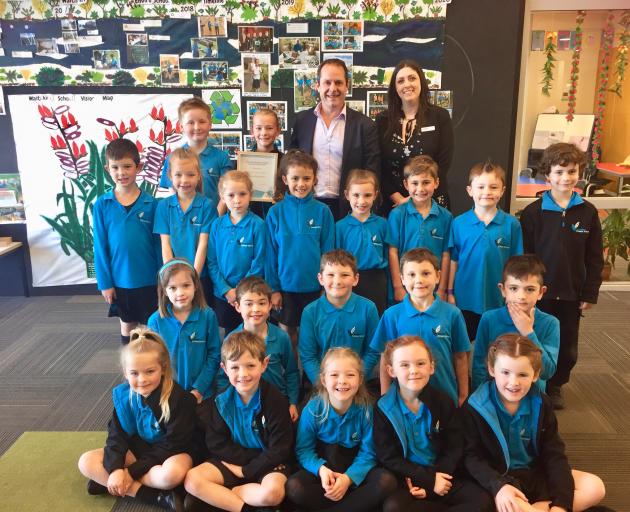 Mairehau Primary School has received $500 in the My School Rules campaign which was run by The Palms shopping centre.
Mairehau was one of eight schools in the area who took part in the competition.
Leann Apps from Mairehau Primary School said the money will go towards school resources.
Every dollar spent at The Palms in August was converted to a point for each shopper's chosen school. The school with the highest points got $3000, second $2000 and third $1000. The fourth-and fifth-placed schools received $500 each.
Banks Avenue School, Chisnallwood Intermediate, Mairehau Primary School, Queenspark School, Rawhiti School, Shirley Primary, South New Brighton School and Waitakiri Primary School all entered into the competition.
Banks Avenue was first, Waitakiri was second, Shirley Primary was third, Mairehau Primary was fourth, and Queenspark was fifth.
Said Banks Avenue School acting principal Tricia Carroll: "Togetherness is one of our school's values and this campaign gives us a great opportunity to work together and be part of a local community. It also allows us to engage in some friendly
competition with our local schools, in a different context, with the aim of benefiting our learners. The money will go towards an item on our school wish list."
Said Shirley Primary's Shelley Wilson: "We recently put out a survey to our students and community – they told us that they wanted our playground upgraded, so that is what we are working towards. This money would be a fantastic help to achieve this."
Said AMP Capital asset manager Emma Smith: "We want our community to know that we are so much more than a shopping and entertainment hub.
"We know that our local schools are in need of funding support, so for the last few years, the My School Rules campaign has been a great way for us to help them."