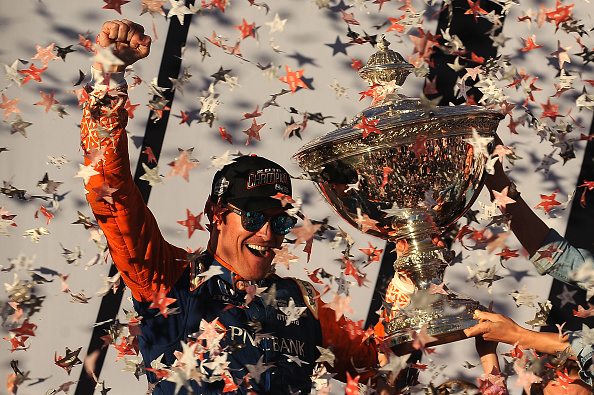 New Zealand's ability to produce top race-car drivers has been underlined after a leading motorsport website named five Kiwis in their top 50 performers of 2020.
IndyCar king Scott Dixon in eighth and Supercars champ Scott McLaughlin in 13th led the way for the New Zealand contingent in the list compiled by Autosport.
Also making the cut were Formula E star Mitch Evans in 20th, Japanese Super Formula driver Nick Cassidy in 38th and Bathurst winner Shane van Gisbergen in 47th.
The list was a who's who of the world's best drivers from 19 of the world's best championships and series, with newly-crowned seven-time Formula One champion Lewis Hamilton again taking the No 1 spot.
The Brit came in ahead of Dutch F1 rival Max Verstappen and Portuguese Formula E champion Antonio Felix da Costa.
Dixon earned eighth spot after claiming his sixth IndyCar title, although he was ranked two places behind championship runner-up Josef Newgarden.
"Even if he could never match his demolition of the field at the season-opener in Texas, he was almost always a potential winner," Autosport said in confirming Dixon to a top 10 berth.
"He's only behind his main title rival Josef Newgarden in this ranking because Dixon himself didn't believe this was quite his best year of driving (plus there were a couple of days when the Ganassi team wasn't quite on the pace, even if that doesn't factor into these ratings).
"It's also worth noting that he was part of Wayne Taylor Racing's IMSA SportsCar line-up when it won the 24 Hours at Daytona and Petit Le Mans."
Dixon will be joined in next year's IndyCar series by countryman McLaughlin, who has made the move to the US having clinched his third straight Supercars crown in 2020.
Autosport said McLaughlin's effort this year were "the perfect response to the controversies of 2019".
"Forget about an aero advantage, this time around it was the Triple Eight Holdens that started the season as the clear pacesetters.
"But there was no stopping Scott McLaughlin and DJR Team Penske, particularly as the season went into ad hoc mode due to the pandemic.
"It didn't matter which track the series ended up at, or how many tyres they were given for the weekend, McLaughlin would find a way to win.
"He took at least one win at every circuit Supercars raced at, except for Bathurst. It was a wildly impressive way to claim a third-straight crown ahead of his IndyCar switch."
Autosport said the list was finalised after "intensive debate" between their expert championship correspondents, who "offered up a host of stats, interviews with key figures and in-depth analysis to argue the strengths and weaknesses of each entry".