Canterbury golfer Dominic Brettkelly is aiming to bring the joy back to his game after winning the Lamb and Hayward Canterbury Strokeplay Championship at Harewood on Sunday.
Brettkelly is currently back home in Hororata after taking a semester break from his studies on a golf scholarship at Western Kentucky University in the United States.
During the break, the 21-year-old is looking to find enjoyment in the game he loves after battling with the mounting pressure to achieve.
"Over the last four or five years as I've started to play bigger and better tournaments, I've lost the joy of why I started to play in the first place," said Brettkelly.
"I'm trying to change the way that my brain works, so it's going to take a little bit of time.
"I'm trying to change my approach to golf and life. I always put a lot of pressure on myself saying I had to succeed in golf. I still want to succeed, but I've realised that it's not everything."
A fresh approach worked at the weekend when he shot a final-round 71 to win the men's strokeplay title by one shot ahead of Hayato Miya, Mike Toeke and Josh Smith.
"I was definitely in a different mindset," said Brettkelly.
"I didn't have any expectations going in. I just kind of entered the weekend trying to have fun and see what happens.
"As the tournament went on, I realised I had a good chance to win.
Brettkelly admits he thought his chances of winning were done after a bogey on the 10th, 12th, and 13th holes. However, he was able to take the clubhouse lead with birdies on the final three holes.
It was then a waiting game, with the final group of Reid Hilton, Toeke and Smith still on course and looking likely to top his score.
However, the final group all dropped shots down the stretch, which saw Brettkelly win the title for a second time after winning at Waitakiri in 2018.
Earlier, the Hororata member shot a tournament-low 70 in his opening round on Saturday morning to hold a first-round lead. However, a round of 76 in the afternoon left him trailing Smith by four shots.
Brettkelly plans to play the South Island Strokeplay at St Clair in Dunedin which starts on Friday, February 21. However, his key focus is on fine-tuning his mental approach before returning to college in May.
The women's championship was won by Christchurch club golfer Yoonji Woo.
She was too strong with three rounds of 70 to win by six shots from Russley's Anika Park, with Sumin Kang from Queenstown a further four shots back.
Sumin shot a fine final round of 68 but will rue the 81 she had in the second round.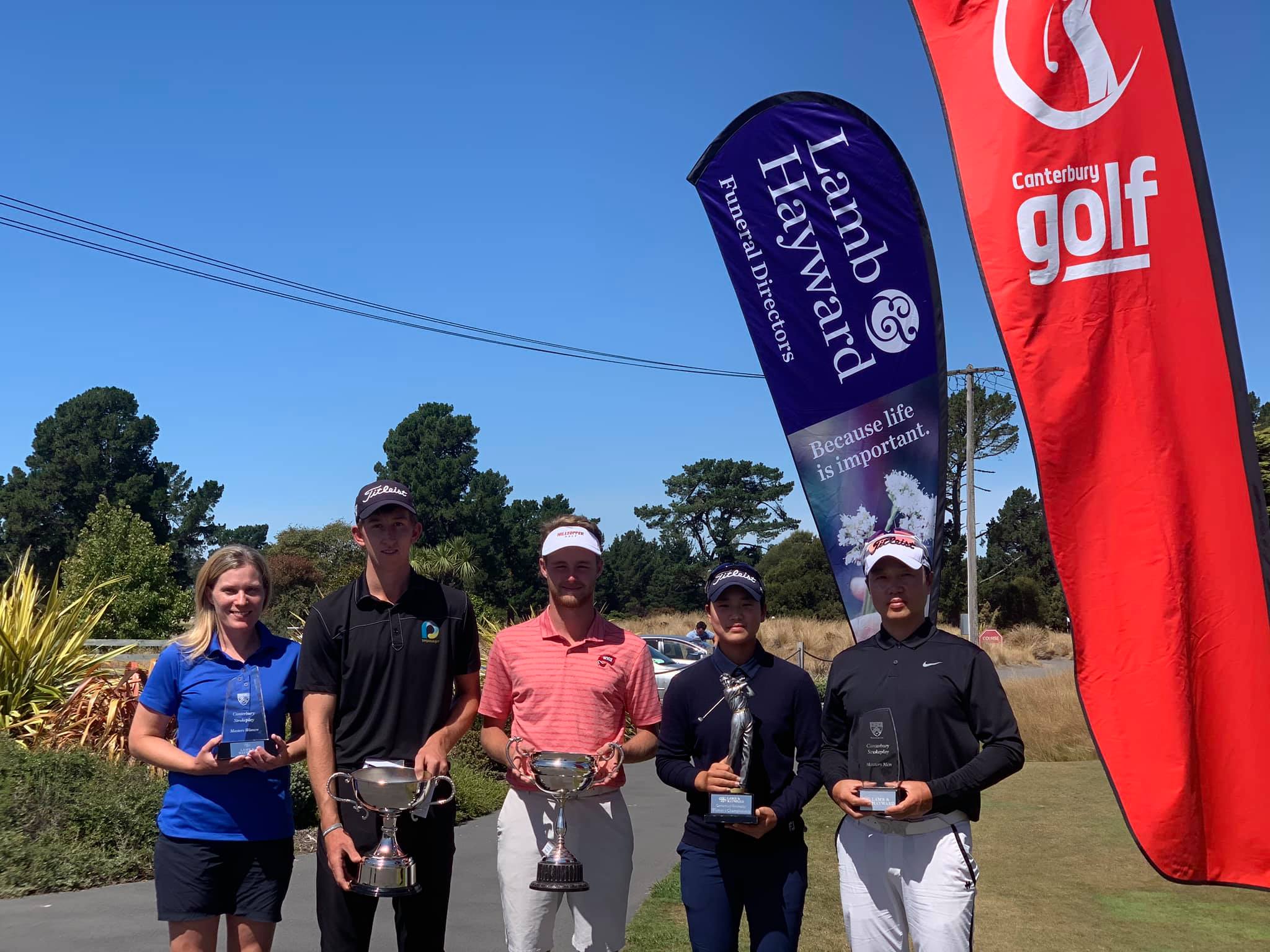 Sayaka Okada (Pegasus) and Maddie May (Russley) rounded out the top five.
The men's masters title was won by Kwang Hoon Woo who is the father of women's winner Yoonji Woo.
With rounds of 74, 75, 75, he won by five shots from Russley's Andrew Dufton, with Waitikiri's Brett Turnera a further two shots back.
Woo began the day with a three-shot lead, and playing in the final group together Dufton and Turner were unable to peg him back.
Waitikiri and Canterbury Rep Kim Moggach won the women's masters title holding on after starting the final round with a five-shot lead over Southland's Robyn Pullar.
She prevailed by one shot over Pullar, with clubmate Suzette Eastmond finishing third.
The under-19 title was won by Russley's Zak May. The men's net was won by youngster Ben Allington from Harewood. Clearwater's Virginia Faass won the women's net.