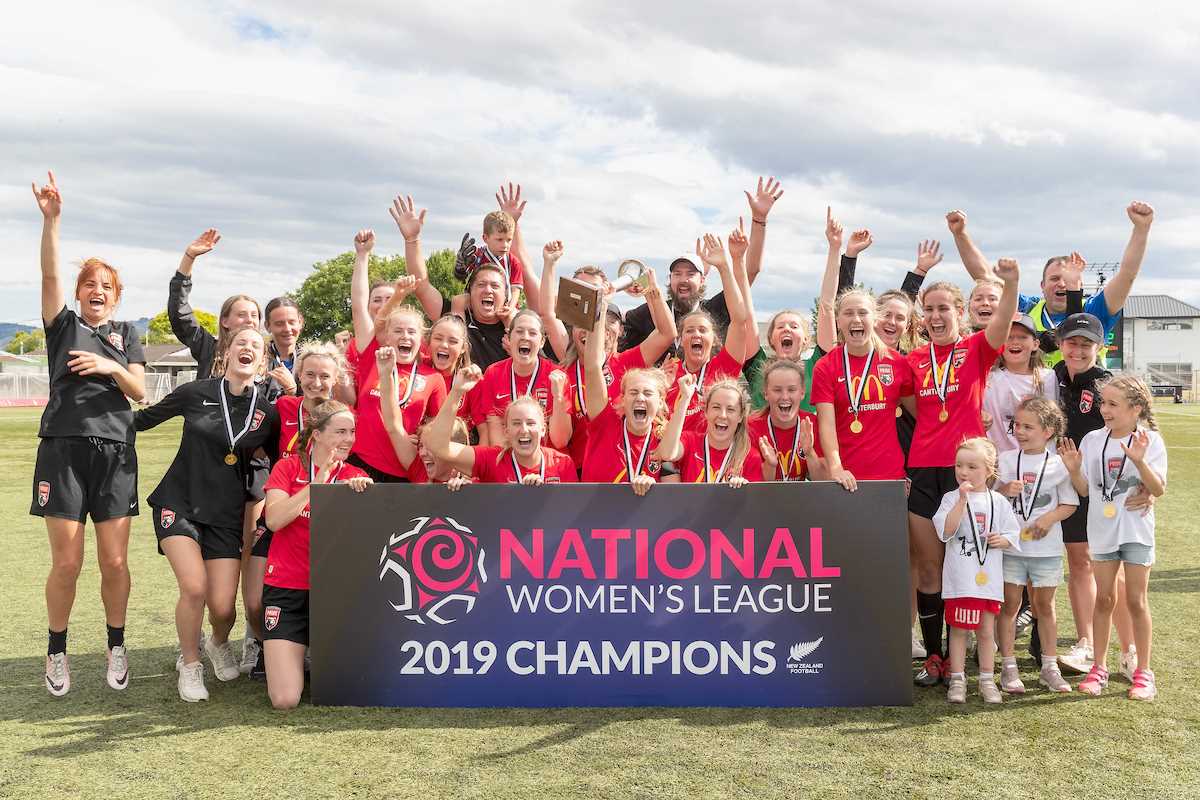 The Canterbury United Pride have claimed back-to-back titles in their seventh consecutive appearance in the National Women's League final.
But they were made to do it the hard way in a tough 4-2 battle won on penalties against Northern Lights.
In what was a repeat of last season's final, the Lights were out for revenge after coming up short in heart-breaking fashion a year ago.
It took extra-time to separate the sides on that occasion and Sunday's encounter at English Park in Christchurch again extended beyond the 90min. It went even further this time, with penalties being required for the first time ever in this competition after a hard-fought 1-1 draw.
Canterbury held their nerve to slot home each of their spot kicks, while Chloe Knott – ironically Northern's best performer on the day – sent her attempt over the bar and Kelli Brown saw hers saved by Una Foyle, allowing the Pride to claim their fifth title in seven years.
"It's just amazing, you would have seen how much it meant by the way we celebrated," said Pride captain Rebecca Lake.
"We're so stoked but well done to Northern. It's really tough to lose on penalties and it makes winning much more important for us because we really had to put up a fight to win it. We had to bring a whole lot of heart and strength and I think the girls did that amazingly well."
Coming into the game, it was hard to know whether to expect a goal-fest or a tight encounter as these sides were the highest scorers in the league. The first half gave the impression that one moment of magic might be enough to claim the title as chances proved hard to come by and the teams appeared evenly matched.
But the action opened up in an entertaining second half and it didn't take long after the restart for the deadlock to be broken. Nicola Dominikovich raced onto a well-weighted Gabi Rennie through ball to prod past Northern goalkeeper Lily Alfeld.
The visitors soon leveled in stunning fashion. Kelli Brown took aim from outside the box on an unfavourable angle but somehow found the top corner with one of the goals of the season.
Clear sights of goal continued to be a rarity but there was still plenty of goalmouth action as the play swung from end to end. The energy-sapping nature of such a physical contest began to take its toll, as Northern co-captains Saskia Vosper and Claudia Bunge both needed to be replaced in extra-time.
Their cool heads may have come in useful in the penalty shootout, in which Alfeld appeared to have given Northern a lifeline when saving from Lauren Dabner, but was ruled to have come off her line, allowing the Canterbury substitute to tuck home her retake.
With Lake, Bel van Noorden and Britney-Lee Nicholson also finding the net for Canterbury, all that was left was for Foyle to become the heroine by making an outstanding save low to her left.
But Vosper had nothing but praise for the efforts of her Northern team mates and was already setting her sights on a return to the biggest stage in domestic women's football
"All the girls fought their socks off, two of us had to go off with cramp and people at the end couldn't really stand up," she said.