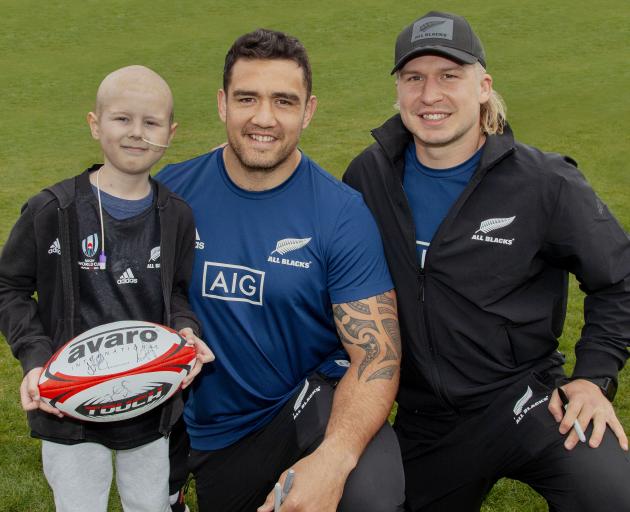 Mason Ratten was looking forward to what he loves most – being back out on the rugby field during winter.
But the eight-year-old's world was turned upside down in February when he was diagnosed with leukaemia.
All Blacks Joe Moody, Jack Goodhue, Codie Taylor and Jordie Barrett made Mason's day when he met them at Foster Park last week. The Crusaders and the Hurricanes fullback visited as part of their annual national tour.
The players went to Rolleston College to meet students and then to the park for games, a prize-giving and photos.
Said Mason's mother Jamie Kuru: "He was very happy to meet them, he is a huge All Blacks fan. He's going through a lot at the moment so to get a chance to talk to them really boosted his confidence.
"He was smiling for the rest of the day. As his mother, it was really amazing to see."
Mason was a happy and active kid before he was diagnosed, and played rugby for Rolleston.
His cancer meant he couldn't play this year but he can't wait to be out on the field again, Ms Kuru said.
It was Mason's after school care, Selwyn Kids, which first noticed something was wrong.
"They said they had noticed he was more tired than usual. He was really weak and just had no energy at all. I looked at him and thought he really isn't himself," said Ms Kuru.
Mason's teacher at Rolleston Primary School also mentioned his tiredness and he soon began to break out in bruises all over his body.
Said Ms Kuru: "At that point, we had already gone to the doctor a couple of times and they had just put it down to him being a busy kid and getting tired.
"Then the third time we went back, we were going to demand a blood test, but as soon as the doctor saw him he knew straight away that it was more serious."
The results came back and the family got a call that same night telling them to bring him straight to the hospital.
"I remember being in shock. It's truly a mother's worst nightmare."
Mason spent the next 10 days in hospital. It has been a terrible time for the family.
"In September last year I lost my father to cancer as well, so when this happened to Mason it was really hard. It's been quite a tough year," said Ms Kuru.
She is incredibly proud of Mason. "He's never complained, he just gets on and does it. He's in the mindset that he just wants to hurry up and get it over and done with so he can get back to playing rugby and running around with his friends."
Mason is about to begin his final round of chemotherapy and his prognosis is positive.
"We're feeling relieved that it's coming to the end, but even though we are finishing treatment, there is still another couple of years afterward where he will go in for monthly visits for monitoring and things.
"There's still a long way ahead but he will be going back to school and starting to go back to a normal life."