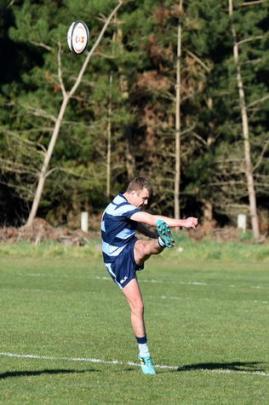 The Southbridge Shield is on the move again.
A calm, calculated approach helped Ellesmere regain the shield with a 41-28 win over North Canterbury at Loburn on Saturday.
Team manager Michael Sheat said in spite of only leading by a point with 10min to play, confidence was high on and off the field.
"We were all pretty calm on the sidelines and the guys on the field knew what to do and executed well under pressure," he said.
Ellesmere eventually wore down a spirited North Canterbury side to ensure the shield changed hands for the third successive year.
North Canterbury won the shield in Prebbleton 12 months ago.
Ellesmere had a 17-14 lead at half-time but conceded a try moments after the restart. However, a Sam Cottam try from a driving maul put the visitors in front for good.
Ellesmere out-scored North Canterbury six tries to four, while Shannon Donald added four conversions and a penalty.
A key moment came when Ellesmere lock Issy Fine was yellow-carded before half-time.
"I think we just got on with it and our forwards were still pushing their scrum back with seven players," Sheat said.
Ellesmere did not concede a point during that period and it set them up for the second half.
"Obviously we got a couple of late tries with passes finally sticking, which was good.
"I don't think we finished as many of our chances as we could have but you had to give credit to the North Canterbury defence.
"They never gave up and made us work hard for it," Sheat said.
He said there was "speculation" around several players potentially retiring after the game, but he said it would be a case of wait and see if the talk held up next season.