Margaret Wray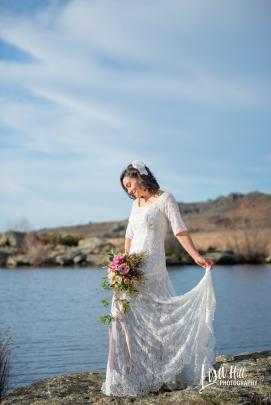 Margaret Wray, a couture bridal atelier creating a collection of bespoke vintage inspired wedding gowns with a contemporary finish and feel.
The ambition of designer Jamie Richards is to ensure the creation of your unique Margaret Wray gown is perfectly suited to you and your big day no matter the budget or style in mind.
All gowns are designed and finished by Jamie to create heavenly fitting gowns to your perfection.
A gown created from the knowledge and experience she has attained through all who have inspired her, leading her to create a business with craftsmanship and individuality at its heart.
Jamie is passionate about beautiful creations and elegant dresses, with each client she ensures that from sketch to finished garment the process is an exciting, inspiring and personal journey.
Growing up it was important for Jamie to seek inspiration not only where she has come from, but from places, cultures, countries and other inspiring people around her.
Selecting your gown from the collection and adapting to your style or a new gown designed for you allows ideas and agenda for your day to be explored, as styles to complement your vision are pulled together to create the perfect gown especially for you.
At Margaret Wray we will ensure you feel comfortable, elegant and the most beautiful for your romantic day!
Jamie, originally from a quaint town in Central Otago has returned after 22 years in the fashion industry where 15 years were spent in London consulting across premium and luxury brands.
Creating the Margaret Wray label whilst in London has brought Jamie back to open her New Zealand studio in the beautiful location of Clyde, where she will happily arrange an appointment to visit the studio, or in nearby locations as well as advise Margaret Wray stockists.
We look forward to meeting you x