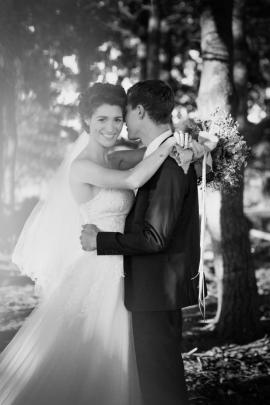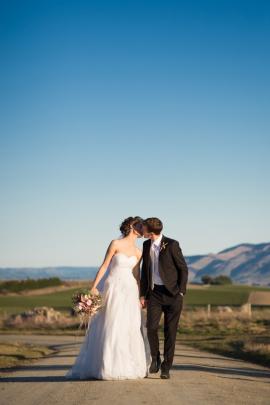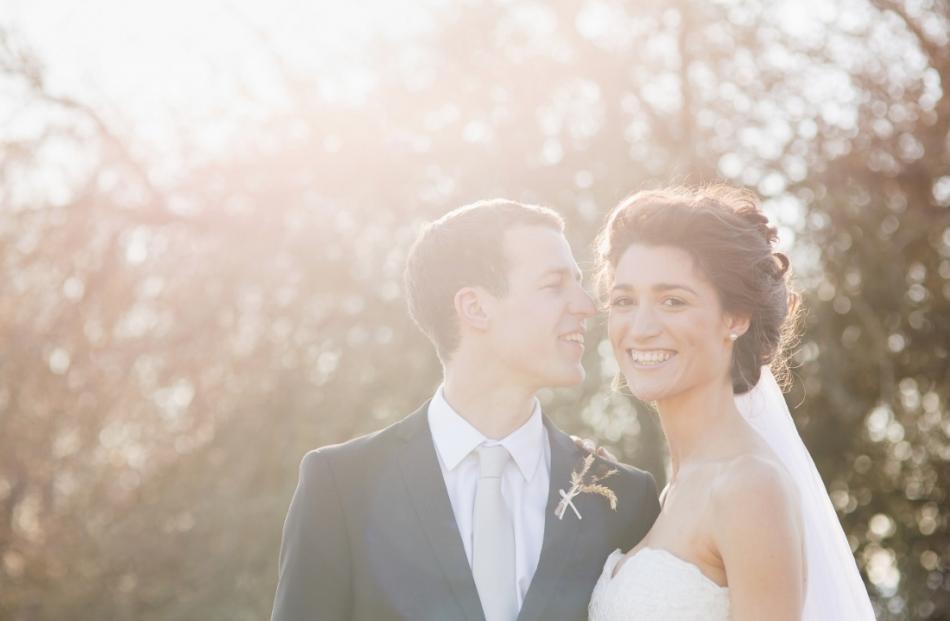 Groom: Hamish Gardyne (26), of Gore, business owner
Bride: Kaye Williams (20), of Gore, sales and finance consultant
When and where did you meet?
We first met when Kaye moved into Gore. I had my eye on Kaye at a community dance and much to my disappointment I found out she was a wee bit young for me. So I patiently and cunningly employed her for the next three years before finally getting the chance to date her!
The proposal:
Hamish blindfolded me in Gore and led me into a car. We drove for two hours (yes, still blindfolded) before I was led into a jetboat and taken off down a river (again still blindfolded). When I finally was allowed to take off my blindfold we were speeding down the Waiau River towards Lake Manapouri. It was just one of those surreal experiences with a cloudless blue sky and surrounded by nothing but wilderness. Perfect. If the surprise blindfolded date hadn't given away what the day would entail Hamish's suit sure did! We docked up at a little island in the middle of the lake and enjoyed a picnic that neither of us felt much like eating, before Hamish got down on his knee and asked me if we could go on every adventure together as husband and wife.
Where was the wedding?
We were married at St Andrew's Church in Gore. Kaye's dad was our celebrant, which was really special to us. Our reception was on the Gardyne family farm in a grain shed that we had converted into a straw-bale structure. We used approx 200 big round bales to build four walls and entry and exit tunnels. The roof was extended using multiple truck covers and Kaye and her mum sewed a frost-cloth ceiling. It looked amazing!
Why did you choose the venue?
We were harvesting in Australia when we thought up the idea of building a straw-bale venue. We are both unorthodox thinkers and so we quickly dreamed and schemed up how we would make it all work. It was really cool to have something different and representative of what we have spent so much time doing together! It was fantastic being able to set it up at our own pace and have the venue exactly the way we wanted.
The flowers:
Kaye's mum did an amazing job putting together all of the flowers for the wedding. The bouquets were made from wheat, dried hydrangeas and a mix of artificial flowers, and real vanilla tree branches were added the day before. Wreaths made of dried vines and dried flowers decorated the aisles and wheat and dried hydrangeas decorated the tables at the reception. The dried flowers and wheat were perfect for our country harvest wedding! Our hair was also done by Mum. Honestly, this woman can do anything! We each did our own minimalist makeup.
The caterers:
We had Food Affair with Jo Holland to cater for our reception. It could not have been better. Jo is amazing to communicate with and she really goes the extra mile to make sure everything is perfect.
Highlight of the day:
The speeches were hilarious! They definitely provided ample entertainment for the evening!
Your photographer and favourite photo:
Kate Groundwater, of Still Waters Photography did our photos and wow, she was fantastic! She is so easy to work with and she made the whole thing a breeze. We weren't even sick of photos by the end of the day! We don't have a favourite photo but our favourite aspect of the photos as a whole is that they capture the joyous essence of our wedding. They capture the sheer delight of the day, the indescribable peace we were enveloped in, and the wondrous feeling of the crazy love between bride and groom, between siblings, between parents, between friends and whole communities.