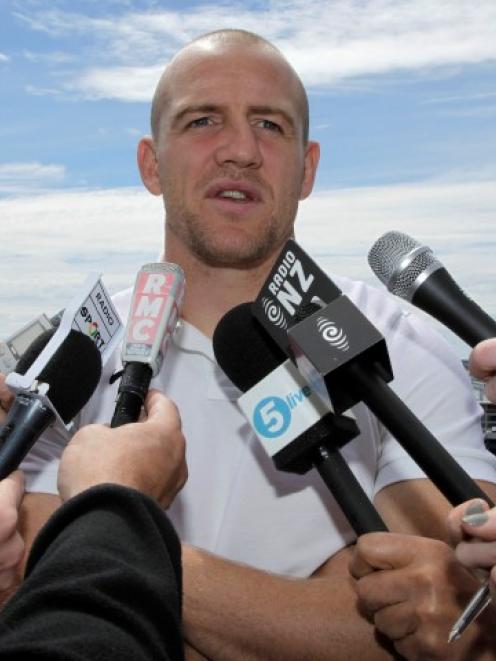 England flyhalf Jonny Wilkinson remains an injury concern despite a scan showing no serious damage to his forearm, manager Martin Johnson told reporters at a news conference dominated by the off-field activities of centre Mike Tindall on Sunday.
Wilkinson, whose drop goal won the 2003 World Cup, had another disappointing evening with the boot in England's stuttering 16-12 victory over Scotland, before coming off the field clutching his right arm.
The victory ensured England won Pool B and will meet France in the quarter-finals next Saturday, but Wilkinson has struggled throughout the group stage and an injury concern was the last thing he or Johnson would have wanted.
"Jonny got scanned last night on his upper forearm and it didn't show anything," Johnson told reporters in Auckland on Sunday.
"And while that is good news, obviously it is a little bit of a worry, so we will need another day or so to see where he is and if he will be available for the weekend," he added.
Tindall, who suffered a dead leg during the Scotland match, is another injury concern but there was far more interest in another rash of media stories about his night out in Queenstown on Sept. 11.
Tindall changed his version of events in a statement to British media after more stories appeared in Sunday's UK papers, but Johnson insisted it was just a simple mistake.
"His recollection on his whereabouts that night was inaccurate and he has issued a statement apologising. He did not mean to mislead anybody," Johnson added.
"The statement said he was inaccurate in his recollection as to his specific whereabouts. He did not mean to mislead anyone or orchestrate a cover-up.
"It was just an error on his behalf. He got his recollection of the evening wrong," he continued.
England and Johnson now face a France side in the quarter-final who are not without problems of their own following a shambolic 19-14 loss to Tonga on Saturday.
Despite England defeating their Gallic opponents in both the 2003 and 2007 World Cups, Johnson is well aware of the danger the French side pose particularly when underestimated.
"It is situation normal with them. Who knows? That makes them dangerous," the 41-year-old World Cup winner added.
"There is a feeling that they might be flying under the radar and there are a few teams under the radar and we may be one. Australia (may be one)," he added.