One of Canterbury's most well known paintings - Cass by Rita Angus - is heading to London.
But people can still see the work, which was voted New Zealand's greatest painting in in 2006, at the Christchurch Art Gallery until March 8.
While Cantabrians will miss the iconic image painted in 1936, it will be well looked after at the Royal Academy of Arts in London where it will be on display  as part of an international exhibition of works by Angus (1908–1970).
The special three-month exhibition - titled Rita Angus: New Zealand Modernist - will take the spotlight at the leading British gallery from October 18 to January 24.
It will be the first time the Royal Academy has hosted a solo show by a New Zealand artist.
Cass will reappear in New Zealand later next year when the exhibition moves to Te Papa in Wellington before the painting heads back home to Christchurch.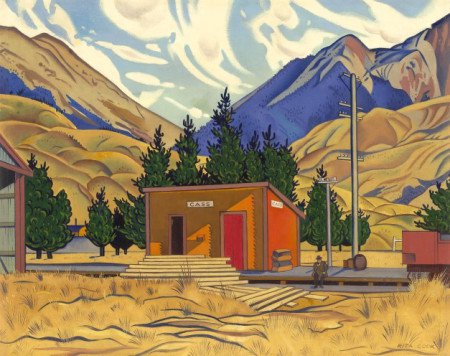 Christchurch Art Gallery director Blair Jackson said Cass, which depicts a local railway station and natural landscape, remains one of the gallery's biggest drawcards.
"When it comes to painting by the popularity numbers, Cass holds the top spot based on a national survey of art lovers," Mr Jackson says.
"In Canterbury, particularly, Cass is very much part of our identity.
"This is one of New Zealand's must-see paintings.
"It may be a while before we can enjoy the work again, so we are welcoming everyone to come to the gallery over the next few weeks and spend some time with Rita Angus in Cass.
"While we will miss its powerful presence, we're both excited and proud to be lending this remarkable work to the Royal Academy and Te Papa for such an important international exhibition.
"Cass will be back on our walls again," Mr Jackson said.
"In the meantime, we're excited to be taking the gallery in a fresh direction this year and engaging in a different way with locals and visitors alike in a striking new exhibition opening in April."
Developed by the Royal Academy of Arts and Te Papa Tongarewa, Rita Angus: New Zealand Modernist will feature a large selection of works by one of the most important and accomplished figures in New Zealand art.