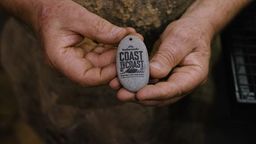 Athletes competing in this weekend's 39th Kathmandu Coast to Coast will get new medals and category trophies.
Race organisers, Trojan Holdings, and Design Box, a family-operated company in Christchurch, teamed up to produce the medals and category trophies for the 1200 race entrants.
Design Box principal David Harré said what makes these medals special is the pendants have all followed the same path as the competitors - washing off the Southern Alps before ending up on the shoreline of Canterbury beaches.
"When we were approached by Glen (Currie), the race director, we knew straight away this was something we'd like to be involved with. It's such an iconic event," said Harré.
"As we started to unpick and discuss the journey of the competitors . . . we came quite quickly to sourcing the raw materials such as the stone from the beaches here in Canterbury and the Rimu for the trophies from the bush on the West Coast."
Race director Glen Currie said the medals will "be a very cool memento for the competitors".
"Being able to have a pendant like this that really represents not only the story of the Kathmandu Coast to Coast, but also our values of taking care of the environment, will be a very cool memento," said Currie.
The competitors' medals had previously been manufactured offshore, but due to Covid 19 race organisers made a conscious decision to shift their spending to a local organisation.
"We try to support local organisations as much as possible in everything we do, and this was actually one area where we'd previously been unable to find a suitable outcome locally," said Currie.