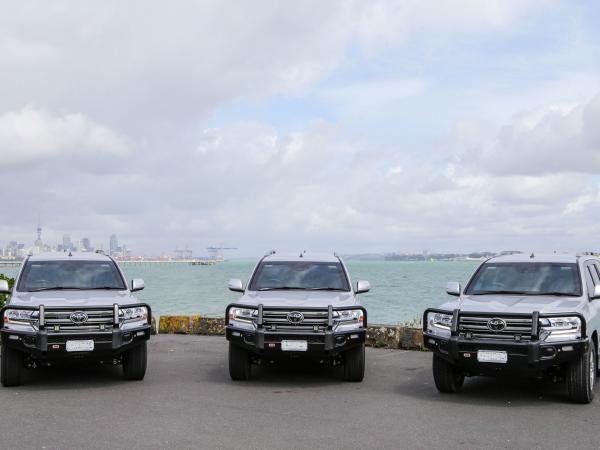 The March 15 terror attack has transformed the operating environment for police and with that has come armed response teams, blast-resistant vehicles - and now potentially dash and body cameras.
Three new body armoured vehicles were revealed this week to deal with major national security events or high-risk firearms incidents.
The unmarked ballistic bulletproof and blast-resistant armoured Toyota land cruisers will be deployed in Christchurch, Auckland and Wellington.
Alongside this, a six-month trial continues for Armed Response Teams to complement police's normal response to critical and high-risk incidents, as well as high-risk search warrants and high-profile public events.
The teams, which have at least three specialist armed offenders squad members, are being trialled for six months in the Counties Manukau, Waikato and Canterbury districts.
These districts have the highest number of firearms seized, located and surrendered, as well as the largest AOS groups.
Now the Police Association has revealed it will be investigating whether front-line staff should be equipped with body and/or car cameras.
It comes after police's own review into the equipment was halted, citing the need to divert resources to other areas.
The Waikato Committee raised the issue at the association's recent national committee, concerned the additional safety tool was no longer being considered by police.  
"With the amount of information, both for and against cameras, this subject needs good research to see if cameras would be suitable for our members in response roles," said the submission. 
"If they are considered to be appropriate, the association should engage with police, sharing its findings and promoting a camera roll-out as soon as possible."
Currently, Corrections staff, parking wardens and animal control and security staff use cameras, as well as police for family violence interviews.
They are installed in most police stations and custody areas.
"The current thinking seems to be that the totally overt manner in which body cameras are worn - including a 'selfie' screen so the subject knows he or she is being filmed - seems to enhance safety. They have been proven to reduce assaults on police and to limit use of force on the public," said the submission.
During the reveal of the new armoured vehicles, police explained previous examples of where the vehicles would have been deployed, such as the Napier siege in 2009, and a shooting incident in Whangarei in 2017.
A number of high-risk firearms incidents have happened in the city this year, including the March 15 terror attacks and a February shootout in Richmond following a pursuit where a man fired at police who returned fire.
In March, another incident in a Richmond street resulted in a three-hour stand-off with police in which former Russian soldier, Troy Dubovskiy, died in a suspected suicide.
Previously Dubovskiy had sent threatening emails to a school, and a search warrant of his home uncovered several firearms, including an AK-47, ammunition and violent extremist material.