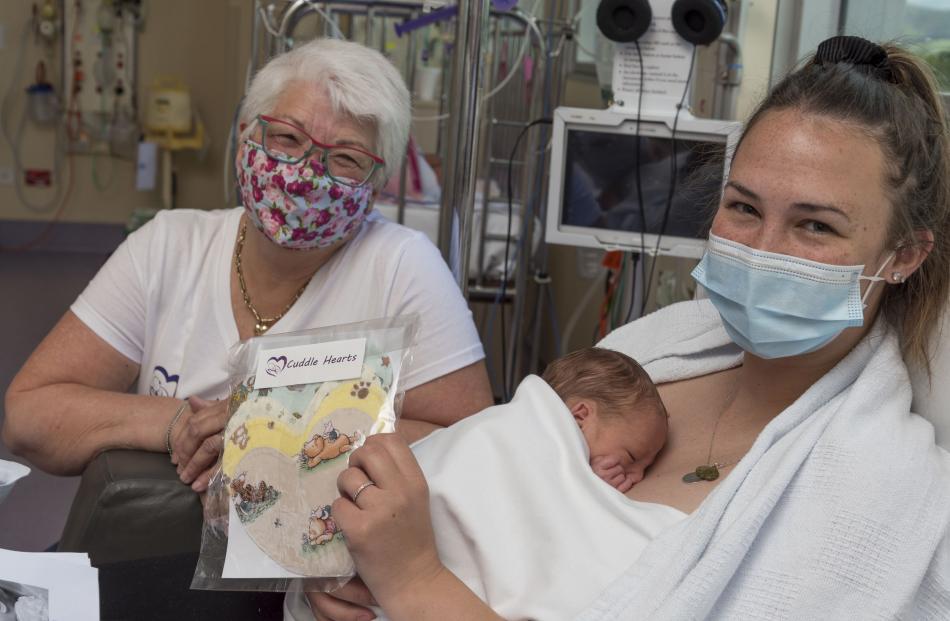 Hundreds of people have united in a heartfelt quest to help babies at Christchurch Women's Hospital's neonatal intensive care unit.
Rolleston resident Lisa Paget is the driving force behind Cuddle Hearts, an initiative to keep babies close to mum even when medical needs mean personal contact is limited.
More than 2000 handmade fabric hearts have been created so far, a response Paget described as "absolutely incredible."
Cuddle Heart recipient Nikita Christensen said the hearts were a good way to bond with her seven-week-old baby Flynn.
Born at 29 weeks, Flynn weighed just 1650g and needed to stay in the neonatal intensive care unit.
While Christensen spent a lot of time at the unit, she could not always be there.
Flynn's sister also needed NICU care in 2020 and, comparing the two experiences, Christensen was pleased the Cuddle Hearts had been introduced since then.
"I wear one in my bra and give it to him at night so he can smell me," Christensen said.
"This time around, being split between a one-year-old at home and Flynn at the hospital has definitely been one of the hardest parts."
Flynn was doing well and would soon be leaving the NICU, she said.
Christensen was looking forward to taking him home, but in the meantime the hearts made the necessary hospital stay feel less clinical.
"I think it's a great idea . . . it can be so hard to bond with them when they're all hooked up to wires and breathing equipment.
"Mums also take a heart home each night that has been with baby so we can smell them too, which is meant to help with our milk supply."
Paget said Cuddle Hearts began earlier this year as a result of her visit to Australia where her twin nieces were born in the second trimester.
At just 27 weeks, the two girls needed extensive medical care.
"All I want out of it is just to know that these little babies and their mums be comforted because I know first-hand now how difficult a NICU journey is," Paget said.
While there, she saw fabric hearts being shared between parents and babies.
"Mum and dad and wee baby had to go to one hospital, I was left in another hospital with the other wee one, and so she had the heart to keep her and her mum in close contact."
One of the twins did not survive, and the Cuddle Hearts initiative was a legacy for her, Paget said.
"I came home with a real passion, I wanted to see whether I could make it work here."
The district council joined the initiative, with libraries throughout Selwyn functioning as places where people can collect fabric and a pattern, sew a heart, then return the finished product.
Paget hoped public involvement would continue.
"Although I've had an overwhelming response from the community as far as making hearts, supplying fabric, I always need more."
More information can be found here