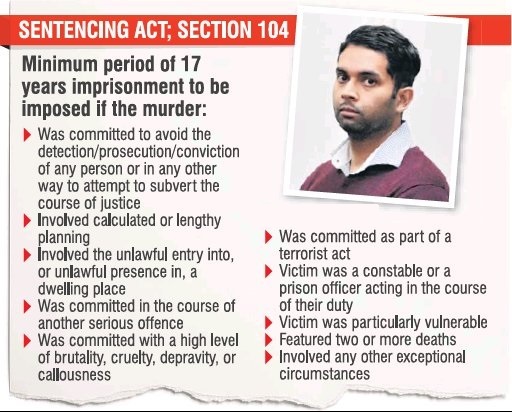 A Dunedin doctor who stabbed a teenager to death to preserve his career should face at least 17 years behind bars, the Crown will say.
Venod Skantha (32) will be sentenced before the High Court at Dunedin this afternoon after a jury unanimously found him guilty in November of the murder of 16-year-old Amber-Rose Rush.
The teenager was found in the bedroom of her Corstorphine home on February 3, 2018, with six stab wounds to her neck, one of which severed a vital artery.
The Crown case at trial was Skantha's attack came just minutes after an online conversation between the pair in which Amber-Rose had threatened to go to police and the man's Dunedin Hospital bosses with allegations of sexual assaults.
It is understood prosecutors will today urge Judge Gerald Nation to engage section 103 of the Sentencing Act which dictates a sentence of life imprisonment with a minimum period of 17 years or more in jail.
The legislation comes into play because Skantha committed the murder – on the Crown case - while trying to avoid prosecution for another offence; and because the incident involved unlawful entry into a home.
After the victim confirmed she was going to expose the doctor, he got in touch with another teenager and went to pick him up.
The teen, who turned out to be the Crown's key witness at trial, said Skantha was dressed in dark clothes and gloves and claimed to have a "master plan".
After several minutes inside Amber-Rose's Clermiston Ave home, the witness told the court, the defendant emerged.
"I looked down and I could see him holding Amber's phone . . . I could see Amber's face on the [driver's] licence, it was covered in blood. I saw the knife, clear as day," he said.
They dumped the phone at Blackhead Quarry before returning to Skantha's house in Fairfield.
There, the teenager said the doctor put his bloody clothes in a rubbish bag, and admitted the stabbing.
"No one could survive that," the witness reported him saying.
After spending a couple of nights at Skantha's ex-partner's home in Balclutha, they returned to Dunedin.
Before dropping his teenage driver at home, the defendant threatened to kill him, members of his family and his cat.
However within minutes, the witness contacted police and was being interviewed.
Skantha was soon arrested and his 48-minute discussion with Detective Constable Wayne O'Connell was played for the jury.
He claimed Amber-Rose was "sort of a friend" but strenuously denied killing her.
"It's the most ridiculous thing. Why would I do that? Don't you think that's a very extreme thing for someone to do?"
Defence counsel Jonathan Eaton QC is expected to appeal the convictions against his client but that has not been confirmed.
An appeal cannot be filed until after sentencing.