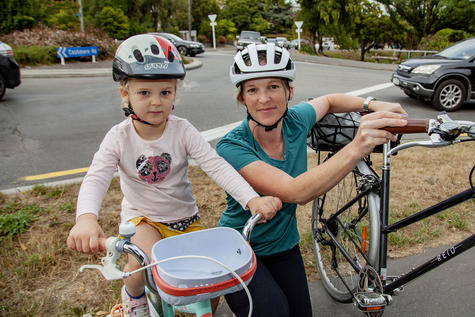 Jaclyn Pow is calling for pedestrian crossings and more safety measures along a busy Christchurch road to keep her daughter Olivia safe when she starts school.
The Spreydon-Cashmere Community Board met with Mrs Pow to discuss her concerns about a Cashmere Rd intersection. And the board has now asked Christchurch City Council staff for options to improve pedestrian safety between the Colombo St/ Cashmere Rd and Barrington St/ Cashmere Rd roundabouts.
The city council is investigating pedestrian safety improvements but does not consider this stretch of Cashmere Rd high-risk.
Mrs Pow, who lives in the area, said her daughter is four-years-old and will be starting at Thorrington School soon.
Her preferred option is for more pedestrian crossings in the area but she is open to alternatives.
Said Mrs Pow: "Cashmere Rd is an increasingly busy road.
"It's an important road, both locally and for traffic coming into the city.
"It's getting really, really tricky to cross."
She said pedestrian crossings would help as there is a lack of crossing points between the two roundabouts. She is also concerned about the potentially dangerous blind corner outside her family home near the Colombo St end of Cashmere Rd.
Said city council transport operations manager Steffan Thomas: "The council is investigating possible safety improvements at the Colombo St/Cashmere Rd roundabout that will include consideration of pedestrian safety.
"Pedestrian safety improvements are considered and prioritised across the city.
"Currently, this length of Cashmere Rd between the roundabouts does not rank as a high-risk area."
Said Mrs Pow: "She [Olivia] currently goes to pre-school down at the BestStart Cashmere on Colombo St, and we already take her by bike there.
"She rides her own wee bike each morning and afternoon.
"In the coming years, we want the safe crossing available so that we're comfortable that Olivia can walk to and from school on her own.
"At the moment, I think just about right through primary school, I wouldn't be trusting a child to be able to make the judgement of a safe crossing and you've got to let kids be able to be independent when the time is right and have the infrastructure in place to do that."
Community board member Keir Leslie recently visited the sites with deputy chairman Lee Sampson and Cashmere Ward city councillor Tim Scandrett.
Mrs Pow is happy with the community board's response to her concerns.