The Government has declared a "medium-scale adverse event" for South Canterbury, setting aside up to $50,000 to support farming communities significantly affected by the weekend's heavy rain and flooding.
Agriculture Minister Damien O'Connor said on Sunday afternoon that two weeks of rain had put tremendous pressure on farmers.
"They need to know that the Government is there to support them," he said.
The Timaru District Council posted this video on Facebook this morning showing flooding at Rangitata.

The severe weather had affected milking and pick-ups, and damaged pasture, fencing, races, stock water and irrigation systems. Officials have yet to determine the full extent of the damage.
"The West Coast received $30,000 for a flood in May and some of that funding is still available. We will assess whether more is required over the coming days," Mr O'Connor said.
ROADS STAY CLOSED
Flood-hit roads in Canterbury will remain closed on Sunday in the wake of a storm that's caused ongoing slips and damage, cutting access between Dunedin and Christchurch. 
The area remains in a state of emergency. State Highway 1 remains closed at the Rangitata Bridge and also inland at the Arundel bridge over the same river (Route 72, a council-managed road). 
NZ Transport Agency system manager Pete Connors said on Sunday afternoon that floodwaters from the Rangitata River were slowly receding in South Canterbury. 
"But not fast enough for us to repair the damaged areas of road in order to safely reopen the state highway today or tonight."
SH1 would be reassessed by NZTA on Monday morning.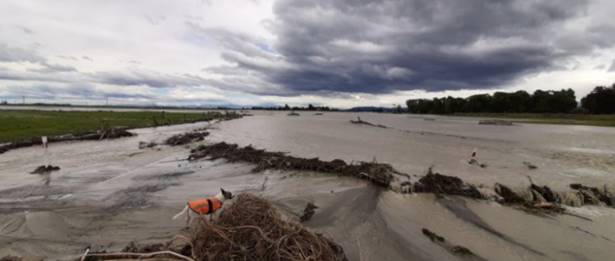 Timaru District Council posted on Facebook at 9am today that  the SH1 bridge at Rangitata and the route 72 bridge at Arundel were highly unlikely to open within the next 36 hours.
"The river breaks have caused significant damage to the approach to both roads, and we will have to wait for the water levels to drop before the damage can be properly assessed. This is likely to take some time. We would advise against travelling to the bridge as you will not be able to cross."
Yesterday, a huge slip was caught falling into a Canterbury river:
Timaru Civil Defence said on Sunday it was prioritising the upper Rangitata bridge crossing as it will see water levels drop to a manageable level hours before the downstream bridge at SH1.
Emergency Operations Centre Controller Justin Bagust said the district roading contractors were now assembling heavy machinery at the southern approach to the road to be ready as soon as the water levels subside.
"We're aware of the importance of the north south link and by prioritising this route we can hopefully have a passable solution for people as soon as possible," he said.
"It still remains a dynamic situation, and we can't give any indication of a timeline at the moment, but we'll have updates as soon as we can.
"We'd ask people to stay where they are at the moment and not to drive up to the bridge, as it will still be some time before we have any progress and we need to ensure access for heavy vehicles and supplies."
GERALDINE BUSY
Information centres remain open at Temuka and Geraldine on Sunday.
However, the Timaru District Council said Geraldine was "extremely busy and access to facilities is being significantly stressed".
Data networks affected by storm are down and there was no access to eftpos or cash machines late on Sunday morning.
"We would recommend that people travelling from out of the district head down State Highway 8 to Timaru where there are more facilities available."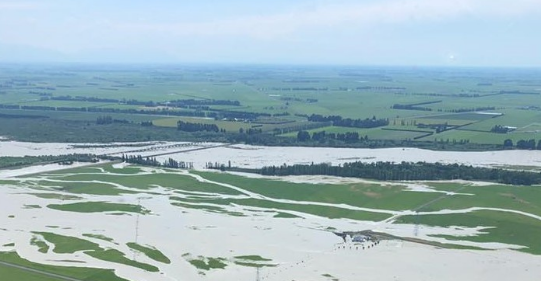 The district council told all those living between McLelland, Orion Rangitata Mouth roads and Rangitata River to evacuate immediately yesterday.
The order was given after a one-in-20-year flooding of the Rangitata blocked off SH1, with the water coming down the river peaking at 2700 cubic metres per second, Timaru Emergency Operations Centre's Steven Doran said.
"The river usually runs at about 300 [cu m/s) so it's a big, big difference. It's a braided river so it doesn't always flow in the same path as well. So it can change path, and a lot of farmland can be in the way as well."
- ODT Online and NZ Herald 
"Until the waters recede, we cannot get in to do the repairs needed," Mr Connors said.