Top Kiwi harness racing driver Katie Cox has spoken out about her shock cancer diagnosis - thanking her supporters for raising more than $130,000 to help her fund treatment.
The Herald revealed earlier this month that Cox, 33, had been diagnosed with an aggressive form of lung cancer - primarily affecting young female non-smokers.
The news came after Cox, from Leeston near Christchurch, went to the doctor for antibiotics for an ongoing cough.
Upon learning about Cox's condition, her colleagues in the harness racing community launched a fundraising effort to help her pay for treatment that was not publicly funded.
The first round of medication - which Cox started this week - will cost upward of $100,000.
Cox spoke for the first time about her diagnosis and treatment this week - posting on social media to update those supporting her.
"Just wanted to say a massive thank you to each and every person - clubs, trainers, owners, drivers and supporters - for their encouragement and support so far," she said.
"I am humbled by your generosity and the many kind words. A big thanks must also go to all those who have helped initiate this.
"I have started on my first treatments this week and all is going well so far. Hopefully, the results will be excellent from this medication."
Cox wanted to share details of her diagnosis and treatment journey after what she described as "an unbelievable few weeks with many a learning curve".
She said she currently felt "strong, fit and healthy" and the cancer was detected at her first visit to the doctor "in years".
She'd had a cold and a cough that lingered and "some antibiotics seemed very sensible".
"After a second prescription, a local and proactive young doctor to whom I am very grateful to suggested an x-ray," she explained.
"This came back to everyone's surprise showing a collapsed lung, and so a bronchoscopy followed for a biopsy, then a CT scan, followed by a PET/CT scan."
She said she was still "feeling absolutely fine except for the niggling cough" when she got her results.
"The first diagnosis was Adenocarcinoma – or non-small cell lung cancer and quite treatable," she said.
Further results showed she had a genetic mutation known as Exon 20 - which accounts for up to approximately one in 30 lung cancers.
Exon 20 mutations are resistant to drugs used to treat other forms of lung cancer.
However, Cox's medical team recommended a new targeted drug called Osimertinib.
"[It] works by turning off a switch in the cancer cell that the cell needs to survive," said Cox.
"Because of the lack of symptoms, and they think a strong immunity that fights such a cell change, diagnosis is usually in the later stages and the mutating cells protect themselves, building resistance from the usual drugs.
"This means, to date, any drug tends to be effective for a certain time, and then an alternate one needs to be used.
"Unfortunately, due to lack of Pharmac funding in the public system, the private sector can offer options."
Cox said she was "so immensely grateful due to all the amazing support from the racing community to be able to start on the Osimertinib oral drug".
"Presently, another drug - Amivantamab - is $200,000 for three months in New Zealand," she said.
"However, this is just for the drug, which needs to be administered by an oncologist by slow infusion with all those associated costs, and is usually combined with one to three other drugs."
Cox said she had made contact with a "great international professional advice network" for Exon 20 on the latest drug trials and drugs about to be released.
"Along with the great specialist I am seeing, a good fighting spirit and time for research, I am aiming for positive progress," she said.
The Katie Cox Appeal is still taking donations and many fellow drivers are donating all or part of their race fees or stakes to the account across November and December.
A Melbourne Cup day fundraiser luncheon is also being held at Addington Raceway, with tables available for $1200 for 10 people.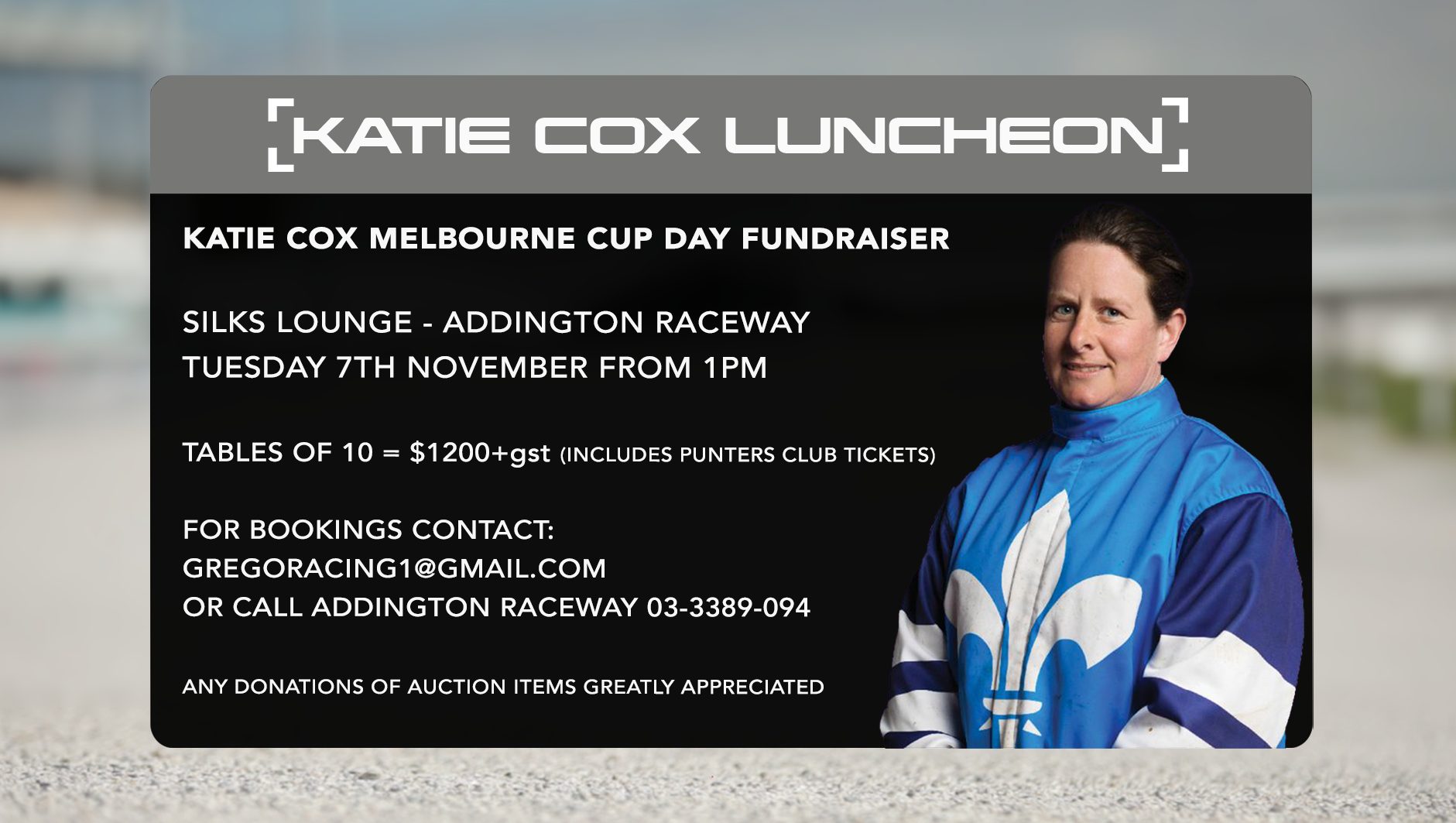 Organisers are 
also calling for donations for an auction 
to raise further funds for Cox.
The appeal was founded by well-known rodeo commentator and MC Craig "Wiggy" Wiggins, who aims to maintain and build connections within the rural community as part of his advocacy work for mental health and wellness in rural communities.
Accounts are now operating in both New Zealand and Australia.
Top harness racing driver Ricky May, owner Bruce Taylor and Wiggins have been appointed as trustees to the appeal and said they would ensure donations go "directly to Katie to use as she needs to pay for treatment or other expenses involved".
"This is a totally unexpected illness and very rare, so all help will be gratefully received," they said.
Do you want to help?
Please deposit any donations small or large into the following account: Whatever with Wiggy Charitable Trust CC59951
Katie Cox Appeal
06-0837-0390071-01
Please use the reference Katie - anonymous donations please use anon in the reference.
If you are in Australia and want to donate - Harness Racing Australia have set up an account there
Harness Racing Australia Events
Acc633000/ 203352950
Reference Katie
-By Anna Leask