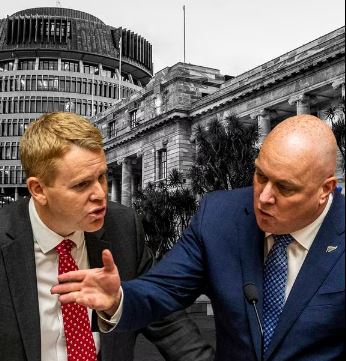 Labour Party leader Chris Hipkins has accused Christopher Luxon of "putting up roadblocks to every alternative" after Luxon said he was unavailable for a rescheduled Press Leaders' debate.
Hipkins tested positive for Covid-19 at the weekend and said he was "on the mend".
He told Morning Report that he was able to meet Luxon "at any point to debate" once he came out of the five-day "required isolation".
"I'm looking forward to the debates - we've got two to go - the Press [one] and the next TVNZ Leaders' Debate next week.
"They are a really important part of the democratic process as they give people a chance to hear what the parties are proposing and I certainly take them very seriously."
Hipkins had offered to send a senior Labour politician in his place for the Press debate, but "Luxon didn't want to do that". Hipkins said had also offered to "at any point in the next week before election day to have the debate".
"Christopher Luxon wants to be prime minister and one of the things about [the role] is that unpredictable things happen and you do often have to change your plans at the last minute.
"In these circumstances, [the Covid test] was beyond either of our control and I think we do need to adapt and make sure we're still keeping faith with the people of the South Island.
"He's certainly put up roadblocks to every alternative. We said we'd have another one of our senior team to debate him - he said no to that. We offered to reschedule the debate - he said no to that. I think it's clear he doesn't really want to do the debate."
Hipkins defended his decision to stay in isolation when it was no longer legally necessary.
"The main message for people still is if you're feeling sick to stay home and don't give your germs to other people.
"If you look at what we do on the campaign trail, we shake hands and meet a lot of people in a short amount of time and I don't think it would be responsible to do that, knowing I had something that was highly infectious."
Hipkins said he was still "feeling a huge amount of momentum" in Labour's election campaign and there had been a "mood shift" in the past week.
"I've been keeping in touch with people who are out on the campaign trail while I've been isolating. They're reporting good positive feedback on doorsteps and on the phones and at meet the candidates meeting.
"People are seeing that the National Party's numbers don't stack up. They want more children living in poverty, they want to forget about climate change."
All parties have been reporting serious incidents while on the campaign trail, including threats, intimidation and violence.
Hipkins said it had been more serious than previous election campaigns, and that some groups of candidates and MPs were being targeted more than others.
"It's fair to say that women standing for political office are getting a harder time than men and that's long been the case, but it seems to be particularly the case in this election campaign.
"We are seeing ethnic minorities and particularly Māori MPs and candidates subjected to more abuse and, in some cases, outright racism than they have been in the past."
Hipkins said it was important for politicians to "lead by example".
"I've said that I will front up whenever I see instances of that happening and condemn it and call it out."
Asked about negative campaign tactics, Hipkins refuted this.
"If you can find a single example where I have singled out a minority and criticised them and tried to turn other people against them, I will quit right now.
"Challenging parties for their ideas and the fact their numbers don't add up is a legitimate part of democracy; attacking them for who they are because they are part of a minority is absolutely not."