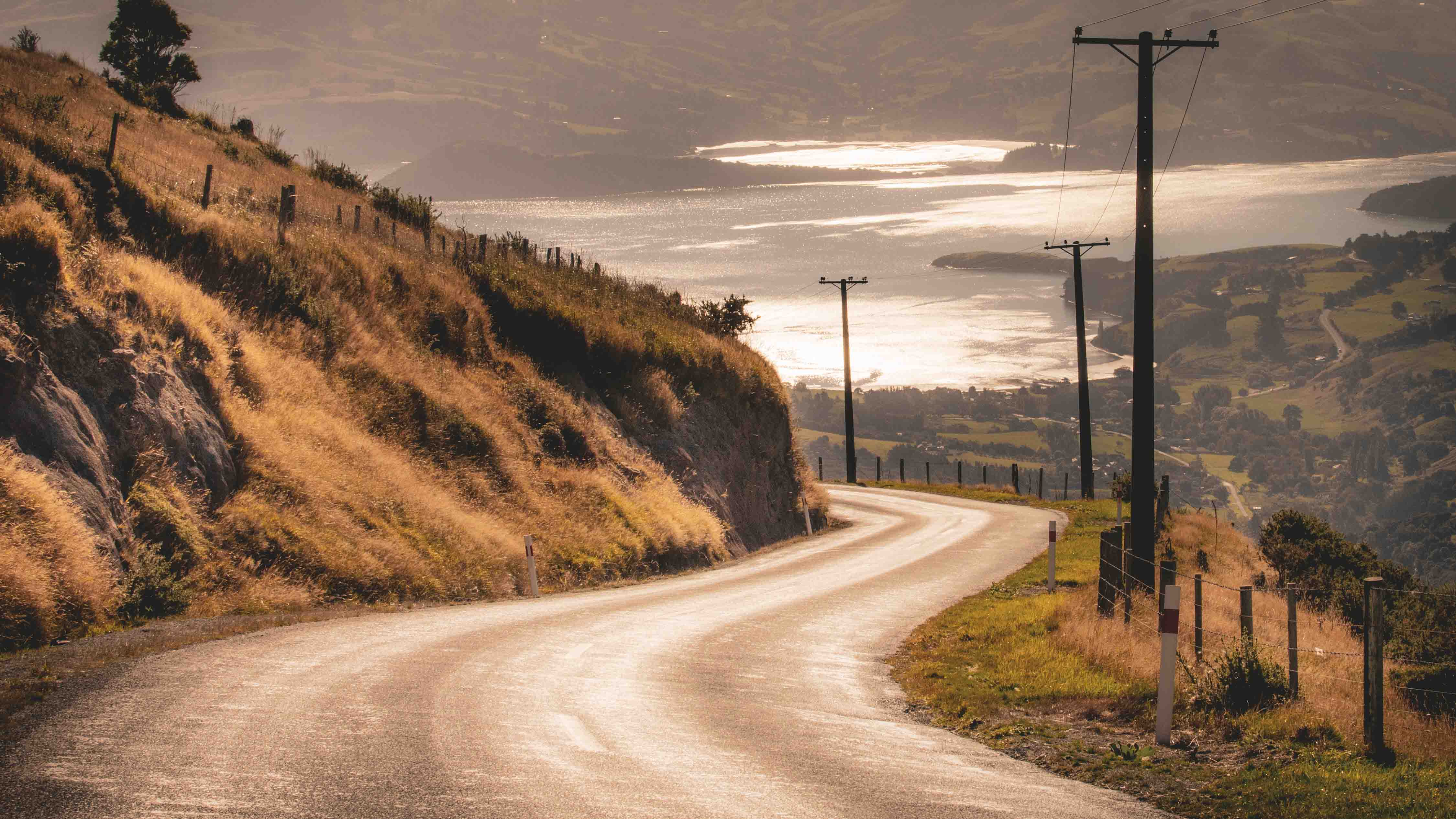 Details around a plan to lower speed limits on Banks Peninsula have been released for public feedback.
The draft plan includes proposed 40km/h speed limits for sections of the two main townships –  Akaroa and Lyttelton – and Cass Bay.
A 40km/h limit in Waipapa Ave, Diamond Harbour, and significantly lower speeds – from 100km/h to 60km/h – along many winding rural roads, have also been proposed.
Christchurch City Council head of transport Richard Osborne said by lowering the speed limits across areas of Banks Peninsula "we can create safer roads for all users".
"Speed dictates both crash probability and severity," Osborne said.
"The higher a vehicle's speed, the greater the risk of a crash and the bigger the consequences on impact.
"Whether drivers and passengers can walk away – or are carried away – from a crash largely comes down to how fast their vehicle has been travelling.
"Banks Peninsula has a complex network of winding roads and steep inclines, adding an extra hazard layer for motorists.
"These roads can be challenging for even the most experienced drivers, along with those who take major risks to pass trucks, caravans or cars pulling trailers.
"By cutting speed limits, we can make major safety gains, including in Akaroa and Lyttelton, which are attracting more holidaymakers and day-trippers.
"Accident figures show that there are significant benefits from reducing speed limits from 50km/h to 40km/h in townships."
Waka Kotahi NZ Transport Agency will be seeking input from the community soon on highway speeds from Christchurch to Akaroa – from the intersection of Blenheim Rd and State Highway 73 (at the Curletts Rd overbridge) to the entrance of Akaroa township.
"We need to match the correct speed to the section of road across the whole area," Osborne said.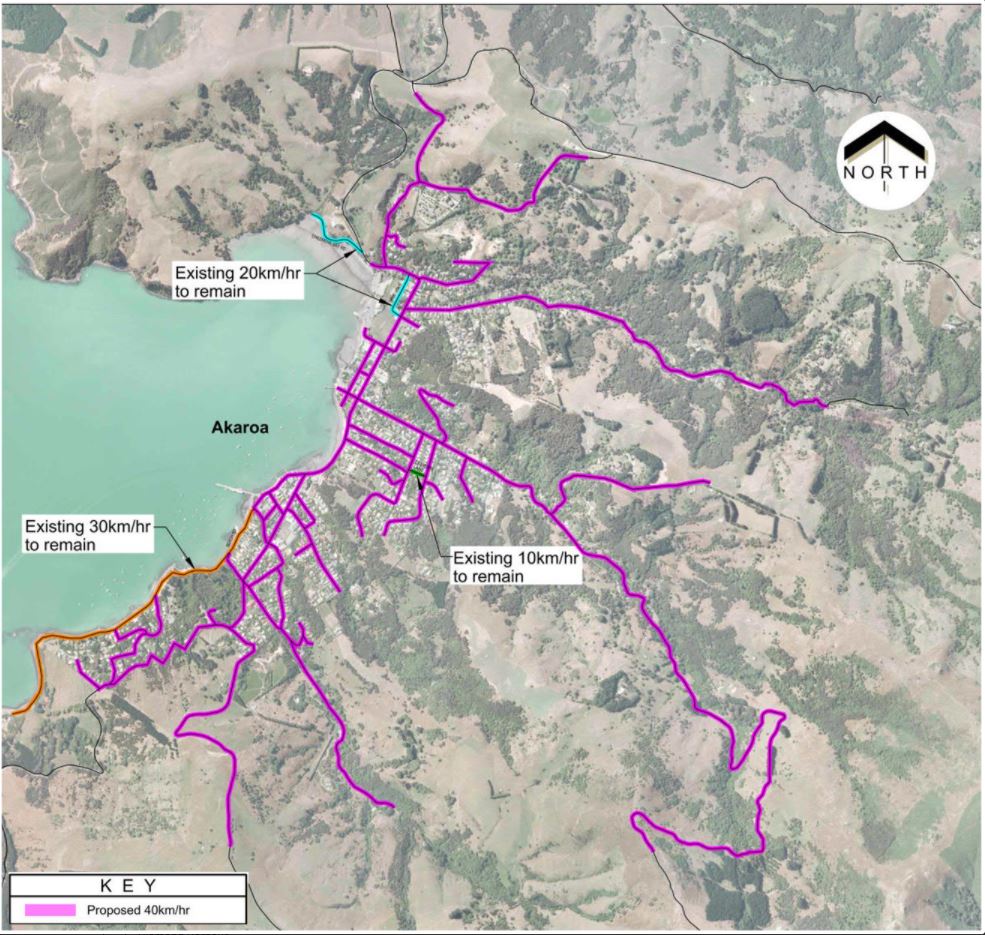 "We propose to correct the speed limits on Banks Peninsula to ensure that they are most appropriate to the varying sections, taking into account the 'difficulty' of the often winding rural roads with steep gradients.
"Road network safety remains a major focus for the council and targeted, lower speed limits underpin our commitment to those all-important continuous improvements."
Among the proposed changes are lower speed limits – from 100km/h to 60km/h – for the Purau to Port Levy route and parts of Pigeon Bay, Puaha Valley, Little River, Okuiti Valley, the Southern Bays and Birdlings Flat.
Give your feedback on the proposed changes here, with the deadline for submissions being Thursday, February 25.
If approved, the speed limit changes are expected to be in place by the middle of this year.
Area
Current speed
Proposed speed

Lyttelton

 
 
Lyttelton Township including Naval Point and Corsair Bay
50 km/h
40 km/h
Governors Bay Road 60 metres north of Park Terrace
50 km/h
40 km/h

Cass Bay

Bayview Place
50 km/h
40 km/h
Cass Bay Place
50 km/h
40 km/h
Harbour View Terrace 
50 km/h
40 km/h
Kaikomako Place
50 km/h
40 km/h
Mariners Cove
50 km/h
40 km/h

Charteris Bay

Marine Drive (extension of 50 km/h area)
60 km/h
50 km/h

Diamond Harbour

Waipapa Avenue (Marine Drive intersection to Wharf)
50 km/h
40 km/h

Purau/Port Levy route

Fernlea Point Road
100 km/h
60 km/h
Fields Road
100 km/h
60 km/h
Old Port Levy Road
100 km/h
60 km/h
Pa Road
100/50 km/h
40 km/h
Pa Road
100 km/h
60 km/h
Puari Road
50 km/h
40 km/h
Purau- Port Levy Road
100 km/h
60 km/h
Putiki Road
100 km/h
40 km/h
Richfield Road
100 km/h
60 km/h
Wharf Road
100 km/h
60 km/h

Port Levy/Pigeon Bay route, Pigeon Bay

Double Bay Road
100 km/h
60 km/h
Frasers Road
100 km/h
60 km/h
Holmes Bay Road
100 km/h
60 km/h
Holmes Bay Road (existing 50km/h speed limit section)
50 km/h
40 km/h
Holmes Bay Valley Road
100 km/h
60 km/h
Little Pigeon Bay Road
100 km/h
60 km/h
Pigeon Bay Road (existing 50 km/h speed limit section)
50 km/h
40 km/h
Port Levy-Pigeon Bay Road
100 km/h
60 km/h
Starvation Gully Road
100/50 km/h
40 km/h
Wharf Road
50 km/h
40 km/h

Kukupa

Kukupa Place
100 km/h
40 km/h
Middle Road (Lower section at Kukupa)
100 km/h
40 km/h
Pettigrews Road (Lower section at Kukupa) 
100 km/h
40 km/h

Puaha Valley

Duddons Track
100 km/h
60 km/h
Harmans Track
100 km/h
60 km/h
Pattens Road
100 km/h
60 km/h
Puaha Road
100 km/h
60 km/h
Whites Road
100 km/h
60 km/h

Little River, Western Valley and Okuiti Valley

Batchelors Road
100 km/h
60 km/h
Breitmeyers Road
100 km/h
60 km/h
Kinloch Road (Wairewa Pa Road to Okuiti Valley Road)
100 km/h
60 km/h
Lewthwaites Road
100 km/h
60 km/h
Montgomerys Road
100 km/h
60 km/h
Okuti Valley Road
100 km/h
60 km/h
Reserve Road
100 km/h
60 km/h
Reynolds Valley Road
100 km/h
60 km/h
Usshers Road
100 km/h
60 km/h
Wairewa Pa Road (Kinloch Road to SH75 northern intersection)
100 km/h
40 km/h
Wairewa Pa Road (SH75 southern intersection to Kinloch Road)
100 km/h
60 km/h
Western Valley Road (existing 100 km/h speed limit section)
100 km/h
60 km/h

Southern Bays

Bossu Road (existing 100 km/h speed limit section)
100 km/h
60 km/h
Burrells Road
100 km/h
60 km/h
Gap Road
100 km/h
60 km/h
Harrisons Road
100 km/h
60 km/h
Island Bay Road
100 km/h
60 km/h
Jubilee Road (existing 100 km/h speed limit section)
100 km/h
60 km/h
Kinloch Road (Okuiti Valley Road to Bossu Road)
100 km/h
60 km/h
Lands End Road
100 km/h
60 km/h
Maginness Road
100 km/h
60 km/h
Magnet Bay Road
100 km/h
60 km/h
Peraki Road
100 km/h
60 km/h
Reids Hill Road
100 km/h
60 km/h
Robin Hood Bay Road
100 km/h
60 km/h
Te Oka Bay Road
100 km/h
60 km/h
Wrights Road
100 km/h
60 km/h

Akaroa

Akaroa Township
50 km/h
40 km/h
Flea Bay Road
100 km/h
60 km/h
Lighthouse Road 
100 km/h
60 km/h
Stony Bay Road
100 km/h
60 km/h

Birdlings Flat and Kaitorete Spit

 
 
Bayleys Road
100 km/h
60 km/h
Beach Street
50 km/h
40 km/h
Clifton Street
50 km/h
40 km/h 
Forest View Road 
50 km/h 
40 km/h  
Jones Road  
100 km/h
60 km/h
Lake Terrace Road
50 km/h
40 km/h
Poranui Beach Road (existing 50 km/h speed limit section)
50 km/h
40 km/h
Poranui Beach Road (SH75- existing speed limit change point)
100 km/h
60 km/h