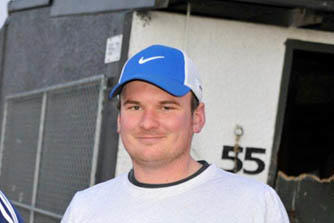 Police are now investigating complaints of fraud against race horse trainer Mitchell Kerr allegedly involving hundreds of thousands of dollars.
The matter has been referred to the fraud squad in Christchurch by the Racing Integrity Unit.
"I can confirm the matter has been referred to the police, but I have no further comment to make," RIU manager integrity assurance Neil Grimstone told The Star yesterday.
The RIU is the racing industry's investigative unit.
Police would not comment yesterday.
Kerr was regarded as a promising young harness trainer until allegations began to surface late last year. He relinquished his training and driver's licence in November amidst the RIU investigation.
The allegations included selling a non-existent horse, charging owners for insurance not taken out and over-selling shares in horses.
The Press reported last month Black Cap Matt Henry, All Black Anton Lienert-Brown. and a number of businessmen were among those allegedly cheated out of money.
A big part of the police and RIU investigations will involve examine betting records where it is believed almost $1 million was lost through an Australian betting agency.
Kerr did not respond to questions from The Star yesterday.
He is also facing a Judicial Control Authority hearing , the racing industry's independent court, where numerous charges of breaching harness racing rules and frauds connected with the industry.
A date has yet to be set.
The police investigation is the latest incident to beset the harness racing industry.
A number of harness racing individuals are also still before the courts after being charged during the police undercover corruption operation codenamed Inca.