Residents at Christchurch social housing complexes are feeling increasingly unsafe in their homes due to the behaviour of their neighbours and the people who visit them.
Age Concern Canterbury team leader for elder abuse and neglect Carla Sheehan is calling for older people to be given the option to live together in separate housing complexes to younger people.
"Grouping the older people together would be better. It's better for their socialisation and their social engagement, which is better for, you know, when they're lonely," said Sheehan.
She said the number of calls Age Concern has received from elderly saying they feel concerned for their safety has increased by about 20 and 30 per cent in the last year.
Bob Cuttance is 80 and lives at the Aorangi Courts social housing complex in Bryndwr, which is run by the Ōtautahi Community Housing Trust.
He is often afraid for his safety due to drug use by some of his neighbours and their visitors and other unsettling behaviour.
He supports the idea of separate housing for older people and said this should be considered whether anyone has suggested it to the trust or not.
Said Cuttance: "I've been here about seven years and I've seen some weird people here but I've never felt this insecure before.
"The people that they have here are getting their highs, getting synthetic [cannabis]. That's the main problem."
He said one man used to walk around, try to open people's doors and walk in uninvited, sometimes in the middle of the night.
"That was the thing that quite frightened me," he said.
The people Cuttance is concerned about were not home when The Star visited.
Ōtautahi Community Housing Trust senior housing advisor Bob Hardie said the trust had not been made aware of Age Concern's position on community housing.
Hardie said six people have complained to it about behaviour at Aorangi Courts in the last year.
He said Cuttance has complained three times since November last year relating to visitors to the complex and these complaints were acted on.
"ŌCHT subsequently issued trespass notices to the visitors causing a nuisance, and tenancy breach notices have been issued to identified tenants in relation to nuisance caused by their visitors," he said.
But Cuttance said those who have been trespassed continue to visit the complex and can not be made to leave again if they are inside units at it.
Said Hardie: "ŌCHT can trespass visitors from common areas and spaces but ŌCHT cannot trespass visitors from occupied units, in line with the Trespass Act. Only a tenant can do this (if it is their unit), liaising with police."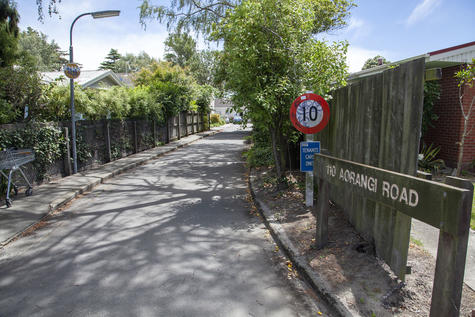 Cuttance said this is unfair, he wants the problem tenants attracting unwelcome visitors to be moved to different housing complexes, but thinks this option is not being considered seriously enough.
He feels someone in the complex will have to hurt themselves or someone else before something is done.
Hardie said ŌCHT considers relocation of problem tenants when appropriate but it prefers to "help resolve the underlying causes of any behavioural issues where possible."
Cuttance believes the behaviour of the tenants he is concerned about and their visitors has not improved and the best option is for the trust to find them new housing.
Said Sheehan: "There's a lot more drug use and drug-related incidents and violence happening."
In 2019 one of her clients was assaulted "two or three times" by a younger female neighbour and was hospitalised with facial injuries.
The victim was moved from the complex she was living in to a flat, which was more expensive and difficult for her to afford.
As well as this, Sheehan said: "I just had a call yesterday, actually, an elderly man ringing because he's in social housing and the neighbour is threatening to assault him and physically harm his dog."
She also had calls about elderly people getting asked for money by other social housing residents and damage being caused to their properties and vehicles.
CCS Disability Action Christchurch service manager for family and youth, Abby McCormack, said disabled social housing complex residents have also reported feeling unsafe.
One legally blind resident, who chose not to be named, said she has been abused, stolen from and had her wheelie bins deliberately moved in the three years she has lived in her accommodation.
Her daughter, who she lives with, received a death threat from one of her neighbours two years ago but said this was not enough for their requests to be moved into new housing to be acted on.
"We hardly sleep in this house. There's constantly music going, loudness, fighting constantly. There's not a night that we get a break.
"We've had two neighbours who have moved out because of how horrendous it is," the woman said.
It has taken one-and-a-half-years for her and her daughter to reach the top of the waiting list for new housing. She hopes they will be moved into new accommodation in February.
Police say they have not had an increase in calls from social housing residents concerned about their neighbours' behaviour in the last year.
But Sergeant Jim Currie said this does not mean there has not been an increase, just that people may not have reported problems to police.
He said if people are scared for their safety they should call police, but it is ultimately up to the organisations which run social housing complexes to decide if people's behaviour is bad enough to evict them.
Nicola Fleming, manager of Housing First Christchurch, which helps former homeless people find places to live, conceded a small number of its clients tend to behave badly once housed, but people need to give them a chance.
"If you're going to do something wrong, learn from it, but don't kick them out, just give them another chance. I mean, there are not that many houses to go around for people, so it's important that when they get one they stay in one."