Rangiora artist Mel Eaton never intended entering the North Canterbury Wearable Arts show, in which she won the Supreme Adult Trophy.
She had originally planned to enter her design Rumplestiltskin, modelled by Reece Hunter, in Wellington's World of Wearable Art (WOW), but left it too late to do so.
However, her win in North Canterbury's own Wearable Arts show, which was held in Rangiora last Saturday night, more than made up for that initial disappointment.
''It was a big night for sure'' Mel says, and now she is looking forward to attending the Wellington event courtesy of her first prize — a return trip for two to the capital city with tickets to the show on October 7.
Mel says the standard of entries in the show was high, and said it would be ''amazing'' to see a network of regional competitions coming together for a national finale at the Wellington World of Wearable Art.
''I believe this is where WOW started, but today it is a huge international mega event.''
However, NCWA organiser Jane Anderson says including regional winners at Wellington's World of Wearable Art ''would not be a starter'', as all the costumes would have to be sent to Wellington to be assessed before they were accepted. She didn't rule out the idea completely though.
''Maybe in a few years. Let's see how we go.''
The main thing was to set North Canterbury Wearable Arts firmly on the North Canterbury/Christchurch/South Island calendar each year as a 'must enter' or 'must attend' show.
For the first time, this year's show was held in the Rangiora Baptist Church auditorium.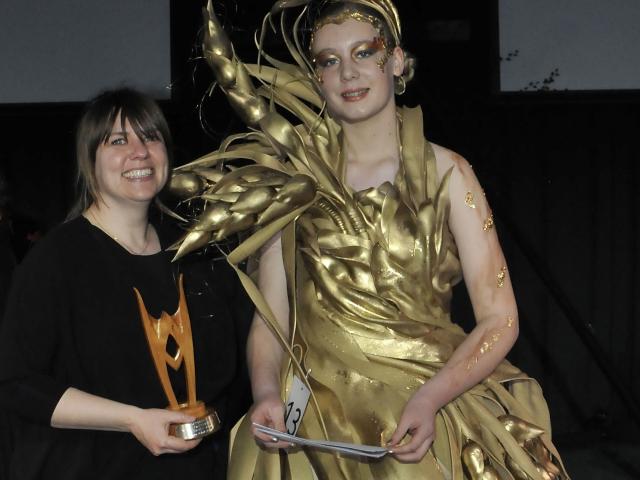 The new venue with a stage and runway gave the audience an ''up­close encounter of each costume'' and added a great atmosphere on the night, Jane says.
She was grateful for the support of to main sponsors McAlpines Mitre10 Mega, and all the other sponsors, along with everyone else who supported the show — the main fundraiser for the Oxford Area School.
The judges Charlotte Davis and Jan Robertson, said the high quality of entries gave them ''an extremely difficult job'' choosing the winners.
''Some of the craftwork in these costumes blew me away,'' Jan said. ''It was a privilege to judge the event.''
With the 2023 show now over preparation for next year's event has already begun.
Anyone interested in taking part next year can email northcanterburywearablearts@gmail. com for an entry pack later in the year.
Results - Students: Year 1­-6 Aotearoa-­Flora and Fauna — Charlie Dean (designer and model) for Avant Garde. Students: Years 7­-9 Iconic Kiwi Places and Objects — Milla Jackson (designer and model) for The Canterbury Queen. Students: Years 7­-9 Open — Sofia Collins, George Keene, Iris Mills and Ruby MillarBell (designers), Sofia Collins (model) for Arachne's Web. Students: Years 10­-13 Open — Mele Bonner­Vaitaki (designer and model) for Snap Judgement. Students: Years 10-­13 NZ Innovators & Innovation — Bailey Hunt, Alice Barron, Cara Brock­Smith and Maliyah Oakley (designers), Bailey Hunt (model) for Not Just A Vote. Adults: Kiwiana­ What it Means to Be Kiwi — Camille Solari (designer and model) for Princess of L&P. Adults: Open — Mel Eaton (designer), Reece Hunter (model) for Rumplestiltskin. North Canterbury Wearable Arts Supreme Student Trophy winner: Milla Jackson for The Canterbury Queen. North Canterbury Wearable Arts Supreme Adult Trophy winner: Mel Eaton for Rumpelstiltskin.
By Shelley Topp