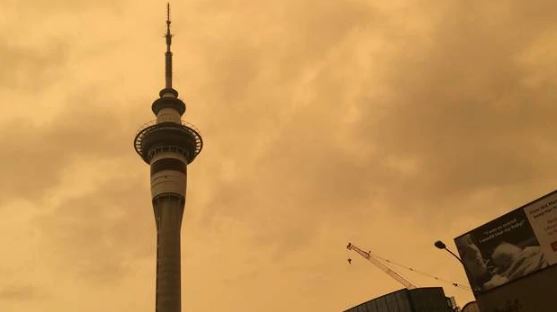 Police are asking people not to call 111 because the sky is yellow as smoke from Australia's bushfires drifts over parts of New Zealand today.
Police this afternoon said it was "currently receiving high numbers of calls related" to the yellow-tinged sky.
While we appreciate these conditions may be causing concern, the 111 emergency number is for instances when:
    Someone is breaking into your house right now
    There is car accident where people might be hurt, or cars are blocking the road
    Someone has been assaulted and the offender is still there
    You are afraid for your safety and or for those around you
    You need an emergency Police response
Police did not feel the need to offer the same advice when smoke from Australia's bush fires drifted over parts of the South Island, but Fire and Emergency New Zealand did receive a few calls from people who believed the smoke was from closer to home.
In Auckland, an overcast sky has dulled in the last hour, with many people taking to social media in awe.
"It's eerie and scary," one person wrote on Twitter.
"There's an orange tinge in the sky and it's heartbreaking," said another.
The smoke was driven over New Zealand by an upper-level jet of westerly winds, MetService reported.
MetService meteorologist Tahlia Crabtree said as long as the fires continue, it was likely the smoke could impact our skies again.
"Hazy orange skies giving a taste of what is being seen in Australia were brought to our shores by northwest winds," Crabtree said.
"As long as these fires continue, it's not unreasonable to expect a repeat of New Year's day when the winds are blowing the right direction."
The gloomy weather would likely thicken later today, WeatherWatch.co.nz reported.
"There is a windy Southern Ocean change arriving today in the South Island and Monday and Tuesday nationwide which should clear the air over New Zealand," WeatherWatch.co.nz said.
"However smoke in the skies is only likely to thicken up over the next few hours."