Nicola Grigg will be National's Selwyn candidate in next year's general election, replacing the retiring Amy Adams. She talks to Louis Day.
What was your reaction to being selected as the National candidate for Selwyn?
I was just thrilled, I really was, I had so much support from members around the electorate and this is just something I have wanted to do for a long long, long time. I was probably a little bit shocked as well as there were two high calibre candidates there as well. It was definitely a mixture of elation and shock.
What is your connection to the Selwyn electorate?
I was born and raised on a family farm in Mt Somers. That was a bit of a technicality, at the time it was in the Selwyn electorate but then there was a boundary change in 2007 so it got pulled into the Rangitata electorate. But when you grow up on a farm in
Mid-Canterbury all your family friends and all your family is all deeply connected.
Boundaries are boundaries, but if I look at all the big rural seats from South Canterbury to North Canterbury you have got Waitaki Rangitata, Selwyn, Waimak they are all really interwoven and my connection is just growing up in the region really and being involved in the farming community.
Tell me about your family's history in politics.
Politics has always been of interest for me because of my family connections. My great grandfather Major Arthur Grigg was the MP for Ashburton in the early 1940s and he was killed in the second World War. Then his wife Mary Grigg stood to replace him and stood uncontested and she ended up being National's first female MP.
She was very pro-women and very pro-agriculture. I read some of her speeches now and it is literally like history repeating itself.
How did you become a journalist and what prompted the transition into politics?
I went to broadcasting school straight after finishing high school at St Margaret's College.
I think the career adviser at the time steered me in the direction of journalism because I talked a lot. So yeah, I became a journalist, did a bit of travel, came back, lived in Queenstown, got made redundant a couple of times during the global financial crisis and then I moved home at the end of 2010 to Canterbury. That is when the quake started and when the newsrooms were hiring, so I went to Newstalk ZB.
At the time, because it was a post-quake environment all the Government ministers like Key, English, Brownlee and Amy Adams were coming here regularly and I was interfacing with them a lot as a reporter. I got offered a job after the 2014 elections in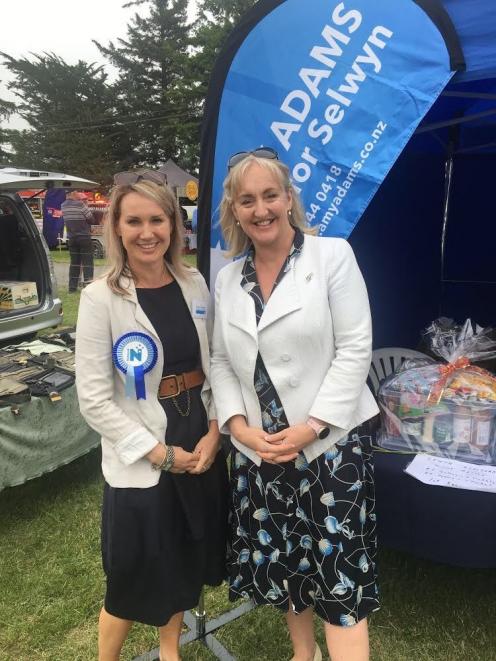 Simon Bridges' office after he was made the Minister of Transport and Minister of Energy Resources.
I really wasn't sure because I loved being a reporter. I went over to Greymouth and it was the day Key and Bridges announced they weren't going to re-enter the Pike River Mine.
When Key came down and announced that they weren't going to go back in, it was just the way they handled it with such empathy and logic and I thought actually I do want to get involved with that team.
So I went up to Wellington in 2014, worked with Simon for about four months and then I got an opportunity to go into Bill English's office, I was there for two years with him as the Minister of Finance and the year he was Prime Minister.
When Bill resigned I always had in the back that I wanted to be an MP, so in the middle of 2018 I thought it was time to come home and get in a position to find a seat and it was a stroke of luck that my home seat opened up.
What did you aspire to be as a child, was it a politician?
I wanted to be a vet. Just because I grew up on a farm riding ponies, I loved animals, I wanted to be a vet but it turned out I was not very good at science.
Hobbies outside of work?
I love horse riding still to this day but I don't get much time, I also love skiing, but I just run and hike when I can, never been to a gym in my life, I just love the outdoors.
Dead or alive, who would you want to sit down and have a drink with?
Elizabeth I. She is my hero. She was just such a clever politician, she bought together such a fractious country by just being really clever about it.
You know that famous quote, I will probably get this wrong, but it is something along the lines of, I will not make windows into men's souls. As in to say she didn't care what people actually thought in the privacy of her own home as long as they towed her line I guess and were loyal to her and she was just such a shrewd operator in an era when she was the only woman in the world doing it.
Where are you based at the moment?
I am in the city at the moment, but my family are based in the electorate so for the duration of the selection, I was hubbing in and out of their place. I am house hunting at the moment. I really like both West Melton and that Lincoln, Prebbleton and Tai Tapu area.
I have committed to the membership that I will be living there by the new year. You can add that to my hobbies, I spend my weekends going around open homes at the moment.
What would you say your priorities would be if you were elected as the MP for Selwyn?
First and foremost changing the Government. But with regards to Selwyn, I come at it with a couple of perspectives.
My time working as a press secretary for Bill English under the former National Government I really learnt the importance of growing the economy. With my current role with New Zealand Trade and Enterprise, I deal with a lot of export businesses based out of Selwyn, particularly start-up companies coming out of Lincoln Agritech and Lincoln University.
So for me, it is about encouraging business within the electorate to grow.
How do you think the Labour-led Government has performed over this term?
There has been unnecessary stressors put on new Zealanders and whether that is through the gradual slowing down of the economy or a lack of funding into essential services that were promised into healthcare and particularly mental health. But the one aspect that makes me really angry is the treatment of our agricultural sector and our farming community.
I'm from a farm. My community, neighbours, everybody farms and these are clever businesspeople. They are sophisticated and they are very conscious of their environmental responsibilities and they are some of the most productive food producers in the world.
Yet they are trying to operate in a regulatory environment that is actually condemning them and stopping them from doing what they are really good at doing.
Are you concerned about the impact the agricultural industry is having on the environment?
Historically there have been mistakes made. There was a massive land-use change that occurred here in Canterbury over the last 20 to 30 years during the dairy boom on soils that have a riverbed and soils that leached a lot.
Ever since that awareness has come into people's minds, farmers particularly have bent over backwards. Farmers across New Zealand spent a billion dollars on fencing off waterways and riparian planting. There is a huge amount of investment going into that research and development space.
Just out at Lincoln Agritech, there is all sorts of science going into planting grasses and plantains that will stop cattle from producing methane that will equally have root bases that are knitted together to stop nitrate leaching.
Do you think you have big shoes to fill if you step into Amy Adam's role?
Very big shoes. During the selection period, I would say to the members what do you want in your next MP, they would say: "We just want another Amy."
Do you think Simon Bridges is the right person to lead National into next year's election?
Yes, 100 per cent. I think Simon is absolutely on fire at the moment. With the likes of the policy on law and order and the stance, and how National is taking on gangs, he has really found his feet actually and he is resonating really well with New Zealanders.