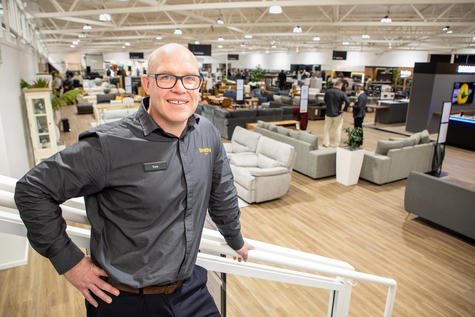 Smiths City has officially settled into a new home after more than 100 years serving Cantabrians from its former central city location.
The iconic furniture and appliance retailer opens its new flagship store in The Colombo, Sydenham, today, a site previously occupied by Spotlight until last year.
It also rebranded with a new logo to reflect the beginning of a new era.
Chief executive Tony Allison was excited about the launch and said they relocated to Sydenham for a more "local approach," and to be in the heart of a community, rather than the central business district.
Decisions behind the move were a combination of the store's ownership change earlier this year and the expiry of their former Colombo St store's lease in the coming months.
It was now owned by Colin Neal, of Polar Capital.
"It's a great opportunity. We've been in big cities, but we moved to feel more local and to get amongst the suburb which is more like us going forward," said Allison.
"The retail experience has also been lifted. The look, the textures, the colours – everything's a lot more vibrant now, I believe."
Shoppers can expect a modern and inviting atmosphere, new fixtures, an updated product range and interactive events.
The new premises is nearly half the size of the former site, downsizing from 6600 sq m to 3233 sq m.
A "smile" was embedded in its new logo to celebrate what it is to be Kiwi – "warm, straight up, and honest," – while delivering its services with a "cheeky" grin.
New beginnings meant new approaches to how services were delivered.
"In retail, everyone looks over their shoulder to see what everyone else is doing, they go – how do we outcompete them?" he said.
"We want to do the opposite, when everyone else is zigging, we want to zag. We want to be honest, Kiwi retailers, with good service, that know our products and tell you honestly what the [product] is going to do.
"We don't want to bamboozle customers with buzzwords and specs to try and get the sale, we want to do the right thing by the customer."
Allison was concerned about the future in spite of the new store.
"If you don't have concerns at this time with what's going on, you're probably not thinking hard enough," he said.
"We've got to be mindful of what's happening with the economy and be prepared."