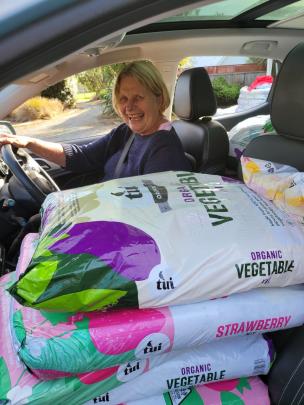 Twenty-two tonnes of "gold" in the form of compost has been donated to community gardens following a shortage.
Forty-one community gardens across Christchurch will benefit from 1200 bags of compost to help grow produce, donated by Tui Garden Products.
Canterbury Community Gardens Association capacity builder Rachel Vogan said the "crazy" donation has been well-received by all of the community gardens around the city.
"It's literally like gold for the gardens because we can't grow good crops without getting good nutrition into the ground," Vogan said.
She was approached by Tui after the bags of expired compost and strawberry and vegetable mix were discovered.
They couldn't be sold so the company asked if the community gardens could use it.
Because the compost goes straight into the ground and the community gardens follow all health and safety procedures, Vogan said the compost would be fine to use.
"It's better than getting money - it's what we need to help grow our food so it's amazing," she said.
She said compost shortages are a huge issue for community gardens, especially with the uncertain future of the organics processing plant in Bromley.
"That has a big impact on community gardens because we're really short of compost to put in the ground and without being able to feed the soil it's really hard to keep feeding people," Vogan said.
She said it is a "juggling act" getting the compost to each community garden, as the association does not have access to delivery trucks or a depot to store the compost.
Luckily, Owens Transport donated two delivery trucks and drivers for a couple of hours to deliver the 26 pallets of compost to the Wai-ora Trust, which offered its forklift and space to store it for other community gardens to collect.
Each of the 41 community gardens can take up to 22 bags of compost, seeing garden members filling up their cars to the brim.
Vogan said in spring a garden event will be held and the leftover compost mix will be used for that.