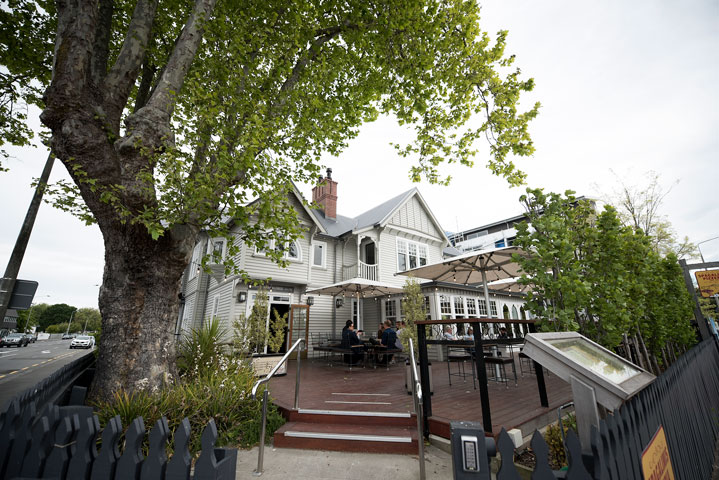 A Christchurch restaurant is offering free pizza this weekend to anyone who has had at least one shot of the Covid-19 vaccine.
Spagalimis Pizzeria on Salisbury St will offer the promotion on Saturday between 11am and 4pm.
Customers will need to purchase a pint of beer, glass of wine or a mocktail to get a six-piece pizza for free.
It is a part of the multi-agency campaign that aims to have 90 per cent of Canterbury's population jabbed with at least one dose of the vaccine by Labour weekend.
"No incentive should be needed to do the right thing for our country so look at this as a reward for being a good team player," a post on the business's Facebook page said.
Another Christchurch business, FUSH, provided free food to vaccinated people at the Ngā Hau e Whā National Marae clinic in Wainoni last Saturday.
The region appears to be doing well with about 82 per cent of Canterbury residents fully vaccinated, had a single dose or booked in to receive a vaccination.
A Canterbury District Health Board spokesperson said more than 375,000 residents have had at least their first dose and more than 238,000 have had their second dose.
"We want to keep this momentum going," the spokesperson said.
Find out more about the 90% For Canterbury here.
The percentage of people vaccinated in each area as of October 11 (Source: Ministry of Health):
Rank
Change
City or district
Fully vaccinated
One dose only
Unvaccinated
1

-

Dunedin

 

67.0%
21.5%
11.5%
2

-

Marlborough

 

65.9%
18.6%
15.5%
3

-

Central Otago

 

64.6%
20.4%
15.0%
4

-

Nelson

 

64.2%
17.1%
18.7%
5

-

Kaikōura

 

61.6%
15.1%
23.3%
6

▲ 4

Auckland

 

61.3%
24.8%
13.9%
7

▼ 1

Tasman

 

61.2%
17.3%
21.5%
8

▲ 3

Hamilton

 

60.9%
22.3%
16.8%
9

▼ 2

Kāpiti Coast

 

60.7%
22.2%
17.1%
10

▼ 2

Thames-Coromandel

 

60.2%
18.6%
21.2%
11

▼ 2

Timaru

 

59.6%
21.1%
19.3%
12

▲ 1

Queenstown-Lakes

 

59.5%
32.6%
7.9%
13

▲ 1

South Wairarapa

 

59.1%
24.2%
16.7%
14

▼ 2

Carterton

 

58.7%
21.0%
20.3%
15

▲ 11

Manawatū

 

58.1%
22.6%
19.3%
16

▼ 1

Masterton

 

57.1%
19.5%
23.4%
17

▲ 5

Napier

 

57.0%
21.6%
21.4%
18

-

Wairoa

 

56.9%
11.5%
31.6%
19=

-

Whanganui

 

56.3%
16.8%
26.9%
19=

▼ 3

Waitaki

 

56.3%
21.9%
21.8%
21

▲ 3

Waipā

 

56.2%
26.0%
17.8%
22

▲ 3

Hastings

 

56.0%
22.0%
22.0%
23

▼ 6

Invercargill

 

55.9%
21.4%
22.7%
24

▲ 4

Wellington

 

55.8%
35.0%
9.2%
25

▼ 2

Palmerston North

 

55.7%
26.2%
18.1%
26

▲ 1

Waikato

 

55.4%
23.9%
20.7%
27

▼ 7

Gore

 

54.9%
19.6%
25.5%
28

-

Porirua

 

54.5%
26.2%
19.3%
29

▼ 1

Whangārei

 

54.2%
20.3%
25.5%
30=

▼ 9

Buller

 

54.1%
17.6%
28.3%
30=

▲ 4

Horowhenua

 

54.1%
21.3%
24.6%
32=

▲ 5

Westland

 

53.8%
23.5%
22.7%
32=

▲ 3

Lower Hutt

 

53.8%
28.7%
17.5%
34

▼ 2

Upper Hutt

 

53.1%
30.0%
16.9%
35

▼ 4

Central Hawke's Bay

 

52.2%
25.3%
22.5%
36

▲ 10

Tararua

 

52.1%
21.1%
26.8%
37

▼ 4

Stratford

 

52.0%
19.1%
28.9%
38

-

Selwyn

 

51.7%
37.5%
10.8%
39

▼ 1

Gisborne

 

51.4%
18.6%
30.0%
40

▲ 5

Christchurch

 

51.1%
32.3%
16.6%
41

-

Clutha

 

51.0%
23.7%
25.3%
42=

-

Rotorua

 

50.7%
22.2%
27.1%
42=

▲ 6

Matamata-Piako

 

50.7%
27.0%
22.3%
44=

▲ 2

Taupō

 

50.4%
23.7%
25.9%
44=

▲ 6

Tauranga

 

50.4%
29.5%
20.1%
46

▲ 3

Western Bay of Plenty

 

50.3%
27.7%
22.0%
47

▼ 11

Waimate

 

50.2%
25.9%
23.9%
48=

▼ 10

Grey

 

49.9%
22.9%
27.2%
48=

▼ 6

Rangitikei

 

49.9%
25.3%
24.8%
50=

▲ 11

New Plymouth

 

49.7%
26.6%
23.7%
50=

▲ 1

Waimakariri

 

49.7%
29.7%
20.6%
52

▼ 8

Hurunui

 

49.6%
28.7%
21.7%
53

▲ 5

South Taranaki

 

48.7%
22.2%
29.1%
54

▼ 2

Waitomo

 

48.2%
20.7%
31.1%
55

▼ 2

Southland

 

46.6%
27.0%
26.4%
56=

-

Whakatāne

 

45.9%
20.3%
33.8%
56=

▼ 1

Hauraki

 

45.9%
26.2%
27.9%
58

▼ 1

Ōpōtiki

 

45.7%
18.8%
35.5%
59

▼ 5

Far North

 

45.5%
20.6%
33.9%
60

-

Kaipara

 

44.8%
23.7%
31.5%
61

▼ 2

Ruapehu

 

43.8%
21.9%
34.3%
62

▲ 2

Ōtorohanga

 

43.5%
27.0%
29.5%
63

▼ 1

Mackenzie

 

43.2%
32.7%
24.1%
64

▲ 1

Ashburton

 

43.1%
36.9%
20.0%
65

▼ 2

South Waikato

 

43.0%
24.8%
32.2%
66

-

Kawerau

 

37.4%
21.1%
41.5%