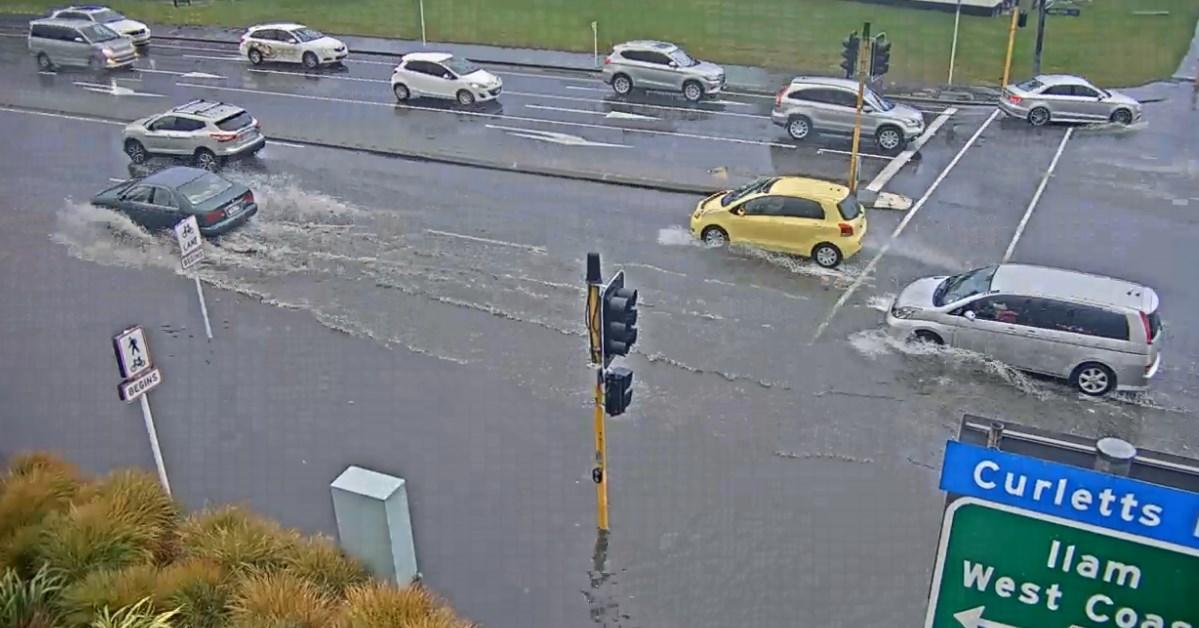 Surface flooding has caused traffic congestion and hazardous driving conditions in Christchurch this morning, while other parts of Canterbury have been blanketed in snow.
Transport for Christchurch has warned motorists to watch out for flooding, particularly along Curletts and Blenheim Rds (State Highway 73) and the intersection of Colombo and Brougham Sts.
"Surface flooding will also be an issue on many roads, so keep an eye out," a Transport for Christchurch spokesperson said.
"Surface flooding is an issue northbound at the intersection of SH73 Curletts Rd & Blenheim Rd (and) surface flooding at the intersection of Colombo St and SH76 Brougham St is causing delays westbound."
Motorists are reminded to check weather updates regularly and drive to the conditions as snow falls over some main highways and roads.
The hills around Porters Pass were blanketed in snow this morning. There was a road snowfall warning in the area.
Up to 5cm to 8cm of snow may settle on the road near the summit, the MetService says, with lesser amounts down to 600m.
A snowfall warning is also in place over Lewis Pass (State Highway 7).
"Snow showers are forecast to affect higher parts of the road [this] morning - 1cm to 2cm of snow may settle on the road near the summit, with lesser amounts down to 700m."
Earlier snowfall warnings affected Arthur's Pass (SH73), Lindis Pass (SH8), Crown Range Rd and Milford Rd. Those warnings have since expired.
Conditions will clear in Canterbury from this afternoon and fine spells will increase.
Fine weather is also on the cards for Otago and Southland - save for coastal showers early on.
Rain in the Chatham Islands is also set to ease to showers this evening.
Most regions across the country are in for rain - including Auckland, which will get a few showers throughout the morning, afternoon and evening.
Despite the temperature being around the 10C mark in the City of Sails this morning, a high of 21C is on the cards, the MetService said.
An overnight low of 10C, however, will mean for a warm blanket is needed tonight.
- Additional reporting NZ Herald