Flood-stricken Canterbury farmers and growers are to get $500,000 from the Government after heavy rain devastated the region. Bridges have been badly damaged, including a slumping Ashburton River bridge on State Highway 1 that will take days to fix.
The region is taking stock after a rare 'red-code' weather event. From Friday to Monday morning, a massive 545mm of rain was recorded at Mt Somers in the Canterbury high country, MetService forecaster Aiden Pyselman said.
The main centres - Christchurch (110mm), Ashburton (155mm), and Timaru (105mm) - were inundated over the same period.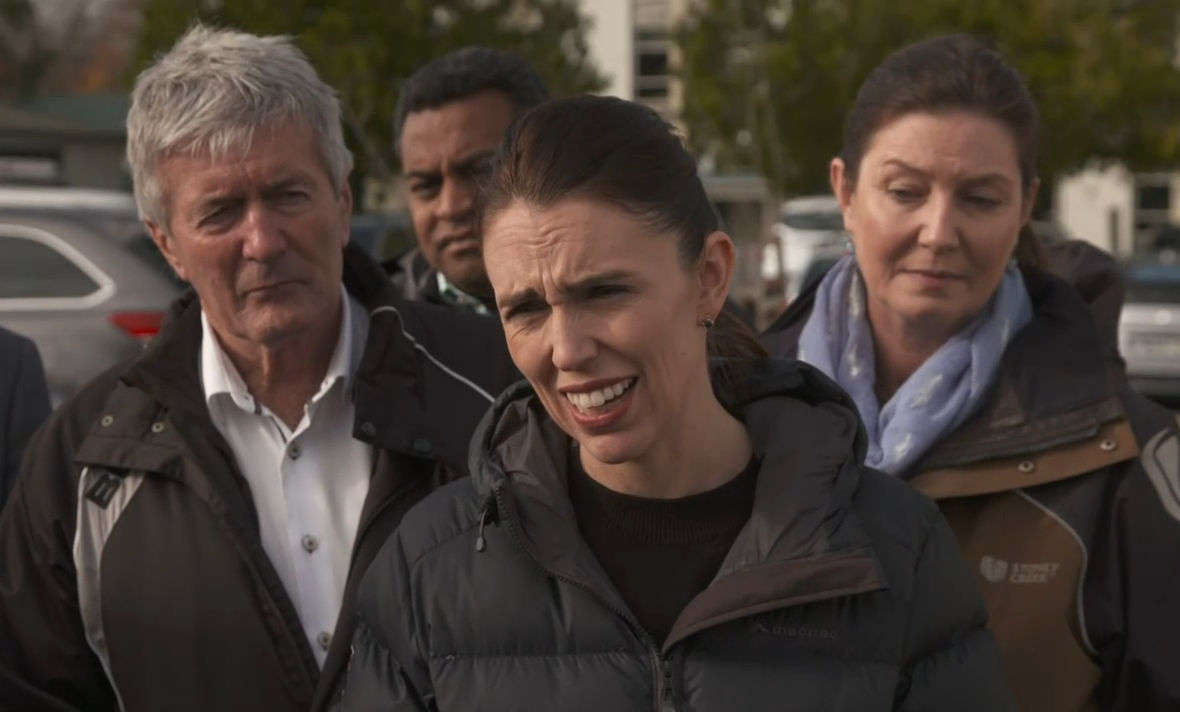 Agriculture Minister Damien O'Connor today declared an adverse event for Canterbury, unlocking $500,000 of government support for farmers and growers.
There has been extensive flooding and damage to bridges, with four destroyed. The town of Ashburton is cut in two after the the closure of a slumping Ashburton River bridge this morning.
Mr O'Connor made the funding announcement during a visit to the flood-stricken region today with Prime Minister Jacinda Ardern. 
"My decision to classify this as a medium-scale adverse event ensures funding of $500,000 for flood recovery measures. The funding will help speed up the recovery of farming businesses, and includes wellbeing support and specialist technical advice," he said.
"The money will be used for recovery grants, to enable the region's three Rural Support Trusts to provide extra help to farmers, and for other flood assistance where needed.
"We will continue to assess whether further support is required as the full extent of the flooding becomes clearer."
The Government has already made an initial contribution of $100,0000 towards flood relief.

A state of emergency has been declared for the Canterbury region.
Ashburton mayor Neil Brown joined Ms Ardern, Mr O'Connor and Acting Emergency Management Minister Kris Faafoi this morning for a helicopter flight over the Ashburton district, which has received up to 300mm of rain in the foothills since Saturday morning.
Mr Brown said the group would visit a farm in the Ashburton district and one near Geraldine.
Ms Ardern would also visit the emergency operations centre at the Ashburton District Council for a briefing.
Earlier, Mr Brown said the Prime Minister phoned him this morning to ask if assistance was needed.
''I said we are good for now, but as it unfolds it will become apparent what we really need.''
The district had received good assistance so far from emergency services, including police, the Defence Force, St John and Fire and Emergency NZ, he said.
Ashburton River bridge closed for several days 
While flows in the Ashburton River reduced dramatically overnight, road users driving over the bridge on State Highway 1 before 7am today reported that it was buckling and it was immediately closed.
Engineers have confirmed there is significant damage to the Ashburton bridge and it would be closed for at least several days.
It is the main link between Ashburton and Tinwald, though work is under way to repair roads and bridge approaches on an inland route.
Police were stopping people and cars from going onto the bridge this morning. A slump is visible mid-way and travellers have been advised not to queue at the bridge.
A spokeswoman for the NZ Transport Agency spokeswoman said the work represented a "major new factor" in efforts to reopen SH1.
The region's Civil Defence coordinator, Andrew Howe, said officials would keep their eye on at-risk rivers until they have settled.
Hundreds of Mid Canterbury residents spent another night next to their packed bags, ready for large-scale evacuations at any second. However, the threat has now passed.
While the rain has eased, rivers are continuing to drain a three-day deluge, swathes of farmland is still submerged and roads remain closed across the region.
The extent of the damage to the district is estimated by the mayor to be in the "tens of millions of dollars".
Late last night, Ashburton remained cut off to the north and the south - with 19 roads either submerged or damaged beyond use - and about 20 stranded travellers were settling down in emergency accommodation at Hakatere Marae.
Waimate student Margaret Nichol was among them after getting caught out on her way back from Christchurch.
"I was every so desperate to get home. I was only two hours away, so I just kind of fell apart. I didn't know what to do - I've never been in this sort of situation."
She was hoping for a change in her luck this morning.
"I'm desperately hoping that the roads are open. I just want to go home and see my family and friends and I'm just wanting to sleep in my own bed," she said.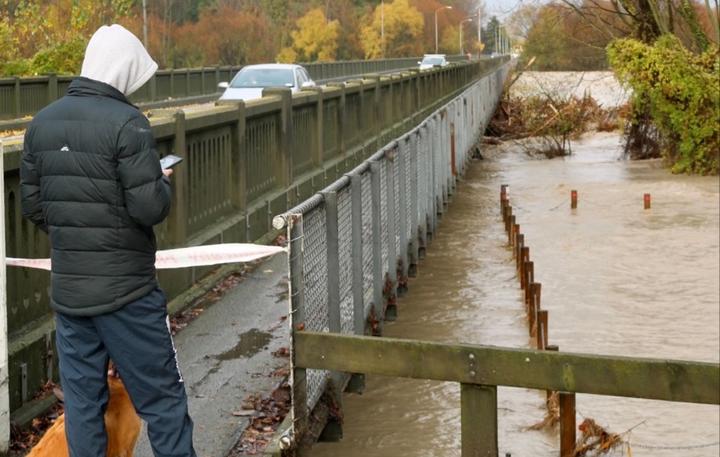 'Open arms for everyone'
For some, like the Hatfield family of seven from Gore, it was the second night in temporary accommodation.
Elaine Hatfield said she had been unable to find any spare rooms in motels around the town so she was grateful for what the marae was offering.
"The kai, heaps of it. And everything for my kids. They just didn't like sitting in the car any more, they started getting grumpy. Walking in here was great.
"They just had big open arms for everyone."
Authorities said a small number of homes in Hinds, south of Ashburton, were damaged.
As the water surges down from the high country, large swathes of farmland all over Canterbury remains submerged. Animals have died but the number of stock losses is not yet clear.
Ashburton residents were warned the risk was not over, and were told to spend last night with overnight bags packed in case of an abrupt evacuation order.
Robin Jessep's house is metres from the heaving Ashburton River, which he said was raging to levels he had rarely seen in about 70 years.
"It's not really the water - it's the force behind the water, because it sort of drags everything with it. It starts ripping out trees and then they start piling up against the bridges."
'Scary on bridges'
Four bridges around the district have been destroyed and at least 30 residents were evacuated yesterday with help from the Defence Force.
Three people had to be rescued - including two from the roof of a car.
Floodwaters have encroached into the Ashburton wastewater treatment plant, meaning some of it could be contaminated.
Methven stock truck driver Morris Fitzgerald was keen to stay home, after encountering "dangerous" scenes on the road yesterday morning.
"We were carting cows yesterday on the bridges on Thompson's Track and there were trees coming down... just whirlwinding down. It was scary as on those bridges," he said.
"I thought, the sooner we get this job done, the better."
Ashburton Volunteer fire brigade chief Alan Burgess said crews from around the district were on standby, as were the Defence Force and other emergency services.
He said they would be reassessing the situation this afternoon.
"We've had 24 [hours] and think we need to sit this out in our current environment for at least another 24 hours and just see what other water comes into town - whether its from the foothills or if we get any other rain patterns that are going to accentuate the problem."
He said the local volunteer firefighters were used to heavy rain events that cause surface flooding around urban Ashburton.
"But this time, this hasn't happened. The water's been dumped in the foothills and come down to us. So it's quite a different animal to what we're used to."
For now, residents are asked to keep off the roads, stay out of the floodwaters and look after their neighbours.
-  Reporting by Linda Clarke of the Ashburton Courier, RNZ and ODT