Parts of Canterbury may still get a battering from ex-tropical cyclone Uesi which is sweeping towards the South Island.
Rain and severe gales are set to hammer the bottom of the South Island this weekend as the former tropical cyclone bears down.
A heavy rain watch is in place for the ranges of Buller and Westland (from Otira northwards), the headwaters of Otago and Canterbury Lakes and Rivers south of Arthur's Pass, and Fiordland.
The MetService is also warning the rainfall levels could approach warning levels.
Canterbury, Wellington, Marlborough and southern Wairarapa also have a moderate chance of northwest winds approaching severe gales on Sunday.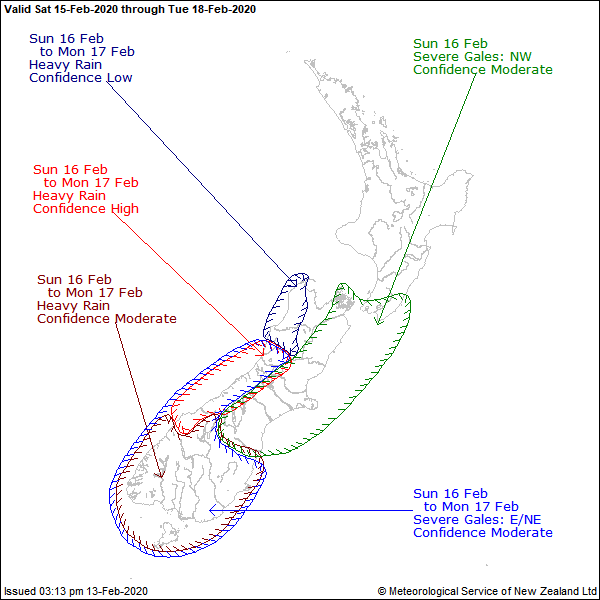 But Emergency Management's Southland controller Angus McKay told RNZ's Morning Report forecasts suggested much of the rain would miss Milford.
"Milford Sound gets a lot of rain every year - about 10m of rain - so this isn't unexpected. Looking at the latest forecast it looks like we might be alright.
"A lot of the rain is going to the south of the South Island and the rest of it's going up to our friends on the West Coast.
"Milford and Fiordland it's looking like ... it might just be a blip on Sunday where we have to just pause some of the work on the roads."
He praised the efforts of the road workers who managed to get a 4WD track through to the town, providing the opportunity for twice-daily convoys.
"Before the rain comes on Sunday we've got a convoy coming through with some essential supplies - so for the sewage system and the generator - and we're also replacing the food stocks and some essential equipment into Milford," he said.
He said although the rivers were not noticeably high there was a lot of debris in the slips that came down, so the road workers were preparing just in case.
"The next big rain event we have will actually flush some of that [debris] through the system, and I know the roading alliance guys there they've got the helicopters up there waterbombing today, I think, and they're also doing a lot of work up there trying to dig out some of the really loose stuff and put some bunds to stop most of the debris coming down onto the roads."
He said the Department of Conservation (DOC) were also making progress.
"Working really hard, looking at their estate and their tracks and the huts, and I'm hoping to have some good news about DOC being able to reopen - in a very limited way - some of their walks."