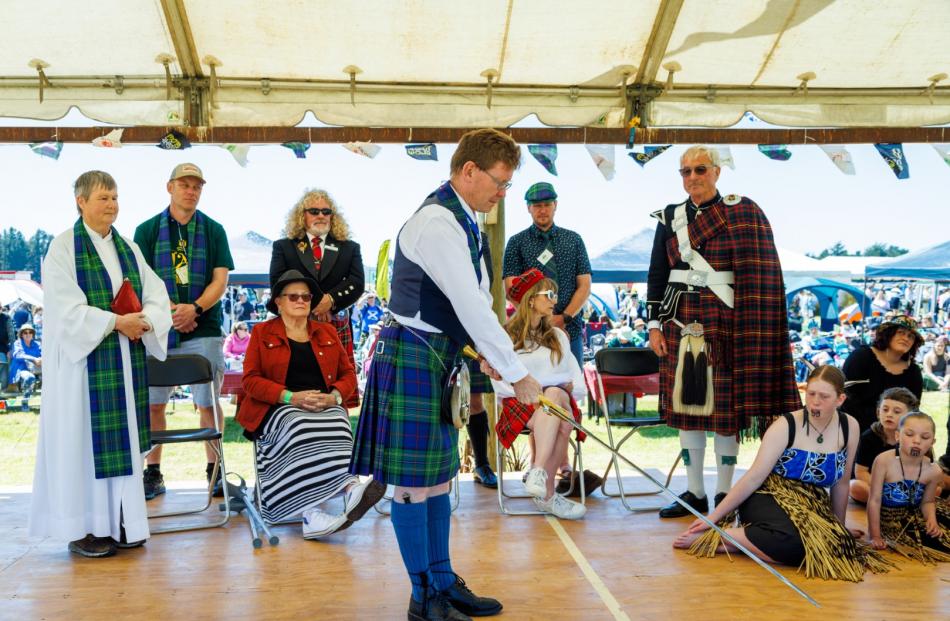 Thousands of people turned out for the 12th annual Hororata Highland Games on Saturday.
Nearly 1000 competitors of all ages also took part in the traditional Scottish events, including a record number of highland dancers, pipers and drummers.
A founding committee member of the event, Colin Forsyth, travelled from his home in Scotland to take up the role of chieftain at the games.
More than 1000 people had a go at tossing a caber, as well as the pie eating, Kilted Mile, and Highland Challenge competitions. 
A highlight of the day was the huge band march and chieftain's welcoming ceremony.
The welcoming ceremony was followed by a massive Scottish Country Dance where the crowd got to jump the fence to the main arena to dance the specially choreographed 'Hororata Heavies' in celebration of 100 years of the Royal Scottish Country Dancing Society.
Forsyth said he was blown away by how much the festival has grown.
"12 years ago, I took a phone call. They said: 'We have this idea can you help us'.
"I said: 'Why not' - and got on board. 
"There was a lot of trust put in me and we got the first Hororata Highland Games off the ground.
"The community took my ideas, questioned some, added a kiwi twist, and created one of the world's greatest highland games, and I know this because I have been fortunate to attend many games around the world. 
"I was simply blown away as I wandered around the festival, it is just phenomenal.
"The committee has stayed true to our initial vision but expanded it into something that was beyond my wildest dreams."
The games are a community-run event with all proceeds benefiting the Hororata area.
Fourteen community groups raised funds through the games for their causes and more than 200 volunteers helped deliver the event.
Forsyth said: "It is a shining example of what a community can do by pulling together with a common vision.
"It was one of the greatest honours that has ever been bestowed on me - to be the head of the Hororata Clan as their chieftain.
"I am so proud of what the Hororata community is achieving.
"Thank you to all the volunteers, competitors, stallholders, sponsors and everyone who came, it is you who make this event what it is."
Overall results (full results to come)
Heavy Championships
Manawa Oceania Heavyweight Championship
1st Terry Sparkes  from Australia (3rd time in a row)
2nd Craig Manson from NZ
3rd Liam Bourke
Manawa Womens Hororata Highland Games Championship
1st Fran Fitzpatrick from Australia 
2nd Brook Rowebotham 
3rd Amy Farris 
Manawa Mens Hororata Highland Games Championship
1st Connor O'Brien
2nd Sion Rhys-Hughes
3rd Jesse Bown
Haraways Junior Warriors 
TBC
Pipe Band Champions
The champion pipe band was awarded to the Grade 2 Celtic Pipe Band (Nelson). 
Champion Highland Dancer 
Sarah McCarthy
Fern Tug O' War
Mens - BBC Eagles
Mixed - Rope Burners 
FMG Kilted Mile
Overall winner - Mac Smith 
Hororata Pie Eating Competition
Craig Homer
Best Dressed Lad and Lassie
TBC