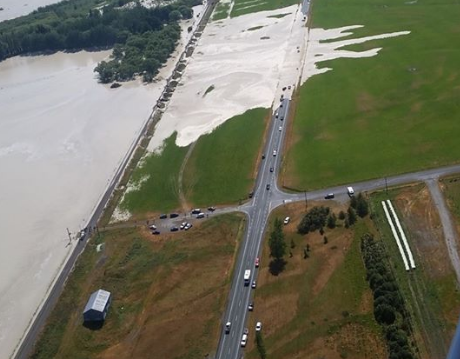 The Timaru District Council is now advising some residents in the evacuation area south of the Rangitata River to stay put if they haven't already left.
This afternoon the council told all residents between McLelland and Orton Rangitata Mouth Roads, and the river to evacuate immediately.
A state of emergency has been declared in the district as the swollen Rangitata River continues to rise and has led to the closure of the route between Timaru and Christchurch.
Now the council is saying anyone still left on Rangitata Island, south of the river, to stay put and contact emergency services if they do not feel safe.
The river is currently flowing at near one in 10 year flood levels, and is not expected to peak at the State Highway 1 crossing until 7pm tonight.
SH1 and Route 72 between Ashburton and Timaru are closed in both directions and are unlikely to reopen today.
​
Rangitata Island Road resident Alana Cronin told RNZ she received the evacuation order too late and her property was already surrounded by water.
She said they attempted to leave but do not have a four-wheel vehicle, and she's doubtful they would have made it out even if they did. Ms Cronin said it's nerve-wracking being trapped by the floodwaters with her children.
Timaru Emergency Operations Centre spokesperson Stephen Doran said they are working with Fire and Emergency to get people out.
"FENZ [Fire and Emergency New Zealand] at the moment is going down there with a four wheel drive fire appliance, and they're going to be testing which roads are still passable, there's a few cross streets that people can go down but it's just picking the right one. And if not they will go in and get people out if need be."
Rangitata Motor Camp caretaker, Glen Shaw, said those evacuated are watching the weather as the river continues to rise.
"The river is high, but we're quite lucky cause the mouth's very wide, so it is pumping out, but they're just keeping on levels because of water going down the south branch as well where it's breached further up the main highway."
Mr Shaw said several roads closer to the highway have been flooded.
Earlier, Mr Doran said despite the bridges being closed, there were reports of people still walking across the Arundel bridge.
"It's a really dynamic river. Levels can rise very, very quickly so we'd say stay very well clear of it," Mr Doran said.
"It's people walking past cordons and ignoring signs, moving cones to the side. We do take our closures very seriously and we don't close things unless it's absolutely necessary so don't cross the cordons please."
The river was not expected to peak at the SH1 crossing until 7pm tonight.
It was unclear how many people had been left stranded by the bridge closures.
"Lots of people will just have postponed their trip which is what we've been advising people to do for most of the day," Mr Doran said.
"Whether they are going up to Christchurch from Dunedin or to Dunedin from Christchurch, most of the people who have come up to the bridge have just turned back.
"For everyone else, we are just saying stay at home, the bridges are unlikely to open until tomorrow morning at the very, very earliest so they aren't going to get anywhere tonight."
​
Although the rain may ease on Saturday afternoon, more rain was forecast for overnight.
Mr Doran said it was a serious situation and people needed to make sure they were safe.
"Anyone camping at any of the freedom camping sites up and down the river, we'd ask them to evacuate now and there were some campers in the Rangitata Huts who've been notified of this.
"And people in the Rangitata township and the Rangitata Huts need to be able to repond at short notice."
People should remain on alert because it could take eight hours for rain from the headwaters of the river to reach the coastline. That could cause a big bulge of water pounding down the river, he said.
Environment Canterbury staff are getting in touch with landowners along the river and alerts are being sent out. ECan staff are also monitoring water levels.
Civil Defence in Timaru was activated this morning after about 300 millimetres of rain fell in the past 24 hours.
Farmers with stock in low-lying areas were advised to move their animals to higher ground.
The Timaru District Council said Civil Defence Information Centres were being being set up at Geraldine Library & Service Centre, Talbot St and in Temuka at Alpine Energy Community Centre, Ferguson Dr.
The Timaru Racecourse (accessible from SH8 point highway) is open for campers and motorhomes tonight providing shower and toilet facilities, the council said.