It seems rugby star Ruby Tui has fans everywhere - including Hollywood actress Natalie Portman.
Appearing at a gender equality panel event in Auckland last night, the Academy Award winner joined Dame Jacinda Ardern, Black Ferns star Tui and Fifa secretary-general Fatma Samoura to tackle issues women face in sport, while also celebrating their successes.
Taking place at Auckland's Aotea Centre and marking the final of the free women-led talk series Equalize, Tui found herself a major fan in Portman, who couldn't help but try to cheekily steal her Olympic gold medal.
Sharing a behind-the-scenes TikTok with her 106,000 thousand followers, the rugby star told fans, "So, ah, I had my medal, but someone won't give it back," before panning the camera to Portman, who shared a cheeky smirk with the camera before running away.
"Are you all right there?" Tui asked her, before shouting, "Oi, hey we're kidding, you're the Black Swan."
Turning back to face the camera and appearing to walk in the opposite direction to the actress, the 2020 Tokyo Olympic winner said, "Sweet, nah you have it. Keep it, keep it. I don't want an Academy Award."
Earning over 100,000 views on the video-sharing platform, many fans took to the comment section to share their responses to the exchange, which included plenty of laughing face emojis and positive comments.
One person said, "What a flex!! Yaaas, [sic] Ruby making all the friends," while another added, "Two amazing souls".
A third person joked about New Zealand's laid-back approach to stardom and commented, "I swear anytime a Kiwi meets anyone famous, it's never a serious video. Even if said Kiwi is also famous, lmao."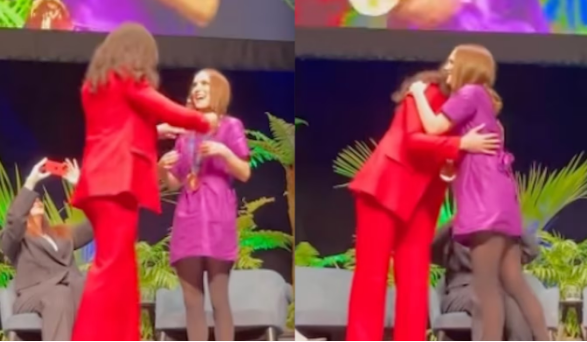 That wasn't the only moment the two women shared during the event, either. Earlier in the night, Tui praised Portman - who is a co-founder of Angel City Football Club, a Los Angeles-based Women's National Soccer League team - for her efforts in progressing women's sport.
While on stage, the Black Ferns player recalled her recent visit to America, where she attended an Angel City game, and said not only did tickets sell quickly, but the crowd was wild. She continued to praise the actress for stepping out of her "comfort zone" to help create an entirely different look for women's sport.
Following the heartfelt exchange was the moment Portman got her hands on Tui's gold medal, as the rugby player took it out of her pocket and placed it around the star's neck. Portman quickly shouted "Oh my God" before giving the rugby star a hug.
Other touching moments throughout the night saw Arden reminisce about her attendance at the Football Ferns game against Norway at the Fifa Women's World Cup last month. Admitting she "started to cry" during the match, she said she met with the national team later to congratulate them on their one-nil win.