Gardening may not be everyone's cup of tea - but for Christchurch Botanic Garden's newest apprentice it's a dream come true.
Breanna Hill is just a few weeks into her new role at the gardens - a three-year apprenticeship working as a horticultural trainee.
Funded by the Helen Irvine Friends of the Botanic Gardens Scholarship, the role was made possible by a bequest from the late Helen Irvine, who worked at the gardens in the 1960s where she honed her horticultural skills. Irvine passed away in 2019, and asked that the money be spent giving someone else the same opportunity.
The Friends of the Christchurch Botanic Gardens is matching the amount put forward by Irvine to help fund the apprenticeship, with Christchurch City Council making up the slight shortfall.
Hill is part of the close-knit team working on the garden displays.
Her job includes everything from working with native plants to weeding and making the flower beds more presentable. Each day is different, she said.
"It's more like artwork than maintenance," Hill says.
"The gardens are a display … like an art gallery."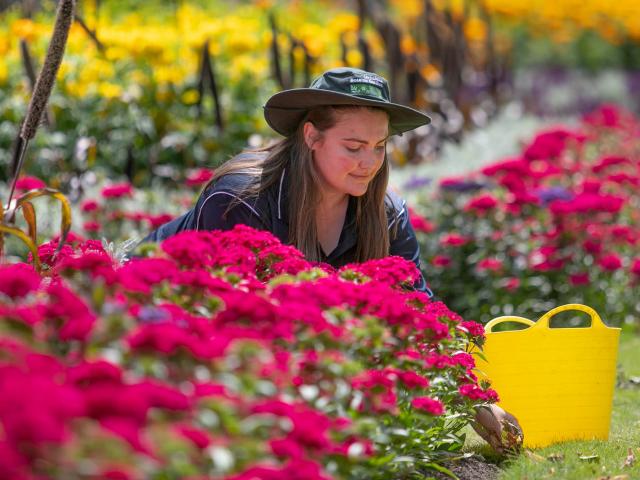 Hill completed a Bachelor of Science, Ecology and Conservation at Lincoln University.
"Plants are my thing, I think. They are really quirky."
Hill said she enjoys the tranquillity of the gardens.  Having worked in retail before, her new role is a welcome relief from the hustle and bustle of the shop floor.
"I feel a lot more relaxed ... a lot calmer."
Friends of the Christchurch Botanic Gardens vice-president Jane Cowan-Harris hopes the scholarship will be on offer again in three years.
The aim is to make the role a tri-annual appointment, and a programme has been established to accept donations to pay for another apprentice in 2023.
"It's really exciting … for the city, for the Friends of the Botanic Gardens, and for the council.
Botanic Gardens director Wolfgang Bopp said the apprenticeship has made a big difference to the gardens, and existing staff enjoy sharing their skills and expertise.
"We need to have people to take this work forward," he said.
"It's great being able to develop the Botanic Gardens and greenspace professionals of the future, teaching them how to maintain and develop our plant collections."