Prime Minister Jacinda Ardern says APEC will still be held in Auckland in 2021, despite the destruction caused by a massive fire at SkyCity's Convention Centre.
More than 100 firefighters continue to battle the blaze, which has been burning since 1.15pm yesterday.
Ardern visited the site today with Auckland Mayor Phil Goff and met with the bosses of Fletcher Building and SkyCity.
"This devastating fire will be hugely disappointing for all those involved... it had come so far. To see this major setback, will be a blow to the workforce," she said.
The Prime Minister wanted to acknowledge firefighters who had been working under difficult circumstances.
"The team on the ground have been incredibly professional, very focused on what they can do to preserve the building."
She also wanted to acknowledge Fletcher's and SkyCity who had been open and honest about what was happening.
When asked about the economic impact on business, she indicated there would be some sort of financial compensation. It would be a small number of businesses affected.
She said a meeting of APEC, the Asia-Pacific Economic Cooperation, would still be held in Auckland in 2021. But where it would be held was a point of discussion for Government.
Meanwhile, SkyCity is expected to be open and trading by Friday, its chief executive says.
Graeme Stephens spoke to media this afternoon alongside Ardern and Fletcher Building boss Ross Taylor. He said he hoped the site would be handed over tomorrow afternoon and staff would return to work on Friday.
Taylor said some sub-contractors working on the project left their tools on the site because of the quick evacuation and they had set up help centres to help those people and once they get back into the site, they would return them.
They were working out individual plans for their employment.
"Some of them will be very busy and they can re-employ easy. Others might not be... in the medium term there will actually be more work because we've not only got to finish what we had to do but we've got to rebuild a chunk as well."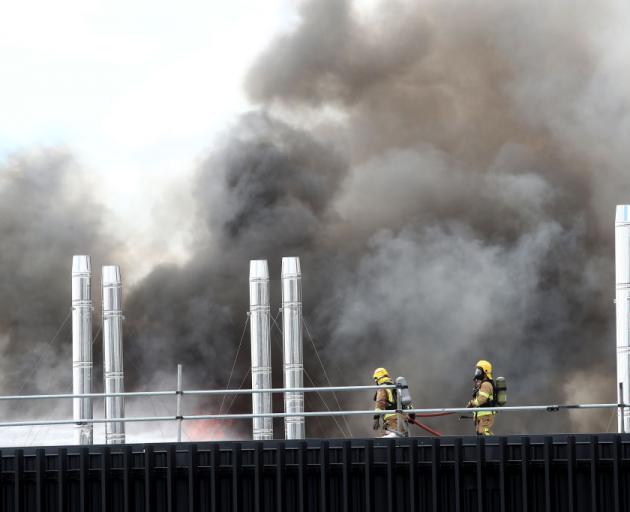 'Too early' to say if venue change needed 
Auckland Mayor Phil Goff is among those with concerns the centre will not be ready in time for APEC.
Auckland Tourism, Events and Economic Development chief executive Nick Hill did not rule out the centre hosting APEC, but said there were contingency plans.
The centre was the preferred venue for APEC, Mr Hill said.
"While there have been questions about the impact of the fire on Auckland's ability to host large scale business events at a single venue from 2021 and beyond - and APEC Leaders Week events in November 2021 in particular - the reality is we must wait until the fire is fully extinguished and experts have been able to assess the damage.
"It is too early to make any decisions as to whether the preferred venue needs to change."
It was best not to speculate on any wider impact until the full extent of the fire was known, he said.
"While visitors from around the world and the rest of New Zealand may have concerns after seeing reports of the fire, they should be reassured that emergency cordons are in place to ensure the safety of residents and visitors alike," Mr Hill said.
"Nearby buildings have been temporarily closed for safety reasons around fumes, not due to a risk of the fire spreading."
More than $450 million is estimated to have been spent by people attending multi-day conferences last year, resulting in 855,801 visitor nights.
About 35% of the estimated total spend is from international delegates.
The tourism industry said it was uncertain how badly it would be affected by the SkyCity Convention Centre fire.
Conventions and Incentives NZ chief executive Sue Sullivan said conferences played an important role in attracting visitors to the country.
"We're all devastated, as you know it's a very important piece of infrastructure for Auckland and New Zealand," Ms Sullivan said.
"SkyCity has confirmed their commitment to the vision for this to be an iconic international-standard facility to take Auckland into the future.
"We know that the damage is significant, there will obviously be a delay. But until we're all aware of ... the extent of the fire and the damage and SkyCity is able to advise us of their plans, we don't know timing or the impact on the conference industry."
- NZ Herald and RNZ